Five games into the OHL season, the London Knights are still waiting to hear whether or not they'll get some of their players back from NHL teams. The most notable of these players are Jesper Bratt (New Jersey), Sam Miletic (Wilkes-Barre/Scranton), Alex Formenton (Ottawa) and Victor Mete (Montreal).
With those names still out of the lineup, a number of players did return to the Knights lineup after extended stays at pro camps – including Cliff Pu, Max Jones and Robert Thomas. The latter two returned to the team for their latest Friday night matchup with the Kingston Frontenacs at Budweiser Gardens.
While it wasn't the homecoming these Knights were hoping for, the focus for the returnees shifted from their pro clubs to the Knights season very fast following the 5-0 defeat at the hands of the Frontenacs.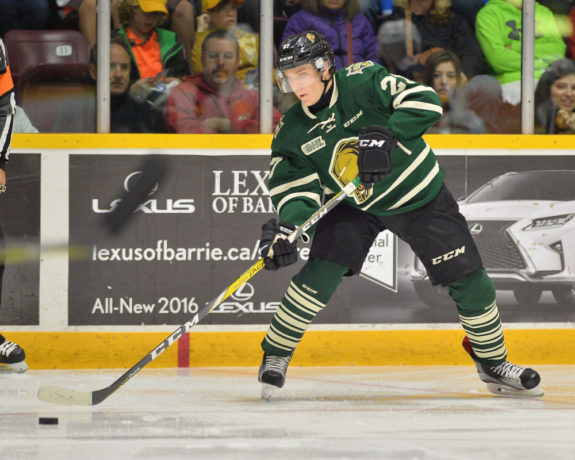 The loss, combined with a 5-4 loss on Sunday in Oshawa, leaves the Knights with a 1-4-0 record to start the season – a record not representative of the team they have on paper. And while there are some players still missing from the team's starting lineup, veterans like Thomas aren't ready to use any sort of excuses to describe their poor start.
Thomas: 'Accountable for Ourselves'
Thomas made his way back to London following a successful rookie camp and preseason with the St. Louis Blues – the team that drafted the 18-year-old in the first round, 20th overall in 2017.
Since his return, he's played two games (his first being the 5-0 loss to Kingston). He's tallied a goal and two assists and still the team is lacking in offence. Through five games, the team has given up 22 goals while only scoring 10. Still, Thomas and his teammates aren't giving any excuses for their lacklustre play this season.
"I think it's keeping it simple," said Thomas when asked how the Knights can turn things around. "I think we tried to do way too much and I think we got away from our game that made us successful in pas years. So I think we just have to keep it simple and win our battles in the corners."
So far this season, the Knights are one of the highest penalized teams coming in second (with 73 minutes) to Kingston's 74 total minutes. The team has surrendered an average of just over 35 shots per game while only firing 25 of their own over the first five games and when it comes to goal scoring, it'll be tough to win if you're only averaging two goals per game.
But the hope is that the team can find their footing and turn things around sooner rather than later and it doesn't just land on the veterans of this team either.
"I think if we're together we can definitely do some damage," said Thomas about playing on a line with Pu and Jones. "I think we just have to play better as a line and all of us are accountable for ourselves.
"I wouldn't say chemistry," he continued. "It's just an adjustment period. You know, going up is an adjustment and coming back down is an adjustment. But it's not an excuse. We've got to be better and we have to hold ourselves accountable."
As for his role in the turnaround, Thomas knows that he'll have to use his experience to help lead the younger players on the team.
A Lesson From St. Louis in Leading by Example
In just his second season with the Knights in 2016-17, Thomas finished the year with 66 points in 66 games. While it wasn't a successful run, he added three goals and 12 points in 14 postseason games before the team was ousted by the Erie Otters.
The offseason included his name being called out in the first round of the NHL Draft and that was followed up by his first camp with the Blues. Now, the Knights forward is looking to add to his OHL production and bring some of his gained knowledge back from St. Louis to share with his OHL teammates.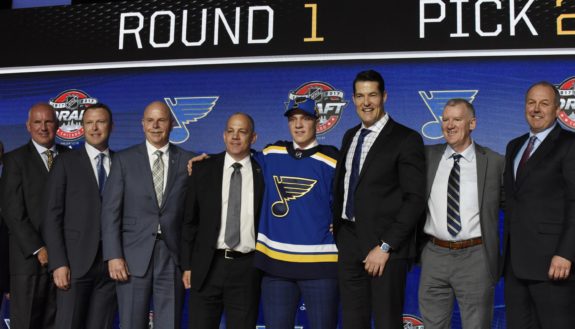 "There's definitely a lot of things that you learn from the older guys and I think I learned a lot about my work ethic and preparation and what it takes to be a pro," he said in regards to what he hoped to bring back to his London teammates. "Even in the games, all the little things that they do great and that's what makes them successful. So I think I have to add all those things into my game and hopefully mentor some of the younger guys and get them going on that as well."
The Knights won't be able to turn this thing around overnight, however. And while the Knights are known for their success over the years, this isn't an uncommon occurrence.
In fact, over the past two seasons the Knights have lost some major names and integral pieces to their success. Guys like Mitch Marner, Christian Dvorak and Matthew Tkachuk stuck with their NHL clubs for the 2016-17 season. This will be the first year that they don't have Tyler Parsons manning the crease since he took over as the starter and the core of their team is just getting back into the groove with their OHL club.
Regardless of how this plays out, one thing is for sure. This team isn't content with how they've started the year and it's going to take a full team effort to turn it around. But, as Thomas discussed, it will have to happen on a day-by-day basis.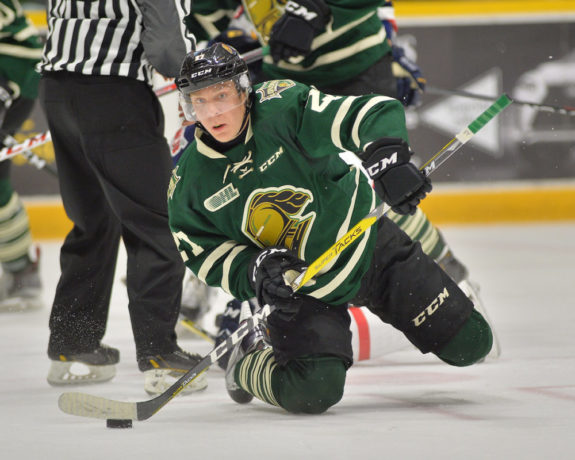 As for how Thomas plans to help out – it's simple. He needs to get back to the playing his game.
"I think I just have to stay with what made me successful," he said. "I have to play a strong two-way game. Just getting better every game and try and give myself the best shot to make that jump. You've got to take it day by day and really focus on every game."
There's still a full season to play and the Knights are just getting their roster back to full strength. While they certainly won't continue this trend of losing four out of every five games, something needs to change if the Knights hope to turn it around. And by all accounts, Thomas will be at the heart of that turnaround – utilizing the knowledge he's brought back from St. Louis in helping the Knights back from this horrid start.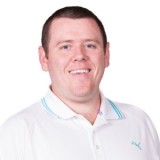 Andrew is in his 8th year reporting for The Hockey Writers covering the Toronto Maple Leafs. He began his broadcasting with CBC's Hockey Night in Canada team as well as being part of their coverage of the 2014 Winter Olympic Games in Sochi. He's the former play-by-play voice of the London Jr. Knights for Rogers TV and currently hosts the Sticks in the 6ix podcast. You can follow him on Twitter at @AndrewGForbes.