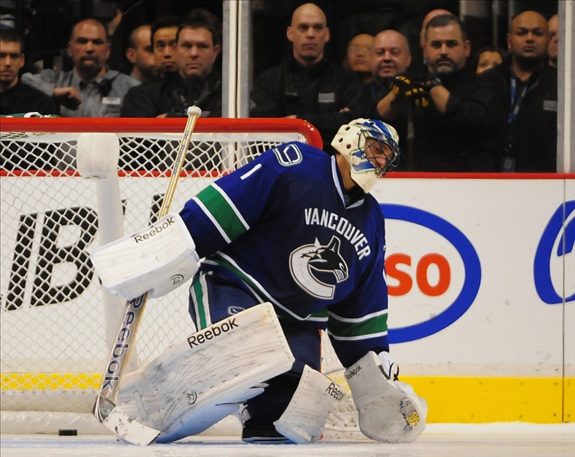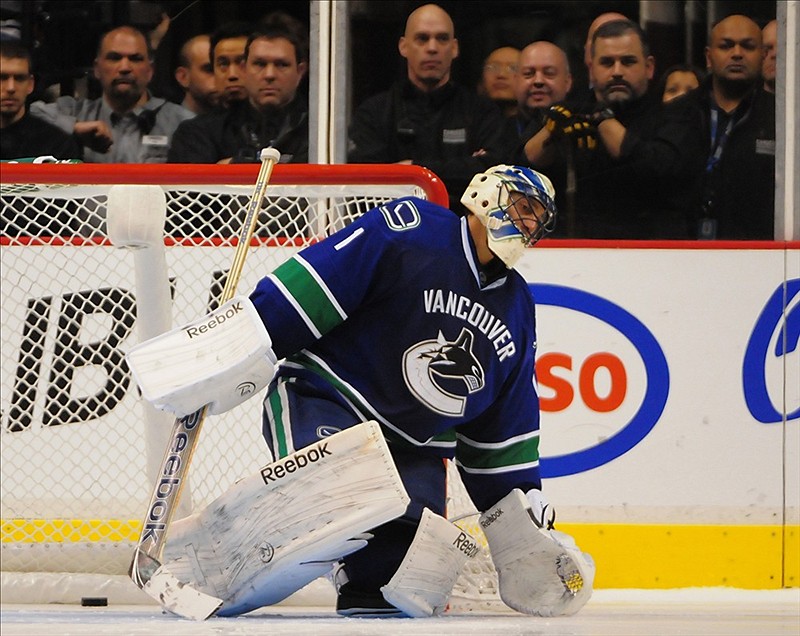 The Toronto Maple Leafs' trade options aren't completely known by the public, nor should they be. However, we do have an idea of what the Maple Leafs are looking for. One of their glaring needs is that of a goaltender, preferably a well-seasoned one, to push James Reimer and help the city of Toronto experience NHL playoff action for the first time in two lockouts.
Media and fans alike have discussed possible names heading to Toronto via trade and free agency since the days of Andrew Raycroft. Roberto Luongo is one of them. Now with two young and somewhat inexperienced lads between the pipes, trade rumours involving goalies are beginning to heat up even more.
The NHL trade deadline is less than two weeks away, making now the perfect time to evaluate potential Leaf newcomers in net. You'll notice that Luongo isn't on the list below, and with good reason. Despite what many say about Luongo being a potential cornerstone player for the Maple Leafs, bringing in the 33-year-old would make little to no sense for a team that is looking to not only qualify for the playoffs, but to also do some damage once they have reached the post-season.
Luongo, who has played for the Vancouver Canucks since 2006, is on a rather hefty contract. With a cap hit of more than $5.3 million per season that runs until 2022, as well as a no-trade clause, it would be extremely difficult to sit him in favour of Reimer even on a 50/50 basis. In this case, the Maple Leafs would only be pushing Reimer, who many still believe to be the Leafs' franchise goalie for years to come, out of a job and likely out of town as well. The Leafs would then be stuck with an inconsistent goalie on a large contract.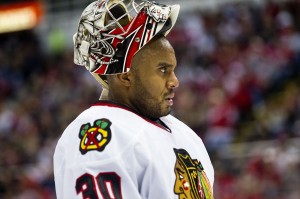 Below are the Maple Leafs' top three options when it comes to acquiring a goalie prior to the deadline on April 3.
Ray Emery – Chicago Blackhawks
The Blackhawks got off to a blazing start this season and have hardly slowed down. Between Ray Emery and Corey Crawford, goaltending has been a big reason for Chicago's success on the ice. Now as the team gears up for the playoffs and as Crawford maintains a .926 save percentage and 1.86 goals against average, general manager Stan Bowman has the opportunity to send Emery out of town in order to bring in some added weapons either up front or on the back-end.
If that is the case, you would have to think that the Maple Leafs would be in the hunt for Emery, a goalie who some writers also considered to be an option for then-GM Brian Burke a year ago.
Look at it this way: Emery, 30, has experienced the ups and downs of the NHL. He has learned why you should avoid personal issues, what it's like to be forced away from the world's top hockey league and how to get back into it while succeeding at a high level at the same time. Made famous by his stint with the Ottawa Senators, Emery is now playing very well for the Blackhawks with an 11-0-0 record, a .916 save percentage and a 2.26 GAA. Despite his strong performance this season, the asking price might not be so high.
Emery isn't an elite NHL goaltender and some wouldn't even consider him to be a full-time starter, which would undoubtedly lower the Blackhawks' price. That's perfectly fine for the Maple Leafs, who don't necessarily want someone who will push Reimer out of his job, but rather a goalie that will make Reimer look in the mirror and think he better keep playing well if he wants to stay in the net.
Tomas Vokoun – Pittsburgh Penguins
Why the Penguins traded for Tomas Vokoun is beyond everyone. Perhaps it was to challenge Marc-Andre Fleury but that doesn't mean the team should spend $2 million per season on a second goalie when its starting netminder already comes with a cap hit of $5 million and, with the exception of the post-season, hasn't ever played all that bad.
Having appeared in just 13 games this year with a .907 save percentage, Vokoun hasn't given the Penguins the type of production they had likely hoped for, perhaps sparking the idea of using him as trade bait at the deadline. If that is the case, the Maple Leafs have no reason to hold off on going after him. Vokoun may not have the best numbers this season but his reputation and contract should be enough to push Reimer along.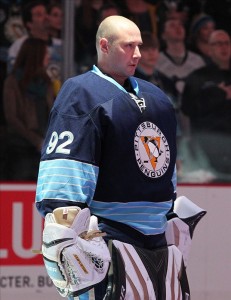 The best part about acquiring Vokoun for the Maple Leafs is that it's unlikely they would have to surrender much to bring him in; the Penguins got him for a cool seventh round draft pick. Keep in mind that came after a season in which Vokoun went 25-17-2 with a .916 save percentage and a 2.51 GAA, so it's difficult to see him going for much this time around.
Jonathan Bernier – Los Angeles Kings
The name Jonathan Bernier was a big one in Los Angeles until another Jonathan began to take over in net. Now Jonathan Quick holds the top spot between the pipes, having pushed Bernier down to a backup role with very limited playing time. The amazing thing about this is that with a .923 save percentage and a GAA below two, Bernier hasn't played too shabby at all. Still, though, he continues to fall behind Quick, leading to trade rumours in LA.
It was reported by CBC in the summer that the Maple Leafs had submitted an offer to the Kings that would see Bernier land in Toronto but that obviously never materialized even if the report was accurate. Perhaps this is because Bernier, who is still very young at 24 years, would only be allowed to leave by the Kings if the return headed to Los Angeles was a juicy one.
What it would take to get Bernier out of the Kings' hands is still unknown. We can assume that it would be a lot, though, given his track record and the potential that he still has to become even better. The Kings also know how valuable Bernier would be to the Leafs; a potential franchise player who could also relate to Reimer given that they are only one year apart in age.
Although he's not a veteran, Bernier is a viable option for the Maple Leafs if they are willing to take a chance.
Whether or not the Toronto Maple Leafs will make a goalie swap prior to the deadline remains unknown but it is something their fans seem to be pulling for. Unfortunately, the acquisition of Roberto Luongo appears to be supported by the majority of their fans as well.
All everyone can do for now is wait and see.