The calendar has finally flipped to October and the temperature is getting cool enough to bust out your favorite Rockford IceHogs sweater. The IceHogs have completed their training camp and made their final rosters cuts, so it's time to preview the upcoming 2018-19 season.
2017-18 Season Recap
Regular season record: 40-28-4-4 (4th in the Central Division)
Playoff Results:
Defeated Chicago Wolves 3-0 in Central Division Semifinals
Defeated Manitoba Moose 4-0 in Central Division Finals
Lost to Texas Stars 4-2 in Western Conference Finals
IT'S OVER!
The @goicehogs win in triple overtime in the eighth-longest game in AHL history! They're going to the next round of the #CalderCup playoffs! #CHIvsRFD #AllOrNothing pic.twitter.com/FugB084kHf

— American Hockey League (@TheAHL) April 27, 2018
Team Leaders:
Regular season points – Anthony Louis (44)
Regular season goals – Matthew Highmore (24)
Regular season assists – Anthony Louis (30)
Postseason points – Chris DiDomenico (18)*
Postseason goals – Chris DiDomenico, Victor Ejdsell (7)*
Postseason assists – Adam Clendening (13)*
*-franchise record
Key Offseason Loses
C Chris DiDomenico
D Adam Clendening
D Cody Franson
D Viktor Svedberg
D Ville Pokka
C Tanner Kero
G Jeff Glass
G Jean-Francois Berube
Probable Opening Night Roster
Forwards
Henrik Sameulsson, William Pelletier, Terry Broadhurst, Victor Ejdsell, Alexandre Fortin, Matthew Highmore, Dylan Sikura, Tyler Sikura, Anthony Louis, Jordan Schroeder, Graham Knott, Nathan Noel, Jacob Nillson, Matheson Iacopelli
Defensemen
Carl Dahlstrom, Joni Tuulola, Dennis Gilbert, Blake Hillman, Luc Snuggerud, Lucas Carlsson, Darren Raddysh, Andrew Campbell
Goaltenders
Colin Delia, Kevin Lankinen
2018-19 Season Outlook
Jeremy Colliton's first year behind the IceHogs bench was a successful one. After a slow start, the team went 14-4-2 over their final 20 games of the regular season to grab the fourth and final Central Division playoff spot. Once in the postseason, they swept their way into the Western Conference Finals before losing a hard-fought six-game series to the Texas Stars.
"We had a lot of fun [in the postseason]," Colliton said at the beginning of training camp. "That's the kind of environment you want to be in and the kind of games you want to play in. We got a taste of how enjoyable it is to go to battle in the spring time and so we want to get back there again. What I like about this group is we have some returning players who hopefully learned something about what it takes to have success in this league. We're looking to pick up where we left off."
The IceHogs' late-season run took off after veterans like Clendening, DiDomenico, Franson and Lance Bouma were added to the mix. All four are no longer with the organization so the team will look to players like Broadhurst, Schroeder, and Campbell to provide that veteran leadership.
Plenty of Talent Up Front
Rockford should have a pretty potent offense to start the season. All three of their leading scorers are back this season. Louis, who led the team, will look to improve on last year's career-high 44 points. Highmore's first professional season ended with a team-high 24 goals and he is back for more this season as he continues to chase down a spot with the Chicago Blackhawks.
The Sikura brothers, Dylan and Tyler, will start the season in Rockford. Tyler is looking to build on a very solid 23-goal season. Many expected Dylan to be on the Blackhawks' opening night roster, but he was sent to the AHL to start the campaign. If he has the attitude Nick Schmaltz had two years ago when he was demoted, he will have a successful start and will be back in the NHL before long.
You have to call me Dragon.

…You have to call me Nighthawk. pic.twitter.com/AMMEHmCSut

— Rockford IceHogs (@goicehogs) October 3, 2018
Ejdsell was another youngster many felt would be playing in Chicago to start the year, but he was outplayed by Luke Johnson and Dominik Kahun during training camp. The Swedish forward was a key part of the IceHogs' postseason success last spring and, like Sikura, can force his way back to Chicago with a hot start.
Broadhurst is among the new faces up front. He returns to the IceHogs after playing for the team between 2012 and 2014.
"There was a lot of success here last year in the playoffs, so it's a really good opportunity for myself and for the team to build on that and try and have a successful season," Broadhurst told the Rockford Register Star. "That was a big factor in my coming back. It's quite an honor if they want you back, but then you have a chance to jump onto a good team, and as a player you want to be a part of a winning organization. Chicago also has been, and now they're doing it at the Rockford level, too. That's the goal moving forward: try to win hockey games, and see how far we can go."
New-Look Defense Leads the Way
The IceHogs' defense went through quite a turnover during the summer. Clendening, Franson, Pokka and Svedberg, who combined for 194 games last season, will all be wearing different uniforms this season. The blue line will be much younger and has far less experience to begin the year. Dahlstrom was one of the last defenders cut from Blackhawks training camp and he will lead the blue line to start the season.
"Dahlstrom had a great year and came a long way," Colliton said of his young defender. "He showed that he is close to playing in the NHL.  I'm sure he's disappointed to not make the Hawks out of camp, but we want him to continue to grow as a player. He's a great kid and works hard and will be a big help to us."
Joining Dahlstrom in the youth movement are the returning Raddysh and Snuggered who are back for their second full professional season. Gilbert, a third-round pick in 2015, will get his first taste of the AHL and he will add some size and grit, along with Hillman, who made his NHL debut late last season.
With the lack of experience on the blue line, the IceHogs needed to add a crafty veteran to the mix. That is exactly what they got when the Blackhawks acquired Campbell in the deal that sent Marian Hossa's contract and Vinnie Hinostroza to the Arizona Coyotes. He is a veteran of 655 AHL games and served as captain for the Tucson Roadrunners, Toronto Marlies, and Manchester Monarchs.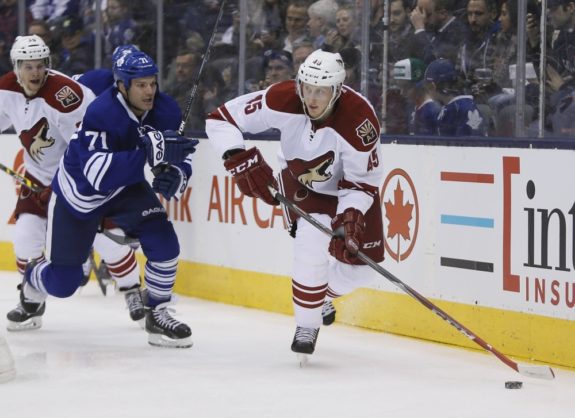 Turnover Leads to Huge Opportunity in Net
The youth movement is not exclusive to the skaters, as there's also been a shift between the pipes. Veterans Berube and Glass, who played in a combined 43 games last season, have moved on which means it is time for Delia to get a chance to be the number one netminder.
Delia had an amazing turnaround last season. After struggling early and getting demoted to the ECHL, the 24-year-old came back strong and played well enough to make his NHL debut late in the season. He also started 10 of the IceHogs' 13 playoff games.
Lankinen will be backing up Delia, but will likely have plenty of playing time. This is his first year playing in North America after posting a 1.33 goals-against average (GAA) and a .946 save percentage (save%) in Finland's SM-Liiga last season.
Things could get interesting later in the month as it looks like Corey Crawford might return to action sooner than expected. When he does return, the Blackhawks will have to figure out what do with Anton Forsberg. If they do manage to trade him, he would have to clear waivers to be sent down to Rockford. The Toronto Maple Leafs lost both Curtis McElhinney and Calvin Pickard to waivers earlier this week so there is no guarantee that he will clear. The net could get very crowded if Forsberg does find his way to Rockford.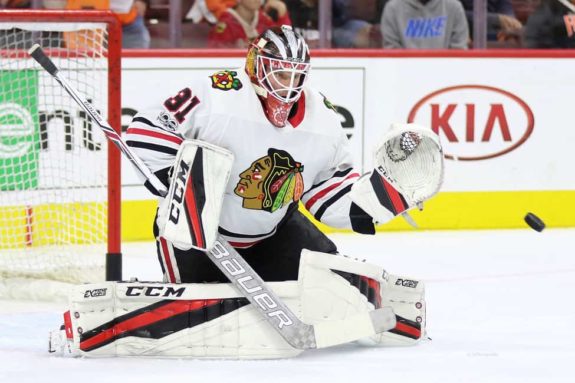 Winning Leads to High Expectations
The IceHogs snuck up on quite a few teams during the last two months of the regular season in 2017-18. They will not have that luxury this season after their run to the Western Conference Finals. Colliton is looking to build off that late-season success to start 2018-19 as hot as they played in the spring.
"What I'm looking for is to establish that work ethic and relentless mentality," Colliton said. "We want to be hard to play against [and] dictate the pace and tempo of the games. If we do that we'll be playing games on our terms."
The IceHogs kick off their season Friday night at the Cleveland Monsters.