With veteran Michal Rozsival fracturing his ankle in the series-clinching win against the Minnesota Wild, the Blackhawks are in need of a suitable substitute to fill some minutes on the blue line.  Of the remaining options for the 'Hawks, it appears that David Rundblad will be taking over the position.
Joel Quenneville has relied heavily on his top defensemen throughout the first two rounds.  However, fatigue can be a factor in the later rounds of the playoffs, meaning that someone needs to step in to cover the void that Rozsival left.
The top four defensemen for the Blackhawks have all played well over their season averages.  All of them are averaging over 24 minutes a game, including Duncan Keith's ridiculous average of 30 minutes a night.
Rundblad
The 24-year-old right-shot seems to have the inside track for the extra spot.  He appeared in a career-high 49 games this season, and contributed a respectable 14 points in that time frame.  According to Mark Lazerus, the Blackhawks had David Rundblad skating on a line with Duncan Keith in Sunday's practice.
Duncan Keith paired with David Rundblad at #Blackhawks practice, as expected.

— Mark Lazerus (@MarkLazerus) May 10, 2015
The 6'2" Rundblad, a former first round draft pick, was acquired by the Blackhawks from the Phoenix Coyotes in exchange for a 2014 second-round pick.  He last saw action on April 11 of this season.  Naturally, Rundblad would be excited to get his first whiff of playoff action, especially be paired up with a two-time Norris Trophy winner.  Via Scott Powers of ESPN Chicago, Rundblad said "He's one of the best D-men in the league, so it's pretty easy to play with him, since he's such a good player and he'll be helping me a lot out there."
Rozsival
On a more somber note, it appears that Rozsival may have played the last game of his career in a Blackhawks sweater.  Rozsival is set to become a free-agent this summer, and with the 'Hawks heading into an offseason with some big decisions to make, it doesn't seem likely that the 36-year-old will be a part of their plans.  Rozsival was acquired via free agency in 2012, and was a solid contributor to the 2013 Stanley Cup winning team.  He has had a long career and will have to make a decision on his own future after recovering from his fractured ankle.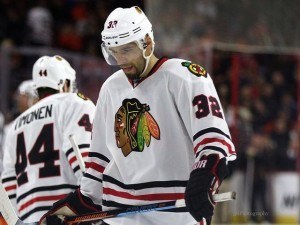 The good news for the Blackhawks, is that their top players have received some much-earned rest this past week.  With the Anaheim Ducks advancing over the Calgary Flames on Sunday, the Blackhawks now await the Eastern Conference to wrap up their series.