It's only been two games. It's best to reserve judgement on a team until at least a couple of weeks into the season, and even then, there's still a long way to go. The Oilers have a new coach. They have a number of new faces in the lineup. New guys are looking to form chemistry, and everyone trying to learn a new system. It takes time to come together. Injuries threw a wrench into the plans, as the Oilers top two centers, Sam Gagner and Ryan Nugent-Hopkins, started the year in the press box. One of the best up and coming left wingers in the league, Taylor Hall, was forced to play center to fill the void. Thankfully on Monday, things will start to look a little more normal.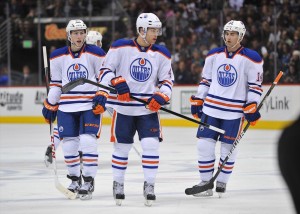 Ryan Nugent-Hopkins, who had been rehabbing from off-season shoulder surgery, will make his return to game-action against the New Jersey Devils tomorrow. The Oilers played well to start their season against the Jets, but let their foot off the gas and lost the game in the third period. Last night against Vancouver was pretty ugly from start to finish, as Edmonton dropped a 6-2 decision to their division rivals. A lot of teams have new coaches and new players. A lot of teams already have key injuries. Neither can be seen as excuse. No other team in the league is going to cut the Oilers some slack. The return of RNH will be a huge boost, but will it be enough?
The NHL regular season schedule was released on Friday. Check out our partners at TiqIQ for the best deals on Edmonton Oilers tickets for all 2013-14 games.
Coaches Corner
The Oilers have allowed 11 goals through two games. Devan Dubnyk has been in the net for all of those goals. The teams' run-and-gun style over the past few seasons may be exciting to watch, but they've been a defensive disaster. So far, not much has changed. According to head coach Dallas Eakins the team is "confusing him right now by showing flashes of good, but then reverting to old habits at times".
"The city and the fans should be angry, as angry as we are. It's great that they care. Our team is upset too. If you're not going to compete like every shift is your last, you're not going to win. That was very evident tonight." (Twitter)
Eakins confirmed that the Taylor Hall experiment at center would be over for now, though he felt that "Hall's faceoff success during his time at centre is a nice luxury to have. He and RNH can trade off if need be". The coach also had some positives things to say about veteran Ales Hemsky. "He's been unbelievable. We need more Ales Hemsky's on our team right now. He's playing with tremendous passion". Must be nice for a guy who was on the trading block all summer to earn praise some praise.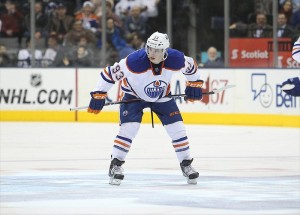 The Return of Nugent-Hopkins
Fresh off of signing a new, long-term contract, Ryan Nugent-Hopkins feels 100% healthy and ready to go. He's excited to get back in the lineup, though fans should be cautious not to see him as a savior for the team's woes. RNH is committed to playing a strong two-way game, so his presence might be an improvement defensively after-all, but as Eakins eluded too, there are some bad habits with this team that are  going to be hard to break. Gagner won't be back for a while longer, and despite some scoring contributions from guys like Boyd Gordon and Jesse Joensuu, the scoring might not be balanced with the kid line of RNH, Hall and Jordan Eberle being reunited. Nail Yakupov has no points so far and is a -3. He was benched late in the game against Winnipeg after some miscues. David Perron had a strong pre-season but is sitting on just one assist so far.
On the Defence 
It's so early in the season. That can't be stressed enough. Guys like Perron and Yakupov will find their game. Dubnyk will bounce back. The playoffs aren't made or missed in the first week of the year. The biggest concern in Edmonton are the defensive struggles that still remain despite the more structured approach of Dallas Eakins. The problems that have plagued this team in years past are still very much present. Perhaps with more time under Eakins, this Oilers squad will learn how to play consistent team defense. Maybe at this time next month, we'll see a big difference.
Ryan Nugent-Hopkins is a very welcomed return. But he can't fix the problems on his own. There are a lot of guys in this lineup who have to take their game to the next level. And their time is now.
Marcy, a former hockey player, is a hockey correspondent on CTV News and TSN radio. She began her career as a Sports Journalist in 2009 and has been part of The Hockey Writers since 2010, where she is currently a senior writer and editor.