When it comes to the dynamic duo of Shea Weber and Ryan Suter, there is little question as to what each player's role is. Shea is the face of the franchise. The Captain. The one name hockey fans would think of when Nashville was brought up (Pekka Rinne may have something to say about that today). Shea wasn't known all that well outside of Nashville, but after winning gold in Vancouver last year while creating a buzz after shooting a puck through the net against Germany, he's become all the rage, which helped propel him to the 1-year, $7.5 million contract he earned through arbitration over the summer.
When comparing him to Suter, it's clear that he is the more aggressive of the two, delivering bone crushing hits and unleashing the slapshot that both players and nets fear. Shea used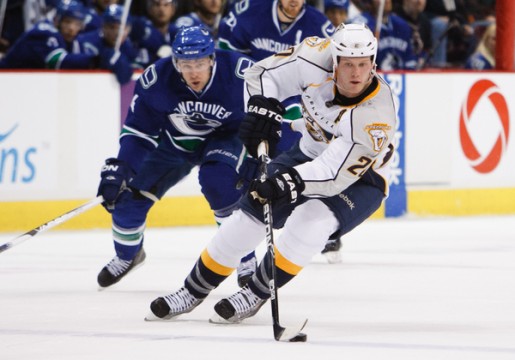 to occasionally drop the gloves, but has relegated those duties to other teammates since being named captain, and hasn't fought in almost two years. On the other hand, Suter is more passive, choosing to shut down opposing offenses through strategy and smart defense rather than force (he's been in two fights, going head to head with Brendan Morrow and Marian Hossa; not pretty). He's a typical shutdown defenseman who has the ability to chip in offensively every now and then.
Suter has played in his defense partner's shadow ever since Vancouver, and has never complained, at least publicly. Still, coming into the season, one had to wonder how Suter would play, knowing that his defense partner had just earned himself a hefty raise.
True to form, this season has started a little differently for Suter. After notching four goals a piece in the past two seasons, he took all of 18 games in '11-'12 to reach that mark, and he's already halfway to his career high in goals with 3/4 of the season remaining. He has asserted himself more on the power play, choosing to shoot more when given the opportunity instead of trying to find Weber at the point like he might have in seasons past. However, it seems like the pressure of this season sometimes takes a toll on him, as he has taken more careless penalties than Preds fans are used to seeing from him. He's also seen Pekka Rinne given a 7-year contract extension a month into the campaign, leaving him as the lone UFA of the Big 3 still with an uncertain future. Despite all of this, he has maintained his steady play of late, especially offensively, which was unexpected at the start of this season.
So… why the surge in offensive numbers?
For starters, it's easy to point to his contract year. Having a career year in his contract year would certainly give him more leverage when it comes to contract negotiations (speaking of which, there have already been talks between general manager David Poile and Suter's agent, Neil Sheehy). Before Shea Weber got a $3 million raise, he was makes only $1 million more than Suter, so there's no doubt Suter has plenty of motivation to get an equal or perhaps better raise than his counterpart.
Perhaps his offensive game has become more developed over time, or perhaps he just has more opportunities to put his name on the scoresheet. Only time will tell if this is just a start hot, or if he is indeed gunning for a career year in the offensive department.
At any rate, Suter is putting himself in a position to make a lot of money whether it be through a contract extension in Nashville or elsewhere. Hopefully David Poile getting Pekka Rinne on board for another seven years is enough to sway Suter to make a similar commitment, and hopefully that in turn gets Weber to sign on the dotted line long-term.