The Buffalo Sabres find themselves in an unfamiliar situation going into the 2023-24 season, and that is a crowded roster. General manager Kevyn Adams will likely be trying to upgrade his team in small ways via trades or free agency this summer, but over the past few years, he has also stockpiled a fantastic group of high-end prospects through the draft. Players like Owen Power, Jack Quinn, and JJ Peterka have panned out to make it to the NHL full-time, but with their rise has come the struggle to bring in new young talent behind them. Players like Isak Rosen, Jiri Kulich, and Matt Savoie all project to be solid NHL players, but due to the logjam on the Sabres' offense, they will be struggling to make it to the NHL lineup anytime soon.

Taking those factors into consideration, the Sabres have eight total picks in the 2023 NHL Draft, and three in the first two rounds. Many of these players will take time to develop, but since Buffalo has so much young talent on their main roster already, they need to look more long-term to understand what roles will need to be filled, and which prospects can take on those roles. It is not just about taking the best player available anymore when the draft comes around, it is about finding the players that will thrive in, and contribute to the culture that they have built, and having them be patient when it comes to making their way to the NHL. There are some fantastic choices to be made at each position, and they have enough draft stock to take everyone they will need for the future.
Sabres Best Goaltending Option: Alexander Hellnemo
The Sabres do not particularly need another young goalie in their system at the moment, but Adams still may look to add some depth to the position since their prospect pool has mostly graduated to the NHL. Devon Levi and Ukko Pekka Luukkonen are likely going to split the net for the coming season, and their other top goalie prospect Topias Leinonen still needs a few years of development before he sees any NHL action. Adding a new young goalie like Alexander Hellnemo would be perfect for them since he already has a contract in place to play in the Swedish Hockey League (SHL) for two more years, so they have time to let him develop there as Levi and Luukkonen fight for the starter position.
Related: Three Sabres That Could Be Traded at the 2023 NHL Draft
---
Latest News & Highlights
---
Hellnemo is one of the top-ranked European goaltenders, so he will likely be taken in the mid-rounds of the draft. The Sabres have a late third-round pick and a fourth-round pick that could be used to bring him into their organization, and they would be smart to do so. In his nine-game stint with Skelleftea AIK of the SHL, he posted a 5-3-0 record and added a 2.35 goals-against average (GAA) and .895 save percentage (SV%). He stands at 6-foot-2 and weighs in at 183 pounds, so he does not have much growing left to do. He is the perfect goalie option because he will take time to develop and bring over to North America, and by the time he should be ready, Buffalo will have figured out if they need a new starting goalie or not.
Sabres' Best Defensive Option: Tom Willander
The Sabres need to address their defensive issues now, and they will have a lot of options when free agency rolls around to pick one or more defensemen up, but that does not mean they should stray away from picking one in the draft. They desperately need to add to their defensive prospect pool and Willander would be the perfect fit. While they did recently sign Vsevolod Komarov and Ryan Johnson to their entry-level deals, they still have a need for some more physical defenders in their system.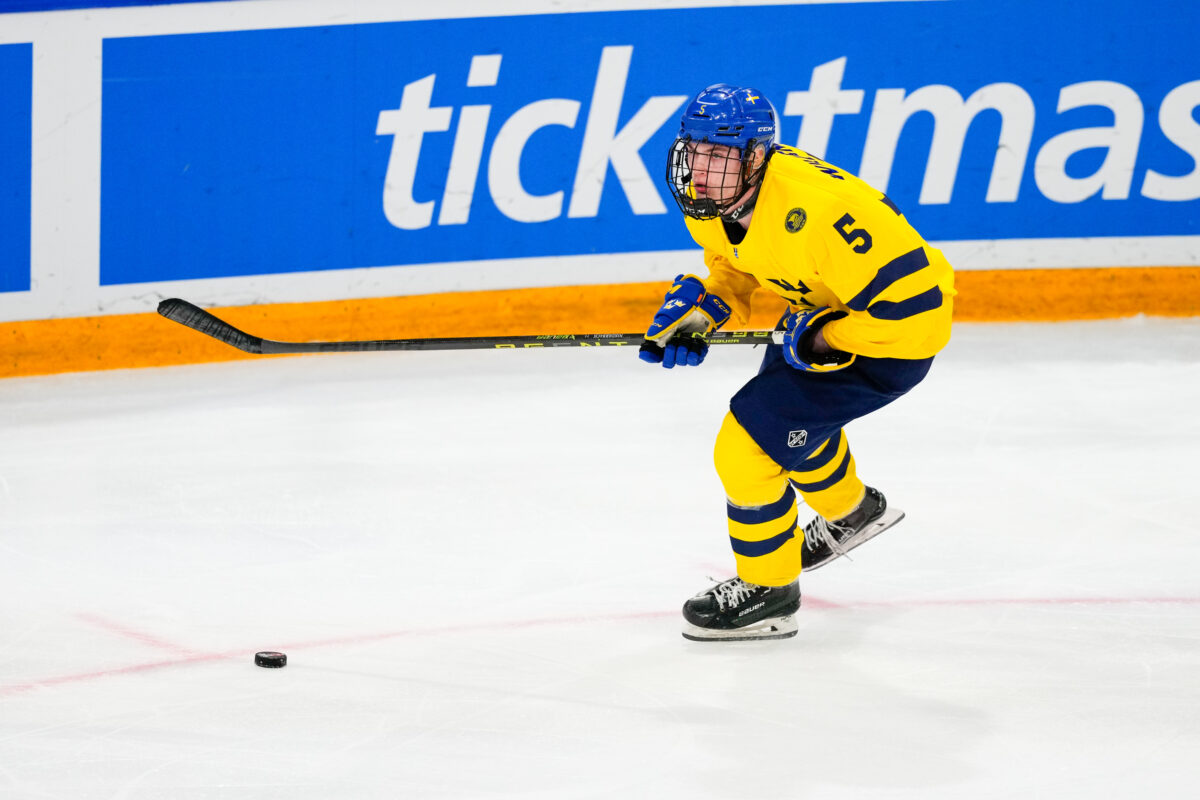 Willander fits the bill perfectly in this regard. He is an imposing physical defender with some offensive instincts, and he is a right-handed shot, which the Sabres severely lack on their depth chart. He is committed to Boston University for the 2023-24 season, so he will be in a top-end development system, and he will be able to hone his skills as he adjusts to the North American game and rink size. He is projected to be picked in the mid to late first round and Buffalo is selecting at the 13th spot. While there are a few good defensive options for them to select there, he is the most likely to be available, and they could even trade down to select him if they see fit. He checks all the boxes for what they need two or three years down the road, and he fits their system very well.
Sabres' Best Forward Option: Charlie Stramel
The Sabres have plenty of speedy forwards that are on the smaller side, so they need to add some forward talents with some physicality to them. Charlie Stramel is the type of player that will reliably go to the front of the net to cause some trouble for opposing netminders. Having his skillset on the roster would only give them additional offensive options to utilize. He would not likely be fighting for a top-six role even when he is fully developed, but his skill set would be perfectly suited for rounding out the bottom-six.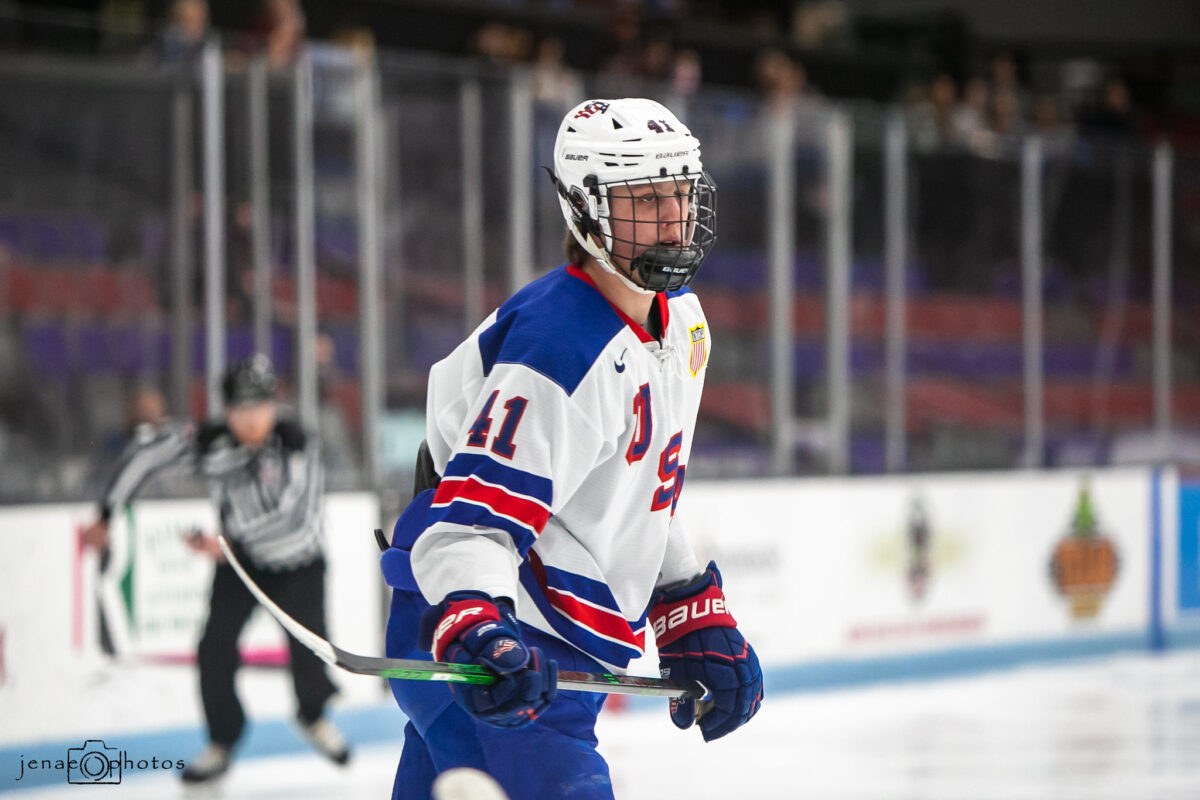 Stramel will be available in the second round of this year's draft and Buffalo would be wise to use one of their picks on him. He is a standup teammate, and he has the size to compete well in the NHL standing at 6-foot-3 and weighing in at 216 pounds. What is better is that he will likely need three or four years of development, so the Sabres can be extra patient with him. Once he is ready to fight for an NHL spot, don't expect him to be making waves on the scoresheet, rather expect him to be stepping up and making the physical plays that most players stray away from. It would not hurt to have a big character guy in their system as they continue to build their prospect pool back up.
Sabres' Long-Term Success Is Priority
Some teams in the NHL trade out as many prospects and draft pieces as they can to "win now" and while that has merit, the Sabres have been taking a much different approach over the past few years. They tend to keep their prospects and develop them, and they hold onto draft picks so they can add to their depth chart organically instead of externally. Choosing these players mentioned above would allow them to keep the roster they currently have, and find ways of bringing already established top prospects up to the NHL without rushing any of them.
Since they are no longer in a rebuild mode, the focus has shifted to winning hockey games and pushing for the playoffs on a regular basis. They already have some of their biggest pieces locked up and are finishing the development process for some others, but they are getting much closer to their goals of breaking the playoff drought. Right now, the Sabres need to continue to draft smart and trust their development team to make the right decisions with their prospects.
---
---