The Buffalo Sabres have made some NHL draft-day moves in recent memory, but general manager Kevyn Adams has mostly stayed away from big-name splashes since he took over in 2020. However, this year's draft could be different.

For the first time in years, the Sabres are in a very good position heading into the NHL Entry Draft and will be looking to do everything they can to continue the upward trend. Their youth movement is burgeoning, and several players could make the jump to the NHL in the fall. As a result, space will have to be cleared, and next Wednesday could be the ideal time. With the draft just a week away, here are three Sabres who could be dealt while management is in Nashville.
Jacob Bryson
Since he made his debut during the COVID-shortened 2021 season, Jacob Bryson has proven himself to be a solid and reliable two-way defenseman but has struggled to stand out against bigger names in Buffalo's overcrowded defensive corps. He's not a big offensive contributor, but his strong skating and puck management allow him to move up ice without sacrificing positional play and he rarely takes penalties, which teams could find alluring.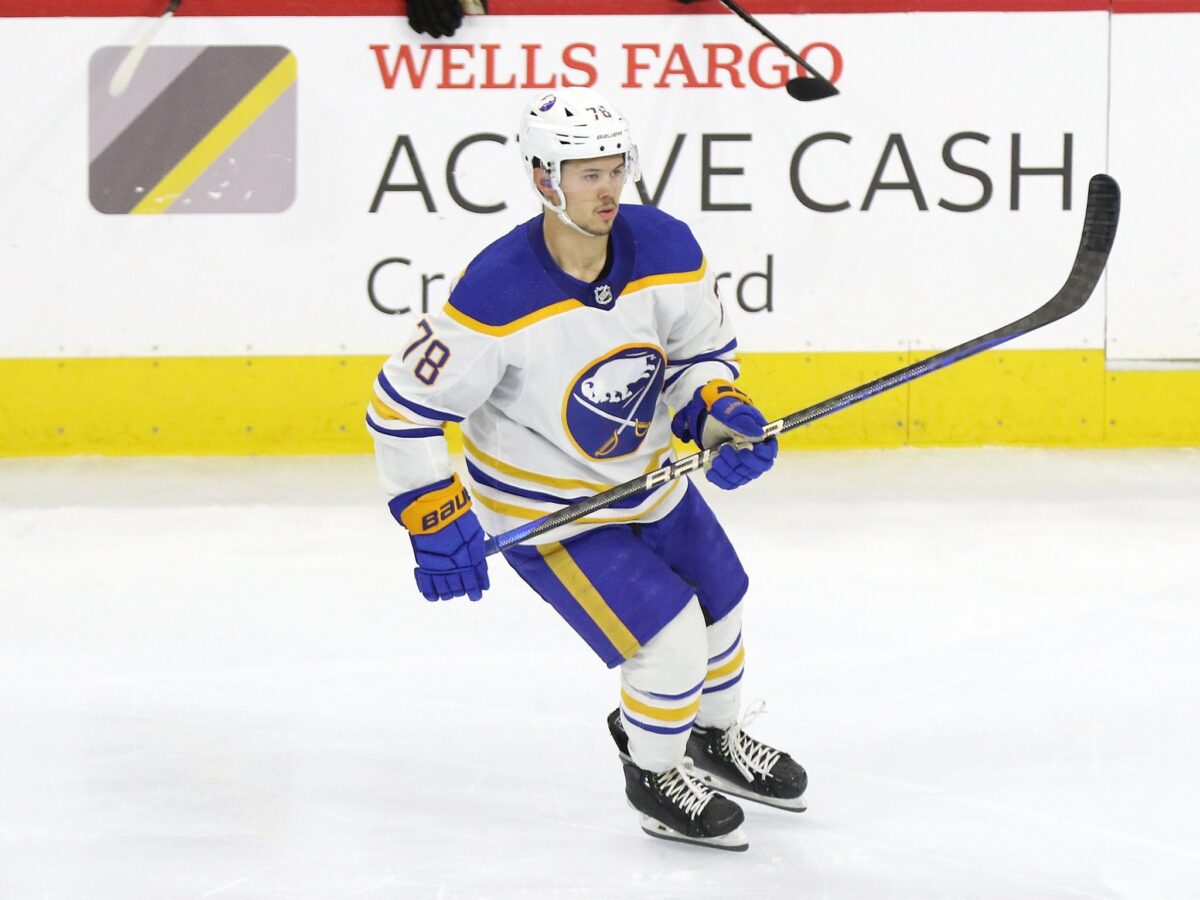 Unfortunately for the former Providence College Friar, the Sabres are overloaded with left-handed defensemen (even more so now that Ryan Johnson has been added to the mix) and might be looking for another right-hander to balance it out. Also, there's a chance that Adams will bring in an experienced veteran to give direction to the young group.
---
Latest News & Highlights
---
At just 25 years old, Bryson has considerable upside, but so far he hasn't factored into Buffalo's plans; he had to fight to keep his spot in the top-six all season. If the Sabres decide to move him, he could command a decent return and give them more flexibility. With one year and $1.85 million remaining on his contract, he would be an easily affordable piece to help another team add versatility to their blue line.
Eric Comrie
It's tough to tell what Eric Comrie's role with the Sabres will be after his first season with the team did not go as expected. They could opt to carry three goaltenders again, but it's debatable how much he'll play after a solid rookie season from Ukko-Pekka Luukkonen and a very impressive debut run from Devon Levi at season's end. The two youngsters could become a tandem, and Comrie would be third behind them if he is kept around.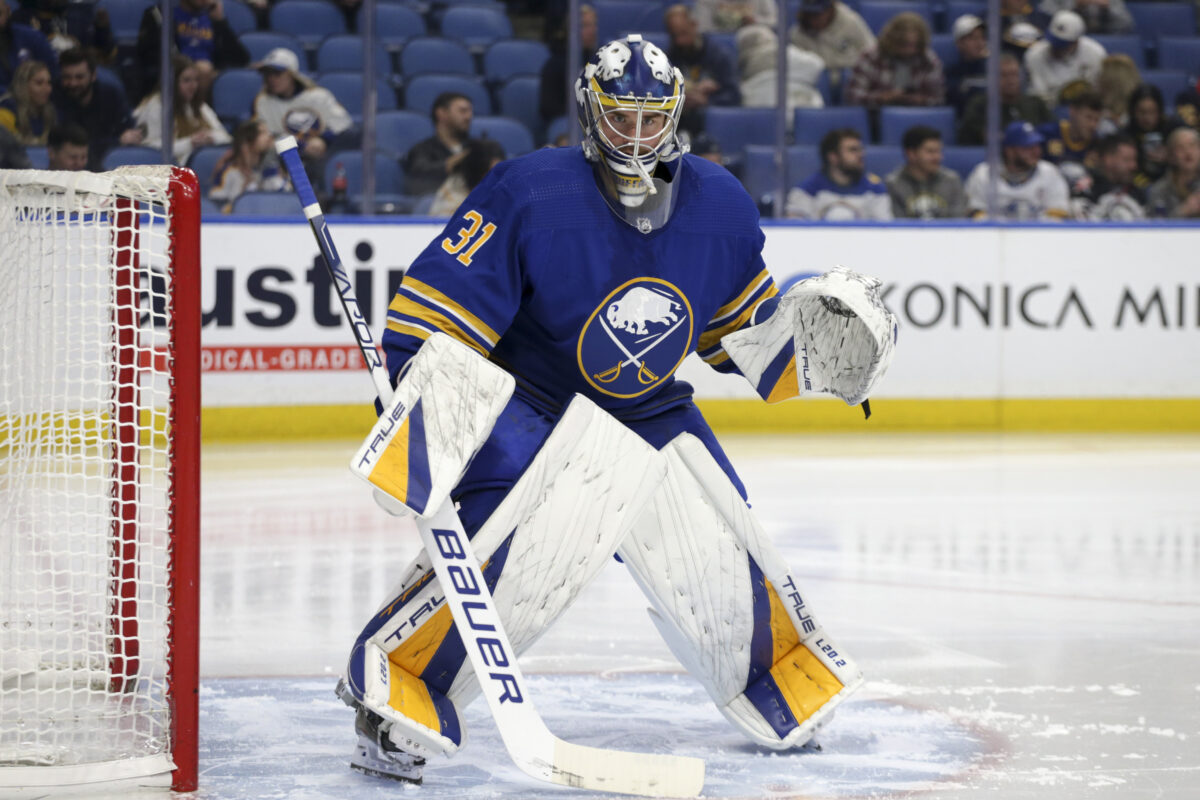 The soon-to-be 28-year-old still has a lot to offer, and the Sabres will have to improve their defense in order for any goaltender to have a chance, but it's not likely that they'll make a decision that would hinder either Luukkonen or Levi's development. There will undoubtedly be teams looking for a goaltender over the summer, and Comrie could be a good option with a cap hit of just $1.8 million for one season.
There have been rumblings that the Sabres may attempt to upgrade in goal and bring in a big name. The likelihood of such is up for debate, but if they do move a goaltender this offseason, it's all but guaranteed to be Comrie.
Victor Olofsson
As part of our end-of-the-season review, we discussed Victor Olofsson's inability to tap into his full potential, which has become a major source of frustration for fans. After an inconsistent campaign that resulted in him being benched for the last five games of the season, the winger seems more expendable than ever. A trade seems likely, something Olofsson himself has admitted, and it might be best for both sides (from "Victor Olofsson and his camp expect a trade from Sabres, but it could take a while," The Buffalo News, 6/12/23).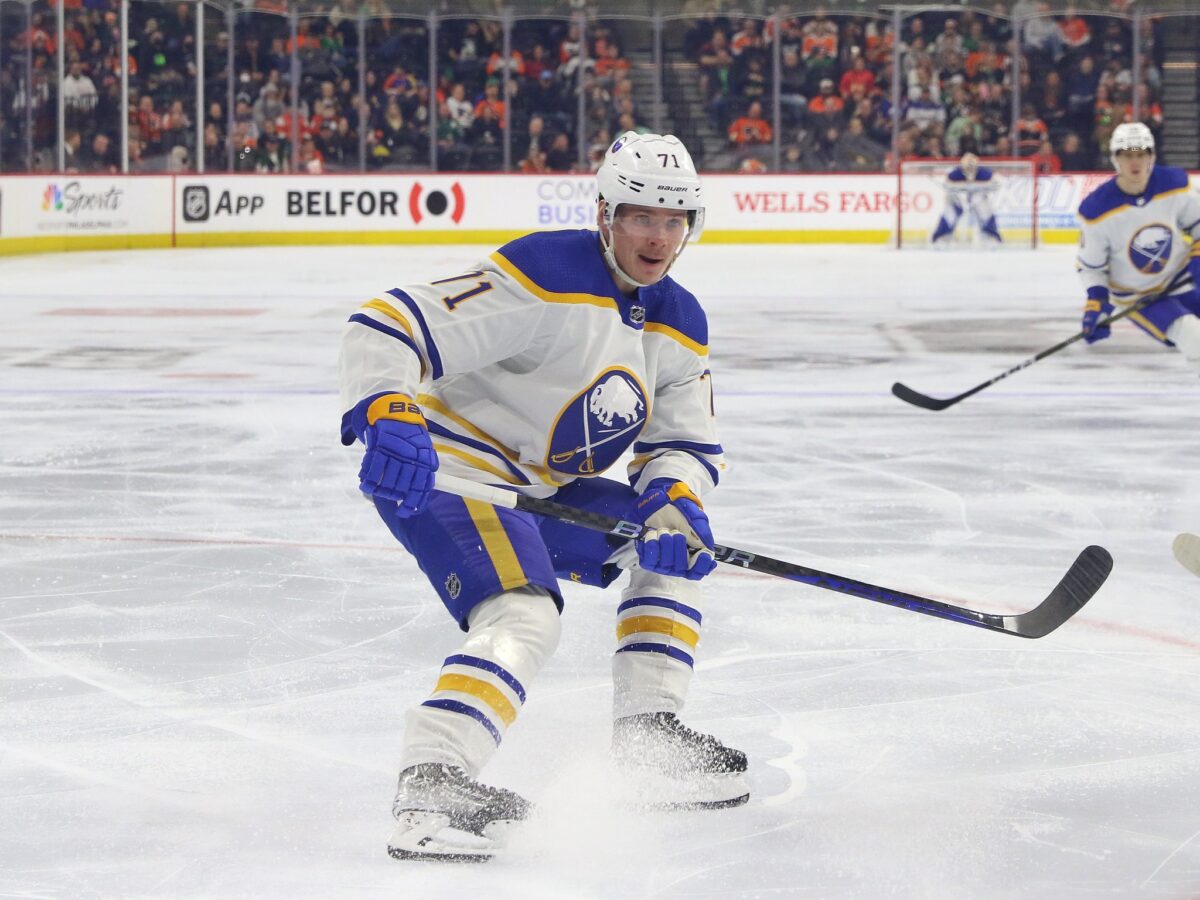 The Swede has been an important piece of the Sabres since he arrived in 2019, but the team's quantum leap forward on offense this season suddenly makes him less essential. With Jiri Kulich, Lukas Rousek, and Isak Rosen on the way, he may find himself fighting for a roster spot next season. Being sent to another team could give him a bigger role and might even help him rediscover his game.
Inconsistency aside, Olofsson's potential is undeniable. Like Bryson and Comrie, he has one year remaining on his contract, and though his cap hit is $4.75 million, other teams shouldn't hesitate to take him given what he can bring. He'll be an unrestricted free agent after next season but would be a much more affordable rental option than others. The Sabres could easily ask for a mid-round pick in return that they could then flip in a bigger deal.
What Will Buffalo Do at 2023 Draft?
The Sabres own the 13th overall selection, the lowest first-round pick they've had since 2012. Though they're far from the highly-touted Connor Bedard, a plethora of options are still available to them and what they'll end up doing is anybody's guess. Adding to the intrigue are reports that Adams is exploring his options to move up or down in the order.
Related: Sabres Have Great Defensive Options With 13th Overall Pick
Although the Sabres are coming off their best season in a decade, they still have their work cut out for them, and they can't afford a misstep. Whether the team makes a move or not, they had best be sure it's the right call to continue their progression.