All season long, the Buffalo Sabres struggled defensively, largely due to the injuries and youth of their defensive core. Rasmus Dahlin and Owen Power stepped up to play massive defensive minutes while still contributing to the offense, and Mattias Samuelsson was a defensive rock all year long. The issues came mostly with the likes of Henri Jokiharju, Jacob Bryson, and Ilya Lyubushkin, as each of them had rough patches more often than not.

Since the Sabres have their top three defenders set for the time being, there is a good chance they use the 13th overall pick in this year's draft on a defender that could round out that grouping. The 2023 Draft has some very good defensive prospects, and Kevyn Adams will undoubtedly be considering each of them for different reasons. The prospects themselves all provide speed, and a two-way game, which fits perfectly into the team's gameplay structure. The Sabres may still choose to go with a forward to add to their group at 13th overall, but adding a defender makes much more organizational sense.
David Reinbacher Fits Best
The first defenseman that needs to be in Adams' sights is David Reinbacher. He is a smart two-way right-handed defender that would be a perfect fit on their second pairing with Power. He plays a smooth transitional game and has all the right tools to be a steady NHL defenseman. He has the potential to eventually work his way up the lineup, but his best fit would be alongside a fellow two-way defender like Power.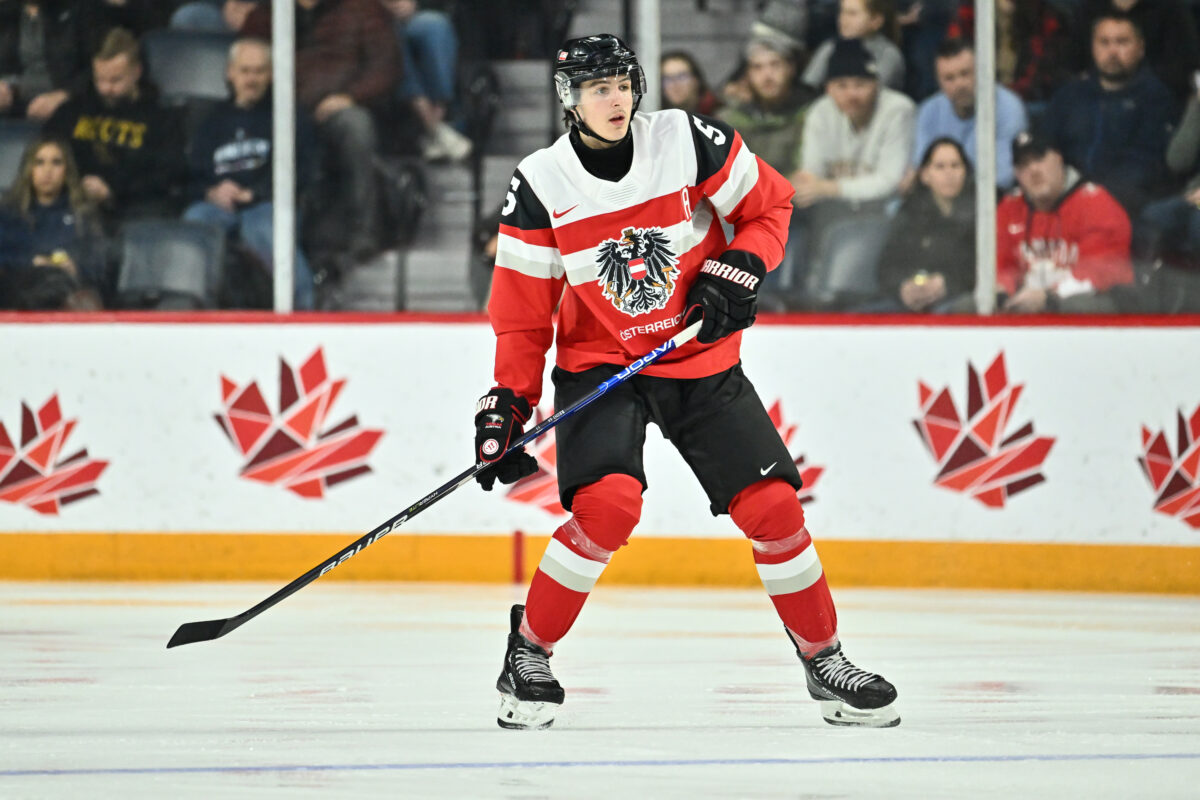 The issue with Reinbacher is that he is ranked fairly high in the scouting reports, and there is a very good chance he is taken before the 13th overall slot that Buffalo has. If they do want him, they will likely need to move up a few slots to select him. He is the best fit based on play style, handiness, and overall potential, so if he is still available when Buffalo is selecting in the first round, they should pounce on the chance to take him. He is not far off from playing in the NHL, so they would not need to wait to bring him up to the big club in a year or so.
Axel Sandin Pellikka Adds Offensive Charge
Buffalo already has Dahlin and Power to run the offensive side of their defense, but adding another puck-moving defender would not be a terrible thing to complement either one of them. Axel Sandin Pellikka is also a right-handed shooting defender with a knack for creating offensive chances. He is a bit on the shorter side standing at 5-foot-11, but he has a filled-out frame to handle the NHL fairly soon.
---
Latest News & Highlights
---
He could make the jump to the NHL next season, but Buffalo is in no hurry to bring in young players right out of their draft year. They have a stable lineup, and they would be a great fit for a young defender like him, who can put up a good amount of points. His future would likely be as a second-pair defender with Power, but he could also run a defensive pair of his own. If he did, it would be great to slot him with the likes of newly signed Ryan Johnson, and then the Sabres would have a very balanced defensive core down to their last pair.
Tom Willander Adds Depth and Physicality
The Sabres lack physicality in every aspect right now, and they could use some grit coming from the back end. Tom Willander would be a great fit for them as he has the speed, defensive awareness, and physical aspects that would fit very well with the Sabres long term. He is a couple of years out from being a fully developed product, but he has the right attitude on him that Don Granato would love to have at his disposal.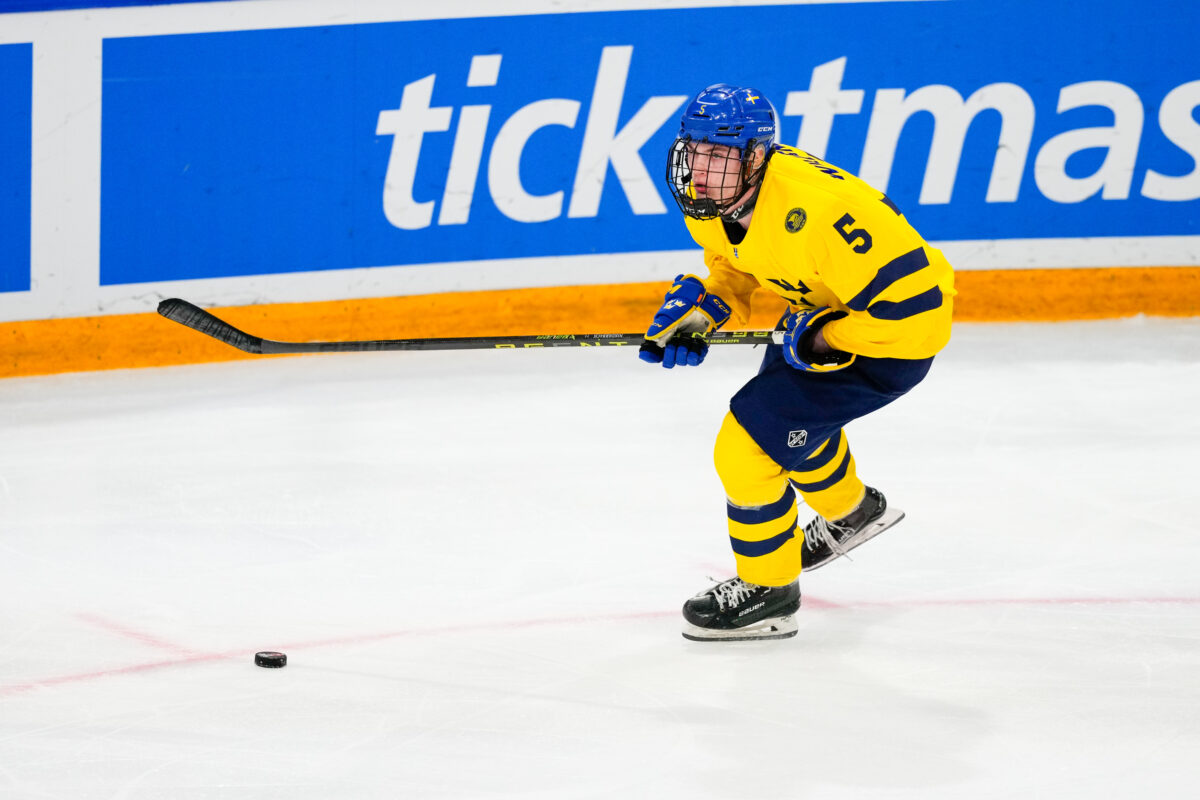 As another right-handed shooting defender, he would be a perfect future option to play with Dahlin. Both play a hard-nosed game, but one of them is more offensively inclined, which is perfect to balance the transitional play of both. Dahlin showed that he can do his best work when he has a physical partner that he can rely on to cover for him while he moves the puck up ice, and Willander would be the perfect compliment to him. This would also allow Mattias Samuelsson to move down next to Power, which would have the same effect as it did on Dahlin. If Willander ends up a Sabre, then they will have a very dominant two-way group that can do anything on the ice.
Sabres Can Set Themselves Up Long Term
The Sabres have a lot to wrestle with when it comes to using the 13th overall pick this year, but assuming they don't look to the trade or free-agent markets, they could set up their defense long-term by selecting any of these players mentioned. Other honorable mention candidates are first-round worthy selections, but unless they make a trade for an additional first-round pick, they will have to make sure they choose right. With less picks comes less flexibility in how they can select their players, but if they can choose correctly and sign these young prospects early on, they will be set for the future.
Related: Sabres Should Target These 3 Free Agents
In last year's 2022 Draft, they had three first-round selections that ended up becoming Matt Savoie, Noah Ostlund, and Jiri Kuluch. All three of these players are forwards, and they are just a few among the other top forward prospects available in the Sabres' development system (i.e Prokhor Poltapov, Alex Kisakov, and Tyson Kozak), so they do not need to add more top end offensive talent to their prospect pool. Using this draft to rebuild their defensive depth is something very important for them to address, and with a draft this deep, it is the perfect time to do so.
---
---