The Anaheim Ducks have nine selections in the 2023 NHL Entry Draft. The first couple of picks will likely be spent on forwards since the organization possesses a deep and talented array of defense prospects. But the pool thins out quickly upfront, with wingers being a particular area of need. The players chosen at No. 2 and No. 33 could go a long way in addressing any concerns the organization has with its forward group. 
Related: 2023 NHL Draft Guide
However, management has another issue to address: goaltending. Lukas Dostal, who has been viewed as the team's future in the crease, will likely graduate to the NHL in 2023-24, so the Ducks need to be on the lookout for the next goalie to groom as his eventual successor. Trade rumors are swirling around starter John Gibson again, which has become an offseason tradition at this point, but whether or not he is moved, the Ducks should be looking seriously at restocking the cupboard between the pipes.
Having three picks in the second round, and two more in the third round, puts Anaheim in a good position to nab a goalie with plenty of potential, and the goaltending class of 2023 has some intriguing options for the Ducks to consider. 
Michael Hrabal, Omaha Lancers (USHL) 
It is widely believed that Michael Hrabal will be the first goalie off the board, and most mock drafts have him going either in the middle or at the end of the second round. If Anaheim spends the No. 2 and No. 33 picks on wingers, which would probably be their best course of action, Hrabal may be off the table before it is their turn to make their next selection at No. 59.
The 6-foot-6, 209-pound netminder is committed to the University of Massachusetts for the 2023-24 season following an up-and-down year with Omaha of the United States Hockey League. If he is still available, Hrabal's combination of size, agility, and poise makes him a great target.
Carson Bjarnason, Brandon Wheat Kings (WHL) 
After Hrabal, there is plenty of debate regarding who will be the next goaltender chosen, but Carson Bjarnason has a good chance of claiming that spot; he was ranked ahead of Hrabal as NHL Central Scouting's top North American goalie.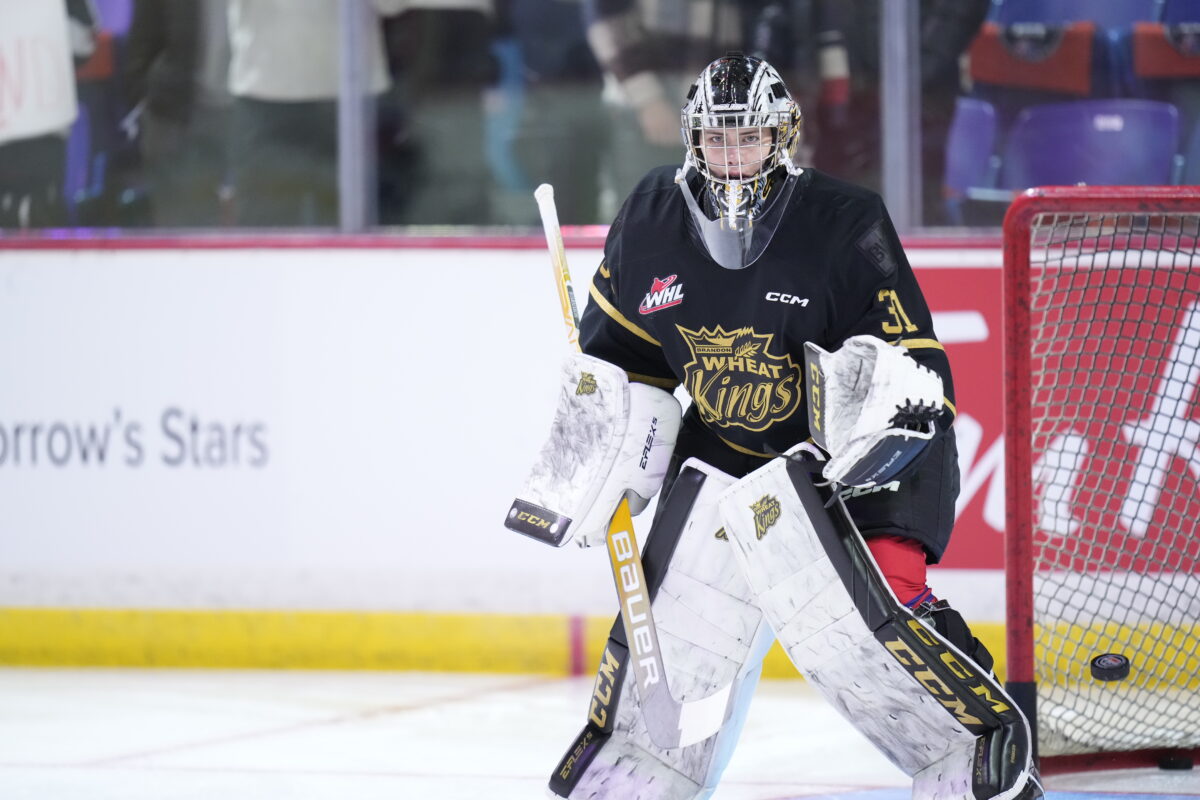 Bjarnason was a standout performer despite the Wheat Kings' struggles during the 2022-23 Western Hockey League (WHL) season. He ranked eighth overall with 1,265 saves and tied for third with three shutouts. Bjarnason has received plenty of praise for his positioning and projects as a high-upside talent. He could be available when the Ducks appear on the clock at the end of the second round. 
Trey Augustine, USNTDP Juniors (USHL) 
Trey Augustine is another netminder who scouts believe could be the top of the class. He went 29-1-2 with a 2.13 goals-against average (GAA) and a .926 save percentage (SV%) in 33 appearances for the U.S. National U18 Team during the 2022-23 campaign. Augustine also backstopped the United States to a gold medal at the 2023 IIHF U18 World Championship and won bronze at the 2023 IIHF World Junior Championship.
The Michigan native possesses great athleticism and superb puck-tracking ability. Augustine, who is committed to Michigan State University for the 2023-24 season, might be ripe for the picking at 59th or 60th overall. 
Adam Gajan, Chippewa Steel (NAHL) 
Adam Gajan is slated to play for the University of Minnesota-Duluth next season following a solid campaign in the North America Hockey League. Gajan, who is in his second year of draft eligibility, witnessed his stock increase substantially thanks to an impressive showing at the 2023 IIHF World Junior Championship. In four appearances with Slovakia, he went 2-2-0 with a 2.40 GAA and .936 SV% en route to being named the best goaltender at the tournament.
Gajan made 33 saves in a 6-3 win over Team USA and nearly led the Slovaks to a stunning upset against Canada in the quarterfinals. He stopped 53 shots in a 4-3 overtime loss to the Canadians, and it took an otherworldly goal by Connor Bedard to end Slovakia's surprising run. Gajan's strong positioning and athleticism should ensure that he isn't passed over again. It's unlikely that he will slip to the third round, so Anaheim may need to scoop him up late in the second round. 
Thomas Milic, Seattle Thunderbirds (WHL) 
Thomas Milic, who is another overage netminder, is likely to find an NHL home this time around. He was invited to training camp by the Seattle Kraken in 2021 and attended camp with the Minnesota Wild in 2022. Milic should finally hear his name called after a very successful 2022-23 season.
---
Latest News & Highlights
---
He was named the top goaltender of the WHL and helped lead Canada to a gold medal at the 2023 IIHF World Junior Championship. He also led the WHL with a 2.08 GAA and .928 SV%, which landed him a spot in the First All-Star Team of the Canadian Hockey League. He could be available for the Ducks at the beginning of the third round. 
Honorable Mentions: 
Scott Ratzlaff split starts with Milic during the 2022-23 campaign for the Thunderbirds. The 18-year-old also posted excellent numbers, with a mark of 25-8-0, a 2.15 GAA, and a .918 SV%. He also backstopped Canada to a gold medal at the 2022 Hlinka Gretzky Cup with an outstanding 0.50 GAA and a sparkling .976 SV%. Ratzlaff would be a great value addition in the third round. 
Jacob Fowler was named the USHL Goaltender of the Year and earned a spot on the USHL First All-Star Team after leading the league in GAA (2.28) and SV% (.921). Additionally, he was tabbed as the USHL Clarke Cup MVP. Fowler, who is projected to play for Boston College next season, could be a third- or fourth-round selection. 
Time to Commit Some Draft Capital to Goaltending
Anaheim has selected Vyacheslav Buteyets, who was a sixth-round pick in 2022, and Gage Alexander, who was a fifth-round choice in 2021, after going two straight drafts without adding a goaltender. It is time for the organization to bring in a goalie prospect with a much higher ceiling. As previously mentioned, the Ducks hold three three picks in Round 2 and two in Round 3 for the 2023 NHL Draft. Within that range, Anaheim has a great opportunity to add a potential impact performer at the goaltending position.