During the first intermission of Thursday night's game between the Buffalo Sabres and New York Rangers, television analyst and former Sabres netminder Marty Biron telestrated a goal scored by Jack Eichel.
He compared the nifty goal-mouth saucer pass by Sam Reinhart to a streaking Eichel to that of a pass thrown by Buffalo Bills quarterback Josh Allen to wide receiver Stefon Diggs. He called the goal "a football play." This past season, Allen and Diggs hooked up for 10 touchdown passes and nearly 2,000 yards. No doubt that through the years, Eichel and Reinhart have developed chemistry with one another, much like Allen and Diggs did in their first season together.
It was astute commentary to a Sabres fanbase that likely has strong ties to the city's football team, who recently fell to the defending Super Bowl Champion Kansas City Chiefs. The similarities ended there.
Eichel's Post-Game Comments
Eichel scored a goal, but the Sabres fell in overtime, 3-2. In the extra session, Eichel made a terrible play — what appeared like a lazy, behind-the-back pass that was easily intercepted. It led to a turnover and a two-on-one rush by Colin Blackwell and Rangers first-round pick Alex Lafreniere. The rookie buried the puck behind Linus Ullmark for his first NHL goal. Mistakes happen. This one ended the game.
After the game, Eichel never commented on his poor pass. He cast a wide net of blame, lamenting, "That's just about as bad as we've played this year…we have to find a way to play a lot better than that."
Allen in Defeat
A great leader praises his team during victories and accepts blame in defeat. Eichel's lack of ownership that followed in the locker room spoke volumes.
Unlike Allen, who consistently owns up to his own poor decisions that have led to losses, Eichel didn't lay the blame at his own feet. He didn't take on the responsibility of the game-deciding play. He didn't admit he should've made a stronger play up the wall. He didn't say he'd accept the loss and learn from it. Instead, the captain spoke of the entire team's mistakes and lack of urgency.
Allen, 24, has endeared himself to his coaches, teammates and the community with his unrelenting will to win and the mature, transparent way he handles himself off the field. He tells things like it is and speaks from his heart.
Allen accepted responsibility after he and the Bills lost to the Arizona Cardinals earlier this season. "Throughout the game I put the ball in harm's way too often. It shouldn't have come down to one play. I take this very personally and I know the two interceptions can't happen. You can't expect to win after turning the ball over," said Allen. "If I do my job better throughout the game it doesn't come down to that one play."
Allen confessed after losing to the Titans in week five of the season. "I can't do that to our defense, put them in vulnerable situations and allow their offense to have short fields. I did it twice tonight and I take that heavily upon myself," said Allen. "I got greedy and made a bad decision, threw a bad ball, and really cost our team."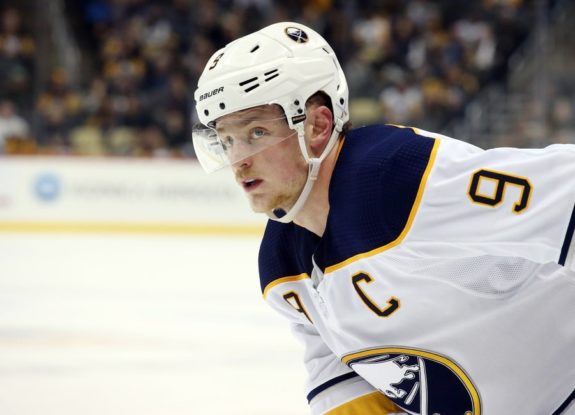 Clearly, Allen's ability to rally his team and get the most from them is in part due to his leadership skills. He continues to show growth week after week and is the player everyone looks to in good times and in bad. After the win and division championship, Allen stood up in the locker room and said, "This AFC East champs shirt is fine and dandy, but I want the one that says Super Bowl champs." His coaches say that's what makes him the leader in the locker room.
"He's just a really good leader for us here. He speaks his mind, he's humble. We all have goals we want to achieve as a team, and that was the first one. I think that he was happy about how he played and his performance, but there's a big picture to this thing too. This was his way of saying on to the next week pretty quick," said Bills offensive coordinator Brian Daboll.
Sabres Need More From Eichel
One of the most loved of Josh Allen's intangibles is his ability to command the respect of his teammates and his willingness to be "the man" of every team he has ever played on. "I think knowing yourself and knowing what you're about is the first step in being a leader," said Allen. "Obviously, leading by example and going out there and doing what you need to do. That's kind of been my motto throughout my life of leading by example, not saying much, putting my head down and doing what I need to do."
Some nights, Eichel can take the team and carry it on his shoulders. He's an elite, top-10 game changer in the NHL. Other nights, he's neutralized and invisible. Either way, as a captain, he needs to lead. That not only means making better decisions on the ice, but in front of a camera when off it. Calling out the team is fine, but calling out himself would've been better.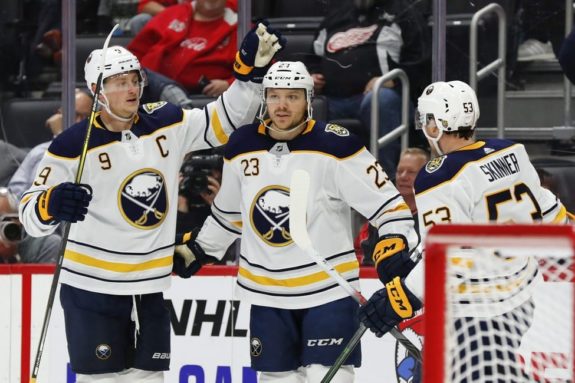 No one doubts Eichel's will to win. Earlier in his Sabres career, the captain stressed the need to be ready to play every night. "You can't take nights off, you can't take practices off, you can't take days off. It has to be a constant, everyday thing. I've tried to make an effort to do that and bring a good effort every night, because obviously the best way to lead is by example." 
"If I'm not working, how can I expect everyone else to work? I think that's been an important thing and an important mindset for me this year. I think it's been pretty contagious. I think our team's worked really hard."
In May, during his end-of-season press conference at the end of the 2019-20 season, player after player sang their praises for their captain, and how his leadership has continued to grow throughout his NHL career.
An Allen Toss to Eichel
Despite their mediocre record, the Sabres have played decently this season. They've been in every game. Fancy stats will lead many to believe the goals will come and the wins will follow. Right now, they sit a single point out of the playoffs in the competitive, every-game-is-worth-four-in-the-standings Eastern Division.
"We ended up losing the extra point… probably would've liked to have it," said Eichel.
Their chances of making the playoffs in this tough division, in this weird COVID-shortened season, will depend on each player being responsible to each other as well as when they look in the mirror. That's especially true of the captain. And Allen would be the first to say so.
---
---