Last season, the Buffalo Sabres took huge strides. Development from the likes of Tage Thompson, Dylan Cozens, and Rasmus Dahlin alongside continued success from Alex Tuch and Jeff Skinner propelled them to a 91-point, fifth-place finish in the Atlantic.
Going into 2023-24, there are plenty of reasons to assume another step forward for Buffalo. For many, a playoff berth isn't even a goal — it's an assumption.
Further Development
The Sabres are a very young team. In fact, as of 2022-23, they were tied with the Columbus Blue Jackets for the youngest team in the league at 25.9 years old as their average age. Columbus is likely to take the reins as the youngest team in the league, with additions such as Adam Fantilli and David Jiricek, as well as Sabres' additions like Connor Clifton and Erik Johnson, but the point still stands that the Sabres are among the league's youngest teams.
What this means is that there is likely going to be a lot more development from a ton of the lineup. Thompson likely doesn't have much more to give — expecting further development from a near-50 goal scorer is a lot to ask — but forwards Dylan Cozens, Jack Quinn (when he returns), JJ Peterka, and Peyton Krebs, as well as defensemen Owen Power, Mattias Samuelsson, and to some extent Rasmus Dahlin, can reasonably be expected to take another step forward.
Cozens, despite his breakout 31-goal, 68-point campaign last season, has played just over 200 NHL games — and that's usually the threshold for a true breakout. With that in mind, he is likely to truly blossom into the star that he's projected to be. Improvements in his off-puck play and playmaking confidence should result in true stardom for the budding stud.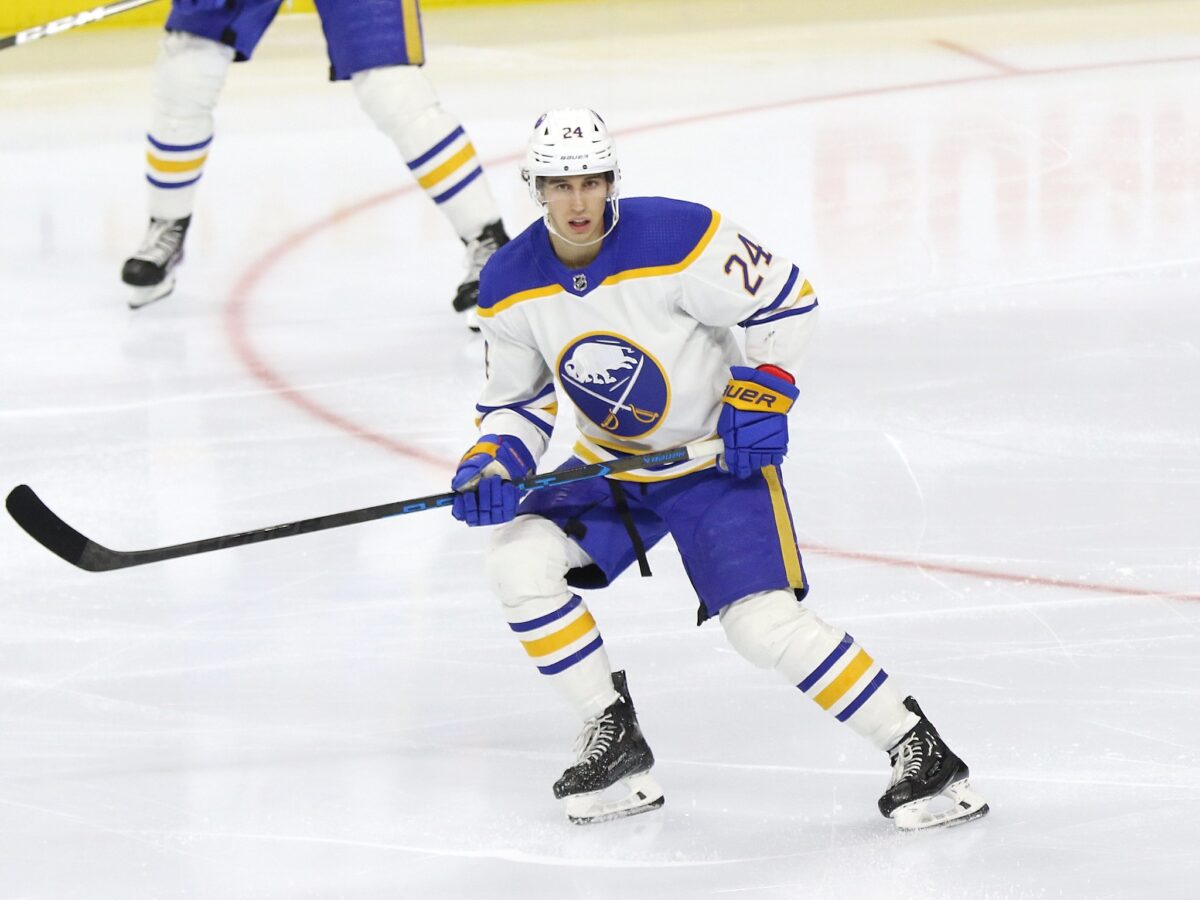 Quinn, Peterka, and Krebs are all due for some major steps forward. Quinn showed flashes of brilliance last season in a limited role, and when he comes back he should find himself on the second line. His underrated two-way game combined with bulking up and gaining confidence should result in an improvement in production from last season. The same goes for Peterka, who will more likely than not find himself in a top-six role to start the year. Krebs still has a ways to go, but in a third-line center role, should develop more with more ice time.
On defense, Power should be able to take significant strides in his defensive game. I'm not sure that there's much more to give offensively in his sophomore season — he ranked in the 85th percentile for even-strength offense as per Evolving Hockey — but on the defensive side of things, he should be able to improve on relatively abysmal numbers. He needs to if the Sabres are to address their lackluster defense depth; playing 24-plus minutes a night of solid work in his own end would do the Sabres a lot of good.
Related: Expectations for Sabres Defenseman Owen Power in Year 2
On a similar token is Samuelsson, who really needs to prove that last season was just a sophomore slump. His rookie season was impressive, but he regressed quite a bit on both sides of the puck in 2022-23. He's still young — at 23 years old, there is still plenty of time for him to blossom into the well-rounded, top-four defenseman that the Sabres envision him being. Finally, there's Dahlin, who rocketed into conversations of being the best all-around defenseman in the league last season. It might be a stretch to say that he has another gear in him, but at the end of the day, he's going into his age 24 season, and defensemen hit their peak a bit later than forwards, so it is entirely possible that Dahlin does have the possibility to take another — albeit small — step forward.
Improved Penalty Kill
Last season, the Sabres' penalty kill was horrific, sitting at 73 percent, fifth worst in the NHL. The good news is, it can't really get much worse than that. Newcomers Jordan Greenway and Connor Clifton are set to be staples on the PK, while veteran Erik Johnson will likely get a bit more penalty killing time than he probably should. Greenway and Clifton are excellent while down a man, and even though Johnson isn't of the defensive caliber that he used to be at, is likely better than a couple penalty killers from 2022-23.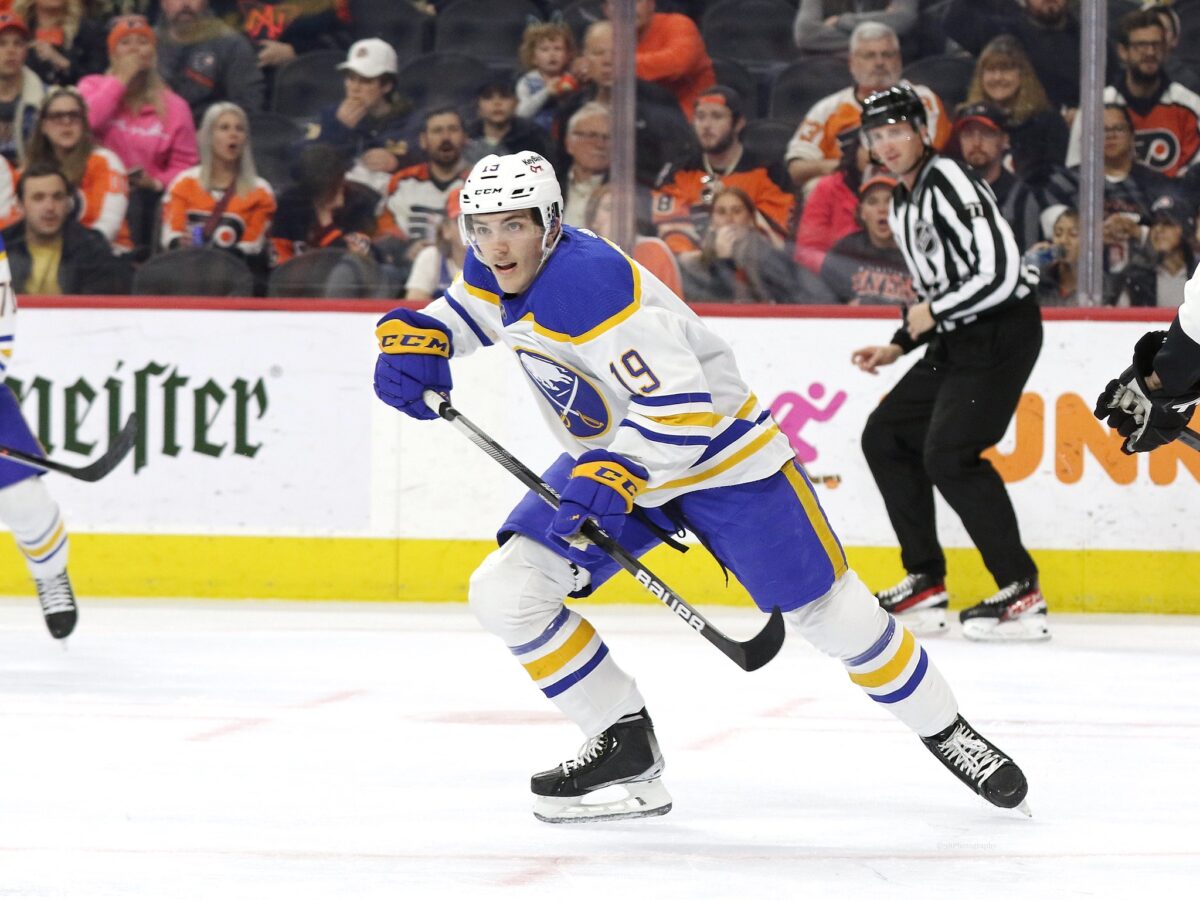 Then, there's the case for Krebs in an increased penalty killing role. Last season, he only played 51 minutes while on the PK, and he was more effective than the Sabres as a whole — Buffalo only allowed 8.24 goals against per 60 (GA/60) with Krebs on the ice, as opposed to 9.57 GA/60 overall. Both of those numbers are rough to be sure, but anything is an improvement over last season, and Krebs' development is sure to result in better defensive numbers.
Devon Levi
Last season, the Sabres didn't have an identity in net; no starters actually held the reins for more than a few games and there was instability between the pipes. No Sabres goaltender started more than 33 games last season (Ukko-Pekka Luukkonen), and none of the options were stellar, to say the least. In his 33 games, UPL sported a meager 3.61 goals-against average (GAA) and a rough .892 save percentage (SV%). Craig Anderson, who played the bulk of his 26 starts at the beginning of the season, also held a GAA above three and led the Sabres in SV% with an unimpressive .908. Then there was Eric Comrie, who, in 19 games, posted an .886 SV% and a GAA of 3.67.
---
Latest News & Highlights
---
This rotation of subpar goalies should come to an end this season with Devon Levi. He played in seven games last season, and while he put up a lackluster 2.97 GAA and .905 SV%, should be expected to take over in net. His NCAA prowess speaks for itself, and his high-end raw talent should continue to develop in 2023-24. I could see a potential burnout considering his lack of a true-starter workload in his young career, and I can envision it taking a little bit more time to marinate in the NHL before he truly becomes the elite goaltender he's shaping up to be, but at the very least it's refreshing to know that there is someone ready to take charge as the Sabres' starting goaltender moving forward.
NHL-Ready Prospects
With the unfortunate news that Quinn will be out until roughly late December, it's possible that the Sabres will get their first looks at some of their higher-end prospects. Jiri Kulich would likely be first up, and boy has he earned a spot on an NHL roster. The 19-year-old Czech cemented himself as one of the American Hockey League's (AHL) premier talents, putting up 24 goals and 22 assists for 46 points in his very first season on North American ice. If he were to step onto NHL ice, expect his elite speed and agility, lethal shot, and high IQ to translate to production immediately.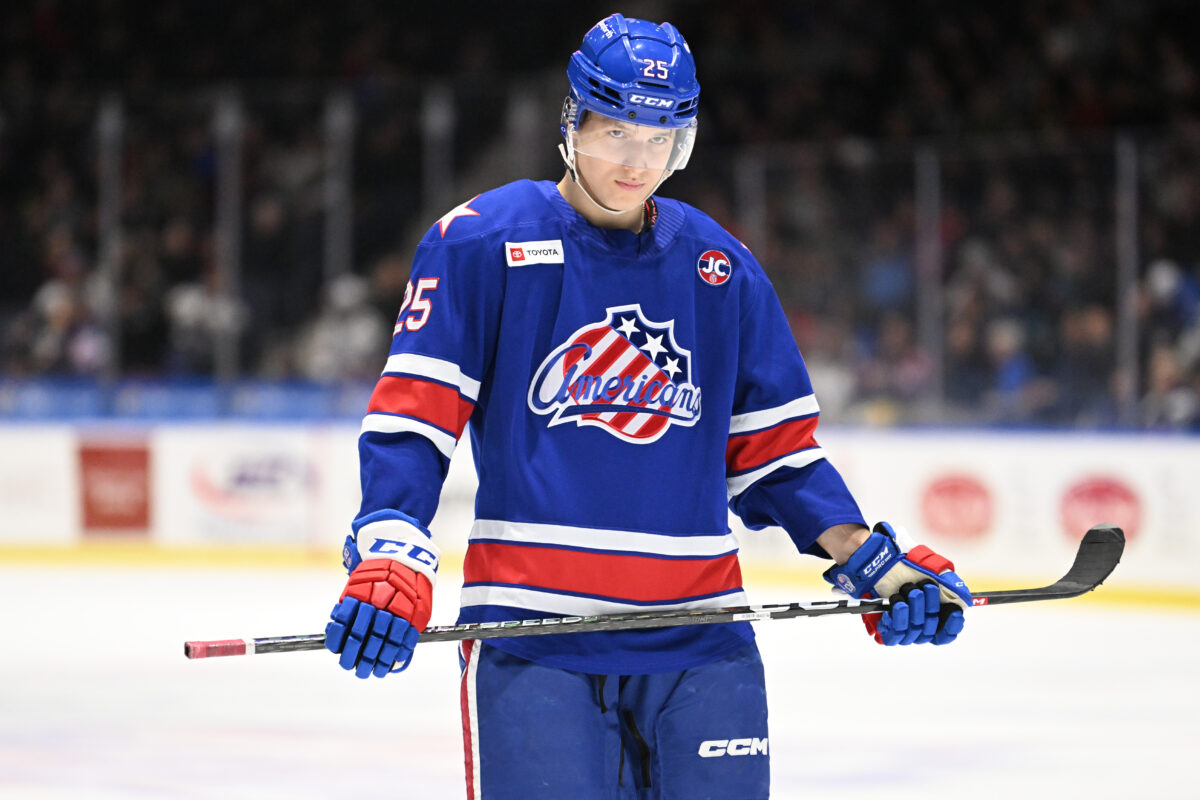 Past Kulich, the Sabres still have several options. Matthew Savoie, the savvy ninth-overall pick from the 2022 NHL Draft could see NHL time, too. He is small, sitting at 5-foot-9, 179 pounds, but his incredibly high-end skating combined with an incessant motor should mean that his size doesn't mean much. After putting up 185 points in the Western Hockey League (WHL) over the past two seasons, he should be expected to join the Rochester Americans for the start of the 2023-24 season after appearing in two playoff games for the team to end his season in 2022-23.
Lastly, there are Zach Benson and Isak Rosen. Benson has already stormed onto the scene, showcasing his abilities at development camp back in July, and arguably cementing himself as Buffalo's most valuable prospect. The 2023 draftee is much like the previously listed prospects, in that he has seemingly endless energy, high-end skating ability, and an NHL-caliber shot and brain. Isak Rosen is the dark horse candidate to touch NHL ice in 2023-24, but there's no denying his potential as a speedy, playmaking winger. All this is to say that the Sabres certainly have an abundance of wealth of forward prospects, and one or two of them are bound to make their debuts in this upcoming season.
Regression in the Atlantic Division
Now, to be clear, the Sabres do have their work cut out for them if they want to surpass one of the already-established playoff contenders for a berth in the Atlantic Division. It might honestly be that they end up taking the second Eastern wild card spot over a Metropolitan Division team whilst finishing fifth in the Atlantic. Where the Metro has three of the four top dogs in the East, the Atlantic has the depth.
With that said, significant regression can be expected of the Boston Bruins in particular. Patrice Bergeron and David Krejci hung up the skates, and the likelihood of Linus Ullmark repeating his success from last season is slim to none. Pavel Zacha is more likely than not going to be centering their top line, and despite some success in 2022-23, probably won't replicate it considering the tougher assignments he'll be dealt. On top of that, the Bruins held an incredibly high PDO, a number that indicates that they were incredibly lucky (to the point of absolute unsustainability past a single season). They're bound to fall off, and it genuinely might be enough for the Sabres to sneak into the postseason over them if Buffalo performs well.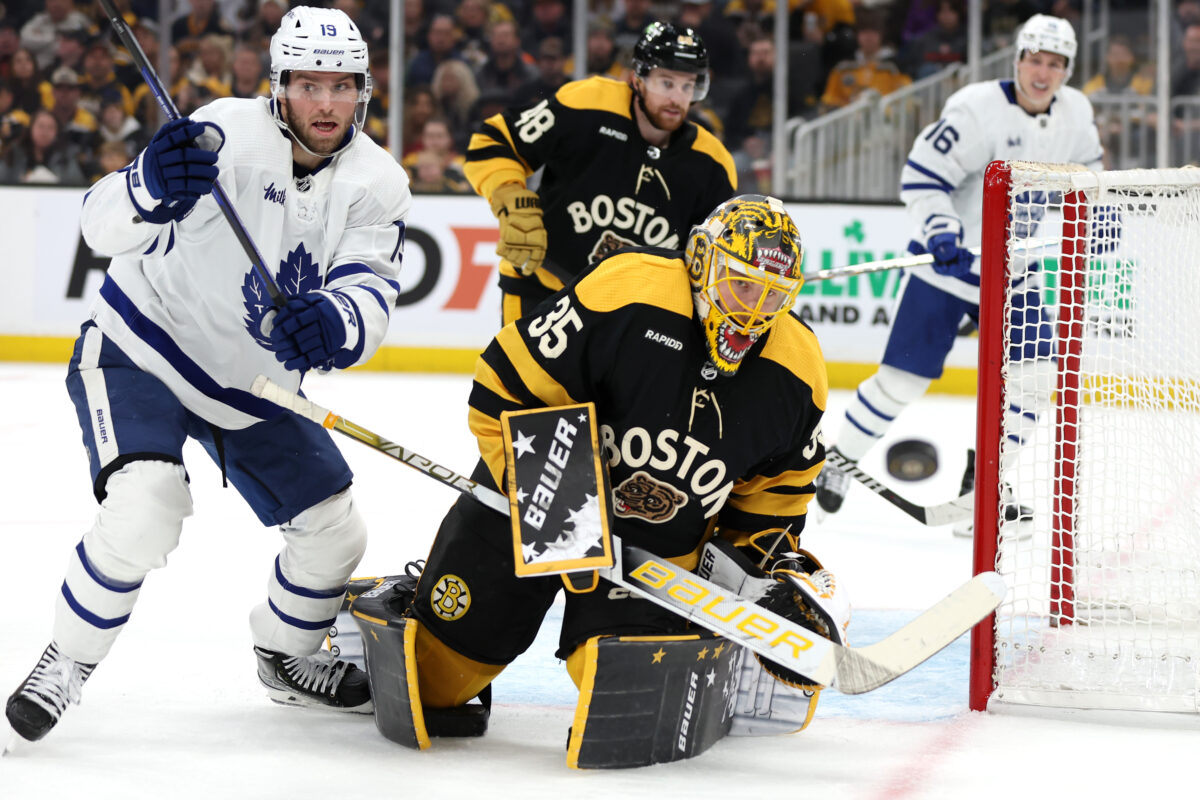 Toronto is also likely to take a bit of a step back, albeit nowhere near enough to prevent them from still being the frontrunners for the Atlantic Division title. Their defensive game is more likely than not where this step back will occur, specifically because of their unrestricted free agent (UFA) additions: John Klingberg, Max Domi, and Tyler Bertuzzi. Domi and Bertuzzi are notorious for giving up a lot of high-danger chances, and Bertuzzi is a significant downgrade from the likes of Ryan O'Reilly.
The Tampa Bay Lightning and Florida Panthers are still probably locks for the playoffs, though the Lightning are just about entering an era in which their average age is on the wrong side of 30, and, if not this season, will start to decline in the coming years. Florida, on the other hand, is just coming off of a Stanley Cup Final berth and should be a threat to challenge the Leafs for the division lead. With that said, though, the Sabres are plausibly able to squeeze their way into the playoff picture on the high chance that one of the teams regresses enough to leave an opportunity for the new kids on the block.
Goals, Goals, and More Goals
Last season, the Sabres scored 296 goals, good for third in the league behind the Edmonton Oilers and Bruins. The good news is, that's a more-than-sustainable number, considering that their PDO was right around the NHL average of one, and that further development from their young stars can be expected. Thompson might not pot 47 again this season — in fact, their entire top line had unsustainable PDO numbers — but young studs in Peterka, Quinn, Krebs, and Mittelstadt can reasonably be expected to improve on their number of tallies to even that out, and then some. Expect the Sabres to once again be among the league leaders in goals scored.
Parting Thoughts
It's an incredibly exciting time to be a Sabres fan. Between the player and system development and the generally expected Atlantic Division regression, they're primed to make a run at the playoffs. Expect Buffalo to once again play a meaningful 82 games, and don't be surprised if they jump one or more of the Atlantic playoff teams from last season.