Rumors have been circling that Patrick Kane is interested in signing a contract with the Buffalo Sabres, but until that's set in stone, they're just that — rumors. However, between that and Tage Thompson's recent long-term injury, there's reason to believe that Kane might be on his way to Buffalo.

Kane's resume speaks for itself. He's a career point-per-game player (1237 points in 1180 games), has three Stanley Cups under his belt, and is widely regarded as the best American player of all time. Even at 34, he put up 57 points in 73 games last season. He's been one of the premier passers in the league, and that aspect of his game has never slowed down regardless of age. Still, there are some major red flags that should keep the Sabres away.
Kane's Defense — or Lack of It
There's no way around it — Kane has long been considered a defensive liability. In his prime, it didn't matter because he was putting up 90-120 points a season. He's probably done putting up those numbers, though, which means it does matter now.
The Sabres have undoubtedly one of the league's more explosive offenses, even without Thompson. Last season, they scored the third most goals in the league (296), and they didn't lose any major personnel, which would contribute negatively to their goal-scoring production. They haven't scored at the same clip this season, but their puck luck makes me believe that it's an anomaly rather than something that will persist throughout the season.
---
Latest News & Highlights
---
With that in mind, what the Sabres truly need is defensive aptitude. Their defense has been sturdy enough, but now that arguably their best defensive forward — Thompson of all people — is down for a month or more, they need to reinforce the lineup with forwards who can play a solid two-way game. Kane is certainly not that player. Take a look at Kane's player card from 2022-23: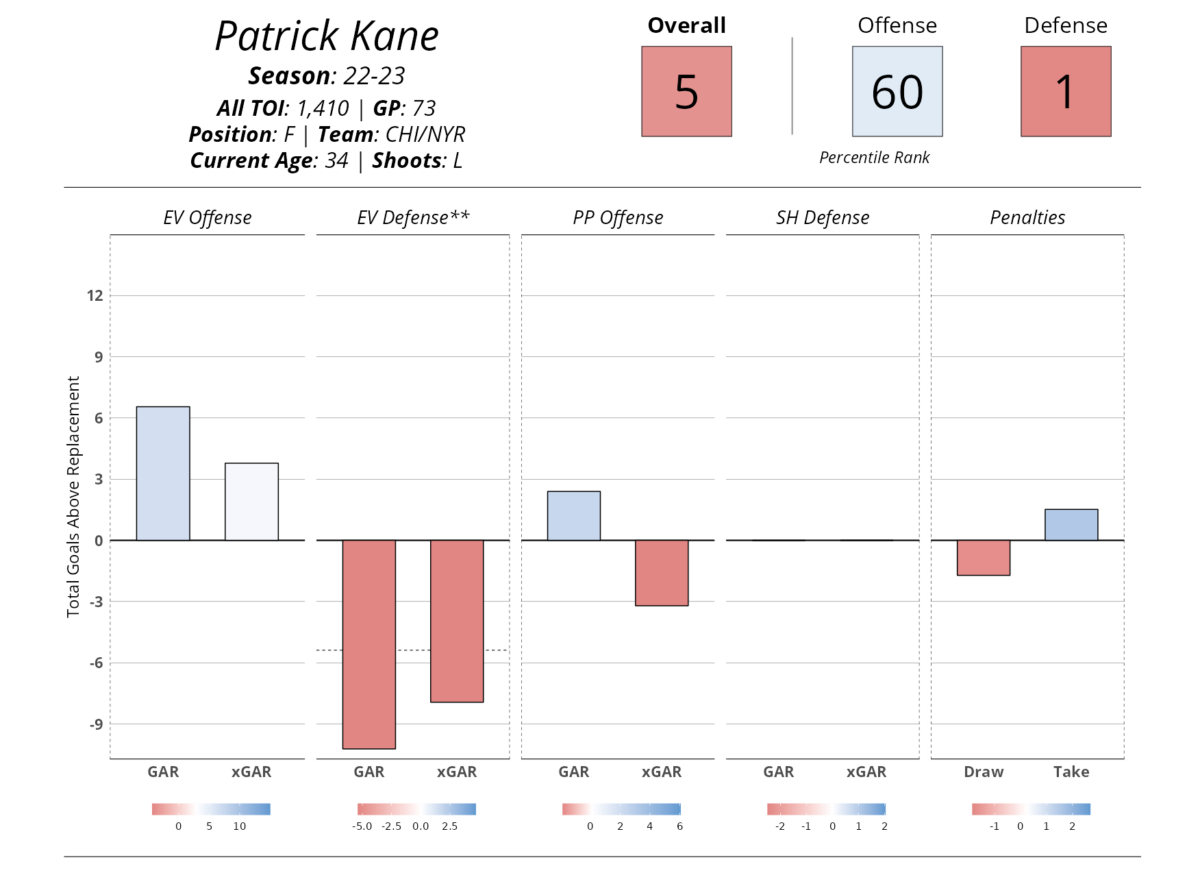 Nobody doubts his offensive acumen. His underlying offensive metrics are still solid, ranking in the 60th percentile. With that said, though, his defensive statistics are so bad that it neutralizes his overall contribution to a team to the 5th percentile. In fact, his defensive impact has never cleared 50% — league average — in his career. That's certainly not a player profile the Sabres need.
Sabres' Forward Logjam
Even without Thompson, there's still a logjam at forward, and that's without any added players. Victor Olofsson — despite his shortcomings — is still a valuable goal scorer, and he's been a healthy scratch for much of the season simply because there are too many talented forwards on the roster. The Sabres were still able to ice 12 competent forwards in Thompson's absence and should have no issue continuing to do so.
Related: Sabres Need To Give Matthew Savoie A Real Chance
Kane's presence for one year or more presents a legitimate issue on this front. Even if he signed for just this season, he would push one of Olofsson, Zach Benson, or Peyton Krebs out of the lineup (not including a healthy Thompson). When he comes back, two of those players would have to ride pine or get moved. And to think, that'd be an issue even if he was a net positive to the team — his defense is so bad that he's a detriment to the lineup, and he'd hypothetically be taking space from a more valuable asset in that regard.
Kane Taking Space from the Future
The Sabres have one of if not the most stacked prospect pools in the NHL, and most of the talent lies in the forwards. Matthew Savoie, Jiri Kulich, Noah Ostlund, Isak Rosen, Lukas Rousek, and Anton Wahlberg. These are just some of the names that should eventually be long-term mainstays in a stacked Sabres' forward corps. If Kane's reported deal is true — multiple years — this poses a very real threat to the future of the team.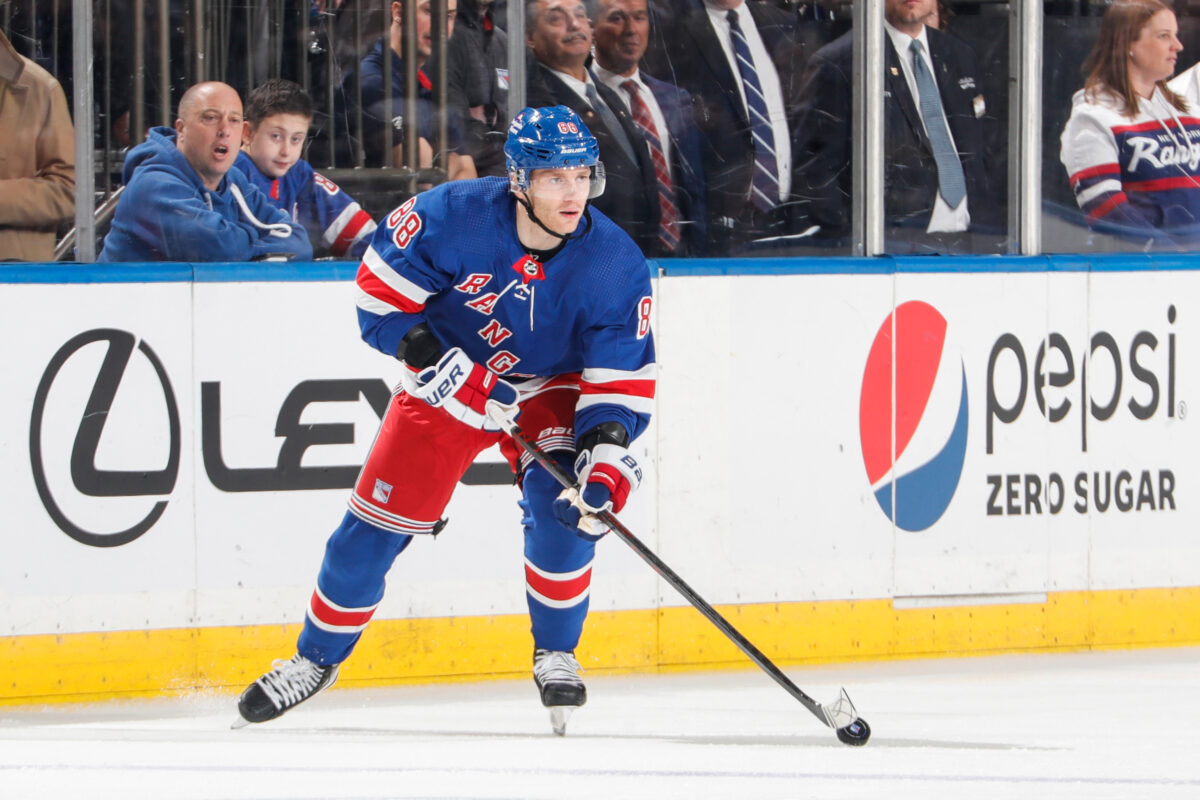 Is it worth it to have a 35-36-year-old Kane take up a spot that could be filled by younger, arguably more skilled players? Even if you think that Kane's 36-year-old self is more talented than, say, a 20-year-old Matthew Savoie — which I highly doubt — is it worth stymying the young player's development when the team isn't in a state of perennial contention yet?
Kane's Health Questions
Coming off hip surgery, there are (rightfully) a ton of questions about Kane's health moving forward. Last season, he cited his hip injury as the reason for his poor play relative to the rest of his career. He's been back on the ice since the end of August, rehabbing his surgery, but there's always the possibility that he never returns to form.
There have been players who have returned from hip surgery and continued their careers as though nothing happened. Claude Giroux, for one, has been a consistently great player for the Philadelphia Flyers and Ottawa Senators despite his hip surgery in 2016. At the same time, players like Robin Lehner, Tuukka Rask, and Nicklas Backstrom have had their careers disintegrate from these procedures. It seems like a coin flip, and that's just not a risk the Sabres need to take.
Kane's Contract Worth
Kane is a big name, and as such, his name alone warrants a contract much more expensive than what the player offers on the ice. I anticipate a multi-million dollar deal for at least two years. With the Sabres in a nice cap situation — $10 million in space this season — a one-season stint for Kane in Buffalo wouldn't be detrimental. If it's more than one season, though, real issues will arise.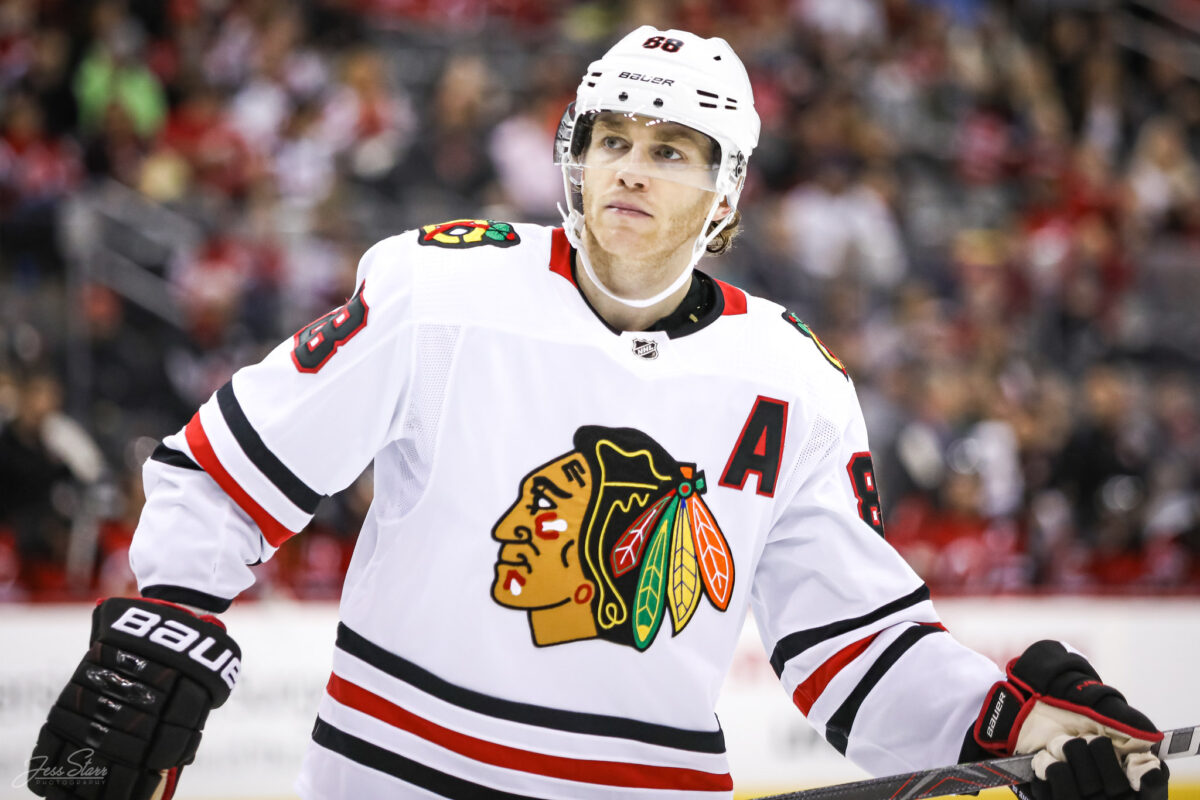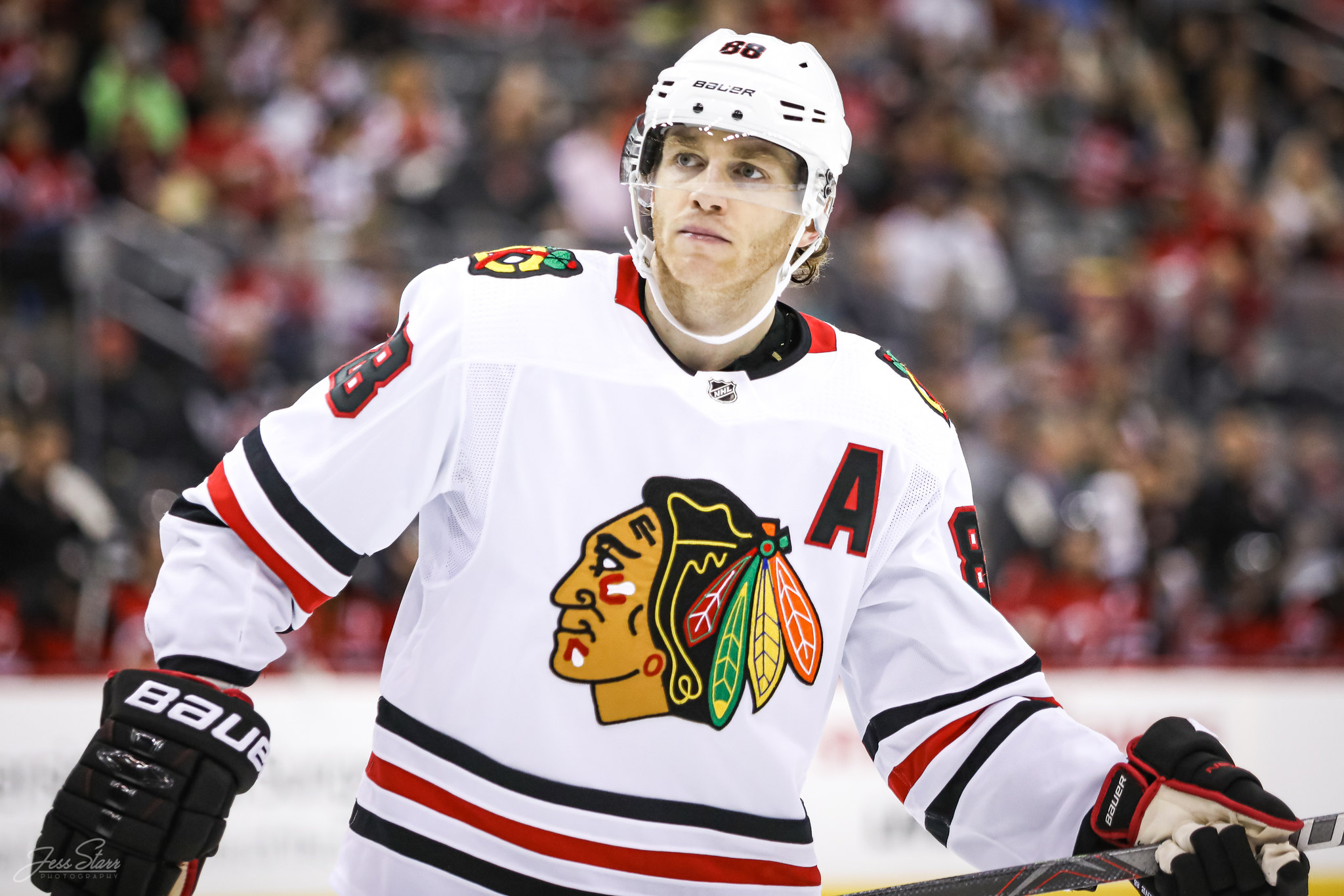 In 2024-25, the Sabres will have a shade over $25 million in cap space. Sure, it sounds like a lot, but consider that it's for a 12-man roster, meaning that the Sabres will need to fill at least eight spots, and more likely 11. Consider that restricted free agents (RFAs) Casey Mittelstadt, Peyton Krebs, Henri Jokiharju, Jacob Bryson, and Ukko-Pekka Luukkonen will, or should, take up a good chunk of that. There are a few unrestricted free agents (UFAs) that I'd anticipate the Sabres trying to re-sign as well: Kyle Okposo, Zemgus Girgensons, and Tyson Jost are likely to at least be considered for an extension past this season, and Olofsson is a dark horse extension candidate given how he's played in Thompson's stead. All this is to say, it'll be snug, and Kane's additional cap hit wouldn't be a welcome insertion.
Sabres Need to Stay Away
There is only one reason to pursue Kane, and that is banking on a 35-plus-year-old to return to form from several years ago. Considering that there are several reasons not to pursue Kane, I think signing him would be a drastic mistake that general manager Kevyn Adams needs to avoid at all costs.