According to Sam Gagner's agent who spoke with News 1130 in Vancouver on Friday, the 26-year-old forward is "getting closer to signing a new contract." Gagner's agent mentioned that there were a number of teams interested and that the Vancouver Canucks were one of those teams in the mix.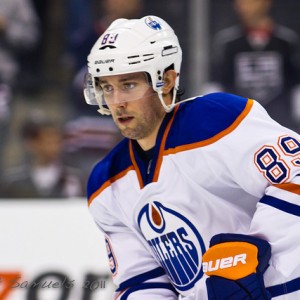 Gagner most recently played with the Philadelphia Flyers last season where he recorded eight goals and 16 points in 53 games. While Gagner may have never developed into the star player that scouts projected for him following a 35 goal, 118 point campaign in 53 games with the London Knights in his draft year, he's still been able to average 47 points per 82 games in his career split between the Oilers, Coyotes, and Flyers.
Gagner will probably never be worthy of the 6th overall draft pick used on him in the 2007 NHL Entry Draft, but teams that overlook that high draft status and sign him based on realistic expectations could still get a bargain player at a bargain rate. There is potential for a team to still overpay for Gagner, but the fact that this process has drawn on so long, and the fact that Gagner is still a free agent close to one month following the opening of free agency, it seems interested teams have done their due diligence.

Brandon Share-Cohen has covered the NHL and various professional sports for seven years. Working with The Hockey Writers, Brandon works extensively on covering the Boston Bruins in addition to his role as the News Team Lead.