As the Philadelphia Flyers 2014-15 season ended, Mike Sileski wrote a poignant article critiquing the teams talent. Sileski, a columnist for the Philly Inquirer, argued that Flyers did not have enough talent to be a playoff team. This argument was based upon the teams lousy record against non-playoff teams while they seemed to thrive against better competition.
Over the final 20 games of the 2014-15 season, the Flyers went 7-3-4 against teams that eventually made the playoffs while going 0-3-3 against those teams that eventually missed the postseason. Many people within the organization blamed a lack of heart, or competitive drive for this record disparity.
However, according to Sileski, their record had nothing to do with the teams work ethic, it had everything to do with talent.
He summarized his point perfectly when he said:
It's unrealistic to expect every player on a 25-man roster to deliver maximum effort every single night. Striving to play harder and better against a more challenging and accomplished opponent, then experiencing a letdown against a lesser one, isn't a contradiction. It's human nature.
Say what you want about Sileski's persona and writing, but there is little doubt that he was spot on with this article.
It has become clear so far in 2015-16 is that the Flyers are in the same boat. Just like last year, the Flyers seem to be able to play great against the best teams, while faltering against those teams that should be struggling.
So far, the Flyers four victories have come against teams with a combined record of 25-14-5 (winning 25/44 games = .568 win percentage) while their losses (including those in OT/shootout) have come against teams with a combined 42-32-9 record (winning 42 of 83 games =.506 win percentage).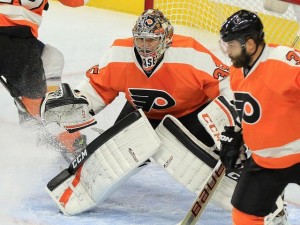 It should also remembered that the record of a team like Buffalo (5-7-0) has been greatly increased by their wins against Philadelphia. They are a 3-7-0 team without their victories against the Flyers.
These statistics leave us right where we were before the start of the season. Most credible commentators agreed that the Flyers would be slightly improved, but may not be able to breakthrough into the playoffs.
For most fans (myself included), i is easy to overhype this Flyers team after a 3-0 win against Chicago or a thrilling shootout victory over the Rangers. It is equally as easy to declare the Flyers as a lottery team after going 0-2-1 and looking lost against the Sabres (x2) and Devils.
The fact of the matter is that this team, for the most part, is still the same top heavy team from last year. The Flyers are not terrible, and the additions of players like Sam Gagner, Evgeni Medvedev, and Michal Neuvirth have been improvements. However, even without Nicklas Grossmann and Andrew MacDonald, the Flyers defense is still a work in progress.
Even further to the point, the Flyers are winning at a similar rate than the beginning of previous seasons. Here is a look at the Flyers first 11 games from the last 5 years: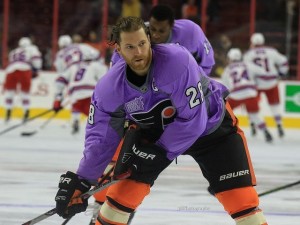 2011-12 – 6-4-1 (made playoffs)
2012-13 – 4-6-1
2013-14 – 3-8-0 (made playoffs)
2014-15 – 4-5-2
2015-16 – 4-5-2
In the list above, the Flyers made the playoffs with both their best and worst starts to the season. In the grand scheme of things, these ten games have told us relatively little.
On a positive note, the Flyers underlying statistics have looked better over through 11 games than they did last year. In 2014-15, the Flyers were carrying a 46% Corsi For percentage and only getting 44.9% of the High-Danger Scoring Chances. However, in 2015-16, they are up to 47.6% Corsi For and 46.8% of the High-Danger Scoring Chances.*
These advanced numbers are still not very good, but they do represent a slightly better start than last season. As the Flyers season progresses, there will be fantastic highs, and awful lows. But this brings us back to the first point: The Flyers are not a supremely talented team, and until their young talent cracks the NHL, they will be stuck in this abyss.
*All stats can be found at war-on-ice.com and are '5v5, Score-Adjusted.'
I am 23 years old and I've been a Flyers fan since I was six years old. I love to break down the game and take a look at prospects. I always appreciate your thoughts and feedback, so feel free to use the comment section or interact with me on Twitter.