As the San Jose Sharks headed into their home game against the Vancouver Canucks, the story line lasered in on the obvious: Brent Burns returns to forward. An injury to Tomas Hertl led to Burns playing a few shifts at forward late in the game against the Arizona Coyotes. With the injuries still in play, the Sharks decided to move their big defenseman to forward for the Canucks game. There were questions about how well Burns would perform and expectations of a juicy controversy if he did too well.
The Non-Story: Brent Burns, Forward
The move lasted 20 minutes. Burns played a nondescript opening period. Early in the second period, an injury to Dylan DeMelo reduced the Sharks defensive core to five. DeBoer quickly put Burns back on the blue line and his energy level lifted immediately. He also delivered immediately. Just seconds into his return to his defensive spot, he scored the Sharks second goal, putting the team up 2-0. You could almost hear the relief coming from the Sharks staff. Had Burns delivered a strong game at forward, it'd be a Pandora's Box moment, with DeBoer and Burns sharing an uncomfortable spotlight. Instead, Pandora's Box stayed firmly shut.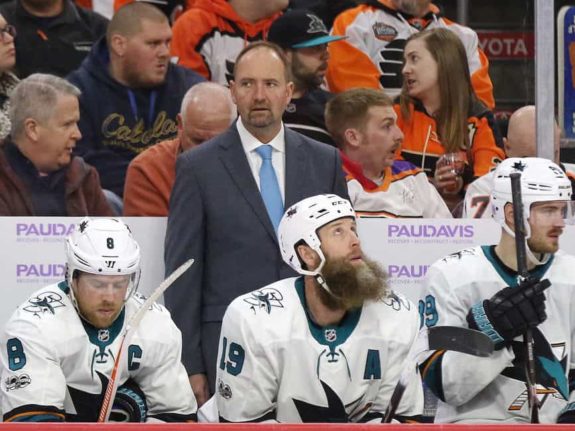 Even when DeMelo returned to the ice, DeBoer kept Burns on defense, dropping Tim Heed from the defensive rotation and instead using 11 forwards. After the game, a 4-1 Sharks victory, DeBoer said of Burns, "he proved out what I already knew, he's a better defenseman."
No doubt Burns is pleased with the outcome as well. It is almost painful to watch Burns with the media after a game, his discomfort is apparent. A controversial story line centered around him is everything he wouldn't want. Consider this storyline buried, with both Burns and DeBoer (rightly or wrongly) happy to see it disappear. That said, Burns is still having a troubling season and forty good minutes doesn't change this.
The reality is the game was an anomaly. Burns finished with two points (a beautiful assist on the Sharks fourth goal garnered his second point) and for just the second time this season, was a plus-3. Vancouver gave up four scores on 30 shots and goalie Anders Nilsson, who hasn't won a game since November, suffered another loss. From the midpoint of the first period on, the Canucks had roughly twice as many shots on goal as the Sharks.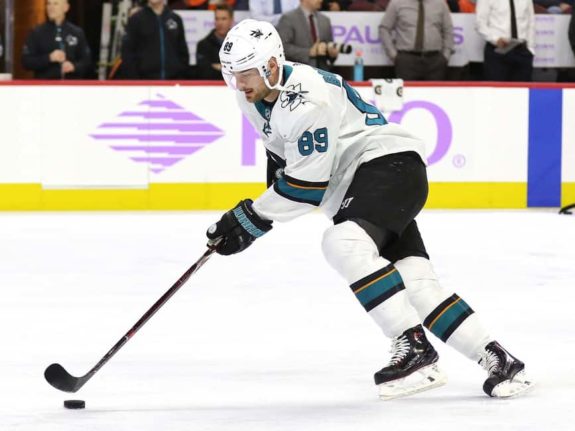 The lone Sharks line which proved effective was the Chris Tierney-Mikkel Boedker-Jannik Hansen line. They scored a pair of goals, despite posting a miserable Corsi for (CF%) of 32%. Only two of the Sharks' forwards had a Corsi over 50%.
The Major Story: Martin Jones, Thief
The major story line was not Burns, but goalie Martin Jones. Jones recorded 43 saves, his biggest total of the season. Fortunately for the Sharks, they played a disciplined game, going over 58 minutes without a taking a penalty. Still, Jones had plenty of difficult saves to make, and he made all but one. The second period proved incredibly challenging with the Canucks putting up 22 shots. But the Sharks outscored them 1-0 in the period.
This was a game which the Sharks won, but didn't impress. Jones stole the game, something which hasn't happened often since late November.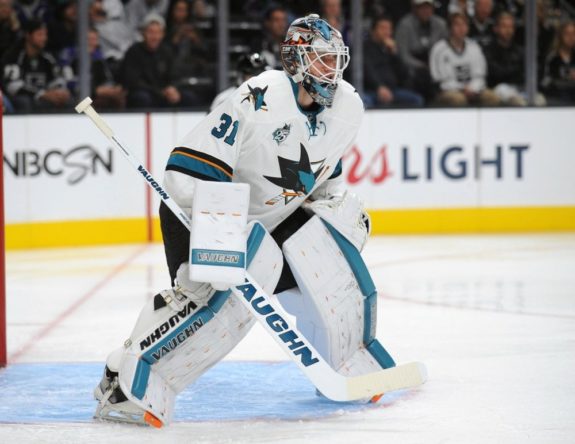 Jones has had a roller coaster season. He started off with two miserable games, before going into lock-down for the next 15 games. He was looking like a candidate for the Vezina Trophy, awarded to the league's top goalie. A supposedly minor injury in late November came late during a shutout win over the Winnipeg Jets. Jones returned after a week, but his game didn't come with him. Over his next 15 starts, his save percentage was under .900. During this time, he suffered another injury. He missed several games wrapped around the All-Star break. In total, it was a 12 day absence. And it seems to have helped.
Jones returned to the nets in a loss to Pittsburgh on January 30. It was the seventh game in the last 15 where he allowed four or more goals in regulation. The next night, DeBoer did the unusual and returned Jones to the nets for a second game in two nights. It worked. Jones delivered a solid game against Detroit and he's been solid ever since. Jones has found his game. In his last seven starts, his save percentage is a stellar .941. Though his record is only 3-3-1, Jones has held opponents to two goals or less in six of these games.
Game Takeaways: Burns Can Score, Jones Can Save
The story of the Sharks games against Vancouver was simple enough. The 'Burns to forward' experiment ended 20 minutes after it began. Burns delivered a strong performance as an offensive defenseman (his defensive issues were still apparent), while Martin Jones bailed out all but one of the Sharks numerous defensive lapses
While one story died quickly, a different and critical story moved to the top. The Sharks will need Jones to play at a high level the rest of the way. Vancouver tested him plenty and he responded with one of his best games of the season.
Otherwise, there is little else to takeaway. Vancouver is a struggling team, losers of six of their last seven games. The Sharks won a game where they didn't outplay the opposition. But they managed a win and earned the two points in the standings. These days, every point matters.
Zeke's Notes
• Many people reported Burns had never played forward for DeBoer prior to Tuesday's Arizona game (including DeBoer's own comment), but this is not quite accurate. Burns played a bit of forward in the final game of last season. Burns had 29 goals and the team wanted him to reach 30, a rare mark for a defenseman. Late in that game, he skated some shifts as a forward, but wasn't able to get the additional goal.
• With Hertl out, the power play seems to be hurting. Once he left the game against Arizona, the top unit was not very effective. Against Vancouver, it wasn't effective in three tries. The second unit looked better. With both Hertl and Joe Thornton out with injuries, two new faces are on the top unit, Timo Meier and Kevin Labanc.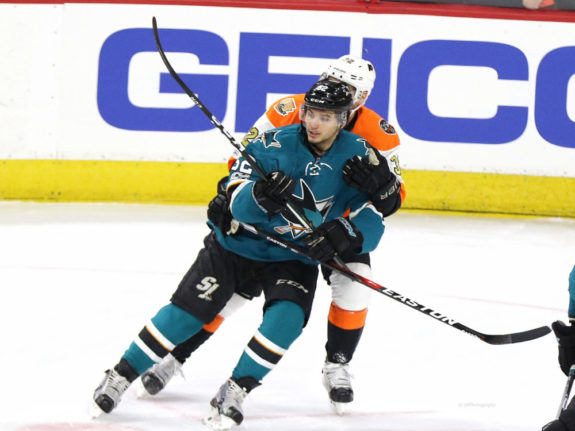 • The Sharks finished a set of five games played in California (four in San Jose, one in Anaheim), and earned six points. It was less than optimal considering three of the five games were against teams that will certainly miss the playoffs and a fourth team outside a playoff spot. Next up is a home game against the Dallas Stars, followed by a four game road trip against Central Division teams. Four of the next five games are against teams in a playoff spot.
Still, the most challenging part of the Sharks schedule is its conclusion. Nine of the final ten games are against teams either in a playoff spot or within a couple of points of a spot.
• I've written on the potential of the Sharks landing John Tavares and step one is Tavares deciding his current team isn't going to be his future team. There are several issues with the New York Islanders which offer Tavares reason to take this step A new issue entered the picture in recent days. Calls from the fan base for general manager Garth Snow to be sent packing are increasing, both chants within the venue and now possibly, with signage. Fans created a Go Fund Me drive to pay for a billboard asking for Snow's ouster. It took an hour for the funding to reach its goal. They've raised enough for a second billboard and expect to have extra funds which will be donated to charity. Whether the billboards ultimately go up or not, stories of a revolt in the fan base won't help Tavares feel better about the Isles future.
ZEKE is a native of the DC area where he witnessed the birth of the Capitals franchise. After graduating from Cornell University, which had seen hockey glory before he arrived, he moved west to San Jose. There he witnessed the birth of the Sharks franchise. His wait to witness a Championship from any of these teams finally ended in 2018.