Joe Thornton's injury was a setback for this San Jose Sharks team, and in the first few games in his absence, the Sharks seemed to forget who they were. In the last two games, they remembered.
For San Jose, winning comes from three main areas: defense, goaltending and special teams. Their formula is simple. Play disciplined defense, get solid goaltending and win the special teams battle. This is their identity. In the games where the Sharks do these things, they'll usually get at least a point and most often, they'll get two.
Visiting Columbus and Carolina
The Sharks began their final road trip against Eastern Conference teams with a 5-2 loss to the Pittsburgh Penguins – their third consecutive loss. This game featured defensive (and goaltending) miscues in a game where the Sharks outskated their opponent. Losing three consecutive games isn't good, but more concerning was the Sharks had lost their identity. It was also the third consecutive game where opponents scored five or more times against the Sharks.
In the next game, against the Detroit Red Wings, the Sharks were badly outskated. However, goalie Martin Jones turned in a superb performance and the team grabbed a point in a 2-1 shootout loss. It was a fourth consecutive defeat, but at least one key element – the goaltending performance – was encouraging.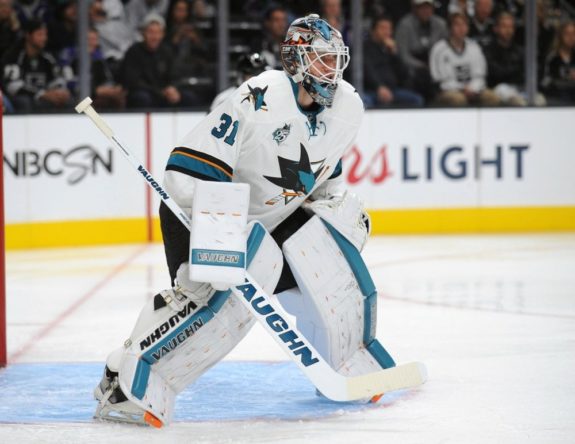 The two most recent efforts against the Columbus Blue Jackets and Carolina Hurricanes were vintage Sharks efforts. Both games were Sharks victories, each by the same score of 3-1. They were 'back to basics' efforts. Against Columbus, Martin Jones turned in a second straight solid game and the power play delivered twice.
On Super Bowl Sunday, Aaron Dell took the nets for San Jose and delivered a strong performance of his own. In the wins, the Sharks scored six times, with goals from six different players. As for disciplined defense, the Sharks only had to kill off one penalty in each game.
If the Sharks play as they did against Carolina and Columbus, this is a playoff team.
The Playoff Road
I'll estimate the Sharks need 98 points for a playoff spot. Often, teams make it into the postseason with fewer points. However, 11 teams in the Western Conference project to 92 points or better and nine project to 97 points or better. This suggests the cut-off line for a playoff spot is likely to be higher than in most seasons.
How can the Sharks get to 98 points? For starters, play a lot of low scoring, close games. The sort of games which often go into overtime and result in three points awarded, not two.
The Sharks have played 52 games. Splitting the season into two parts of 26 games illustrates the point.
In the first 26 games of the season, San Jose only played three games which went into overtime (12 percent) and had 30 points. Just four points came from overtime (1-0-2) games. Looking at San Jose's record at end of regulation and before overtime/shootout, the Sharks were 13-10 with three ties. Overtime and shootouts made their record 14-10-2.
In the next 26 games, the Sharks added 34 points, with 11 games (42 percent) going into overtime. In these eleven games, the Sharks added 16 points (5-0-6), 47 percent of their points in this 26 game period. Overall, they were 9-6 with 11 ties at the end of regulation, but 14-6-6 after overtime/shootout.
Quality-wise, the two sets of 26 games are very similar. A regulation record of 9-6-11 is not much different from a regulation record of 13-10-3. If all games ended in regulation, with two points awarded for a win and one for a tie, each of the Sharks 26 game segments would result in the same point total: 29. But the large number of three-point games in the more recent stretch has helped the Sharks advance in the standings.
A strategy which embraces close, low scoring games can help the Sharks make the playoffs.
Making the Playoffs
I'll offer a scenario which gets the Sharks to 98 points. Over the final 30 games, a middle of the pack record is probably good enough: win one-third of games outright, lose one-third of games outright and have one-third of games end regulation tied. At the end of regulation, a record of 10-10-10. If the Sharks can then split the games which go into overtime, the record goes to 15-10-5, which gets San Jose to 99 points.
If they get enough three-point games, the Sharks can actually lose more games than they win, and still make the playoffs. A record of 14-10-6 means the Sharks will have 14 wins and 16 losses – but they'll get to 98 points, enough for a playoff spot.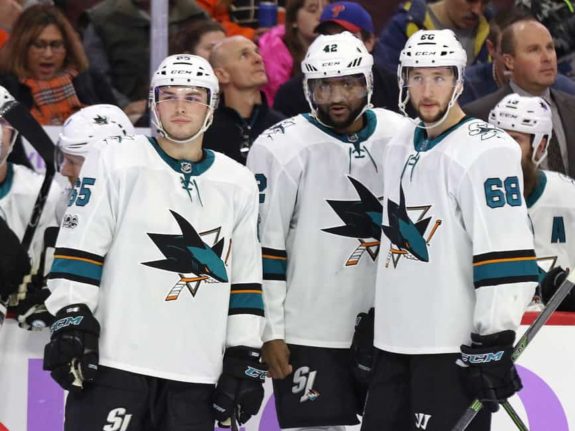 Helping the Sharks, they play 17 of their 30 games remaining games at home, where they've been good all season. A very modest home record of 8-5-4 and a mediocre road record of 6-5-2 isn't a tall order, and this also gets to 98 points.
While some think the Sharks aren't set-up for a deep playoff run even if they do make it in, I disagree. This has less to do with the Sharks and everything to do with the parity between the Western Conference teams. The playoffs appear incredibly wide-open and this has the feel of a season where anything can happen. For the Sharks, sitting with the fifth-best record in the Western Conference, they don't need to be great to make the playoffs, but they must play their core game. And if they do, anything and everything is possible.
Zeke's Notes
• Once again, the Sharks are well represented on several of the league's scoring lists for defensemen. But it's not just the usual suspect, Brent Burns, who is up there. In even-strength goal scoring, it is Marc-Edouard Vlasic who is tied for fourth with eight tallies, one behind league leaders P.K. Subban, Zach Werenski and Matt Dumba. In even-strength assists among Sharks defensemen, Burns has 20, which is fourth in the league. Justin Braun is also on the list, his 19 even-strength helpers place him seventh.
On the power play, though, it is all Burns. He leads defensemen in power play points with 20 and is tied for the lead in power play goals with five.
• A quick look at the Sharks plus-minus line tells an interesting story. The Sharks have been terrific on special teams, with one of the largest favorable differentials in the league. This has compensated for problems at even strength. Overall, 24 players are a combined minus-40.
The top 11 players are all plus or even and a combined plus-32. The next 10 players are a combined minus-32. The bottom three players are a combined minus-40. What is shocking is the players are Joe Thornton at minus-9, Joe Pavelski at minus-10 and Brent Burns at minus-21.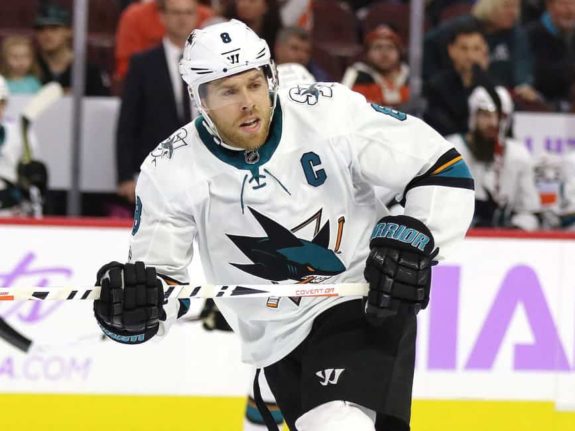 • The Sharks current ad campaign features Logan Couture in a dental chair. During the Sharks win over the Columbus Blue Jackets, Sharks fans saw a familiar and scary scene, Logan Couture exiting a game after taking a deflected puck to the mouth. The results weren't nearly as bad against Columbus compared to the brutal injury last March against Nashville. Couture returned to the game against Columbus, but also indicated he'd need some work done when the team returns to San Jose.
It is time to get back on my soapbox. I've covered this before, and it bears repeating until something is done. The NHL and NHLPA must find ways to mitigate, if not eliminate, the facial injuries which come from deflected pucks and stray sticks. There are simply too many significant injuries to too many players. It is a solvable problem, the players and league managers need to take responsibility and make appropriate changes.
ZEKE is a native of the DC area where he witnessed the birth of the Capitals franchise. After graduating from Cornell University, which had seen hockey glory before he arrived, he moved west to San Jose. There he witnessed the birth of the Sharks franchise. His wait to witness a Championship from any of these teams finally ended in 2018.