Over the past two games, the Penguins' defense has been forced to make some changes in light of Kris Letang and Trevor Daley's recent week-to-week injuries. Letang and Daley were the two defensemen who saw the most ice time on Pittsburgh's roster. Other players have been given the chance to step up into larger roles in their absence.
The Defensive Landscape Before And After Injury
How has Pittsburgh's defensive lineup changed without Letang and Daley? Here's a glimpse of the impact of their injuries: a ranking of every defenseman's average time on the ice per game (TOI) with Letang and Daley both in the lineup.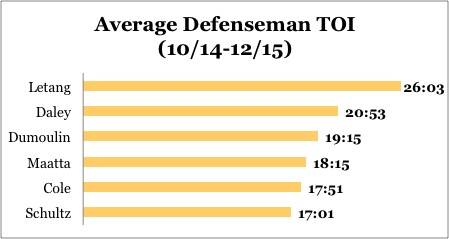 This graph covers the span of time from the first game of the season to the last game Letang played before being placed on the injured reserve list. It excludes Steven Oleksy, Derrick Pouliot, and David Warsofsky, all of whom played four or fewer games with Pittsburgh prior to the Letang injury.
Letang topped Pittsburgh's average TOI with a whopping 26 minutes per game before being moved to the injured reserve. Without him, the lineup shifted in a telltale reveal of who Pittsburgh is coming to lean on in his absence.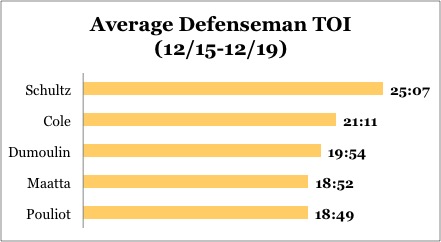 This second graph covers the two games the Penguins have played since Kris Letang was placed on the injured reserve. It excludes Daley and Oleksy, who each played only a single game; Daley only played part of one before having to leave in the second period because of injury.
What These New Rankings Reveal
Justin Schultz and Ian Cole, the defense pair who before the Letang injury saw the fewest minutes per game in Pittsburgh, are now topping the TOI rankings; Schultz leads the defense with an average of 25 minutes played in the two games without Letang. Joshua Crockett covered in his article last week how Cole and Schultz are getting the job done; Schultz is demonstrating offensive prowess with 13 points in his last 10 games, and Cole is playing the kind of solid defense that Pittsburgh hasn't been seeing from other defensemen, such as Olli Maatta, as of late.
Pittsburgh had to turn to someone to make up for the minutes Letang had been putting up; for the past two games, coach Mike Sullivan seems to have turned to Schultz.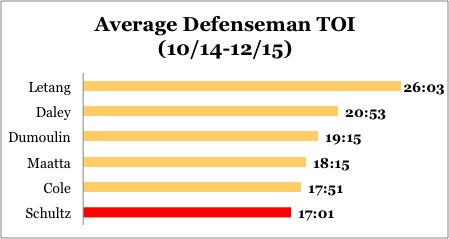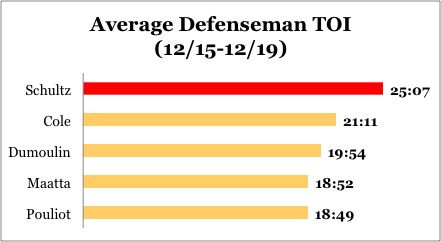 A player's average time on the ice isn't always reflective of how much trust the club has in them, however; sometimes it is representative instead of a lack of better options. For example, Derrick Pouliot has seen almost twenty minutes on the ice in both of the games he's played in since he was called up from the minor leagues after Letang's injury, but his play has been less than stellar. In Pittsburgh's Dec. 17 game against the Maple Leafs, his giveaway when he was on the ice for 3-on-3 overtime gave the Leafs their overtime goal that ended the game and marked the fifth overtime loss for the Penguins this season.
Pouliot hasn't managed to impress in these two games, one in which he finished with a neutral plus-minus rating and one in which he finished with a negative plus-minus as well as a bad giveaway that ended the game. Pittsburgh will likely continue to play him, at least for now, in the hopes that he will perhaps start clicking with the team. They most likely don't have enough defensive depth to choose otherwise.
The Future of Pittsburgh's Lineup
It's only been two games since Letang was placed on the injured reserve, but the lineup changes have already revealed important information about who the Pittsburgh defense is depending on right now. While Maatta and Dumoulin have seen similar ice time to what they've experienced so far this season, Schultz and Cole have seen their roles expanding. It must be a relief for Pittsburgh to see Schultz, a not-insignificant cap hit as their fifth-highest paid defenseman, stepping up to play a more dominant role on the roster. Expect to see more Schultz and less Pouliot while Letang and Daley are out.