For the third time in as many years, Hockey Canada has granted an underage player "exceptional status" naming Canadian defenseman Sean Day eligible for the Ontario Hockey League's 2013 Priority Selection Draft scheduled to take place Saturday, April 6th.
Sean Day has learned unofficially that he will be become the fourth player to receive the honourable designation and ironically, it comes exactly one year ago on the day that Toronto Marlboros' dynamic forward Connor McDavid was officially notified that he was an "exceptional player".
Shortly after lunchtime on Wednesday, March 20th, TSN's Bob McKenzie tweeted,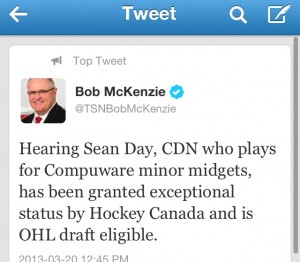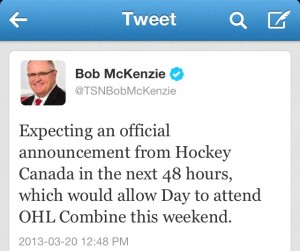 McKenzie owns a nearly flawless track record of providing accurate factual information via twitter so it appears Sean Day will join John Tavares, Aaron Ekblad and Connor McDavid as the only three players to receive "exceptional status".
Playing out of the Compuware program in Michigan, Sean Day owns a Canadian passport despite being born in Belgium on January 9th, 1998. As a Canadian playing in Detroit, Day has every intention of representing the Maple Leaf internationally and that may have been a factor in Hockey Canada's decision to designate him "exceptional", whether they admit it or not.
Last year when Connor McDavid discovered he would be eligible for the 2012 OHL Priority Selection Draft, it was a foregone conclusion that the Erie Otters would select the underage minor midget star with their first overall pick. The OHL draft has a long history of players and their agents controlling their own destinations either by threatening not to report or leaking out information that they are pursuing collegiate options. However, McDavid quickly announced that he would undoubtedly join the Erie Otters and showed an unwavering willingness to be a vital player in the future of the Erie Otters' franchise.
Over the past few months with speculation that Sean Day indeed applied for "exceptional status", much scrutiny has surrounded this smooth skating defenseman. Rumours surfaced in the past few days that Day's application would be denied and many speculated that he would indeed opt to pursue his American citizenship in order to represent the USA if denied. Fortunately, these rumours were just that, rumours. If the past few months filled with nasty assumptions and wild speculation are any indication, Sean Day has shown great maturity and confidence through this challenging process, qualities that are expected of exceptional players.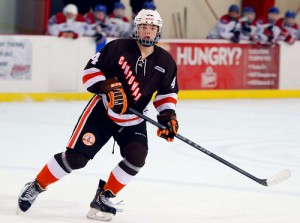 The spectacle surrounding Sean Day's exceptional status process certainly does not end now. Unlike McDavid's draft year, the 2013 OHL draft class is loaded with talented prospects capable of challenging Day for the top selection. In the four preceding exceptional status cases, John Tavares, Aaron Ekblad and Connor McDavid went unchallenged for the first overall spot but Sean Day will enter the 2013 OHL Priority Selection Draft with competition from Elgin-Middlesex Chiefs forward Travis Konecny and Toronto Marlboros pivot Dylan Strome. Travis Konecny, an undersized, tenacious, and dynamic centre with a laser-snapshot is believed to be the Ottawa 67's top choice, prior to the Sean Day exceptional status announcement. After posting three goals and 11 points for the Chiefs at the OHL Showcase Cup last weekend, Konecny put on a show in front of hundreds of scouts eager to find the next star player. Day's competition does not end there as Dylan Strome, the younger brother to 2011 NHL lottery pick Ryan Strome, has turned enough heads to warrant first overall selection as well. A crafty pivot with soft hands and a keen eye on the ice, Strome offers a projectable frame and the potential to develop into a franchise centre and those qualities will not be overlooked by Ottawa.
Needless to say, for the first time in the history of the "exceptional status" rule that allows underage players to enter major junior hockey a year early, there is no guarantee that Sean Day is selected first overall…or, even second overall for that matter. Without the opportunity to trade first round draft picks in the Ontario Hockey League, Ottawa 67's General Manager and Head Coach Chris Byrne is forced to make a tough decision and the daunting task of choosing between three exceptional competitors. Not one person would fault the Ottawa 67's for choosing Sean Day after receiving exceptional status; although, Konecny has been in their sightlines for most of the season and that may be too hard to pass up.
It would be safe to assume that Hockey Canada prefers Sean Day to become the first overall selection on April 6th, considering the lengthy and comprehensive personal investigation that Sean Day and his family had to go through. What message does the procedure send if the exceptional player isn't "exceptional" enough to be drafted first overall?
Regardless of the team that calls Sean Day's name on draft day, the Ontario Hockey League and Hockey Canada is welcoming a tremendous talent. The consensus among almost every scout is that Sean Day may be the best skater to come around in a long time. An effortless skater with a fluid stride, Day simply appears as though he is floating on ice as he maneuvers his way around the cold clean sheet. Blessed with four-way agility and the ability to cover ice quickly, Day's greatest strength may also be the cause of one of his weaknesses. His skating emerges so graceful that it often appears he is not trying at times and analyzing effort is a tough attribute to gauge. Day competed for the Compuware 97s team and was a star, despite playing up an age group, posting 11 goals, 24 assists for 35 points in 63 games. Elite skating ability may be Day's forte but his talents also include strong puck transitioning skills, a keen hockey sense and impressive physicality as well.
The roller coaster ride will continue for this budding young hockey star as draft day approaches but March 20th, 2013 has now become a 'day' to remember for Sean and his entire family. Bob McKenzie's tweet announcing Day's exceptional status news was heard around the hockey world and in less than 140 characters, Day's life has changed drastically. It marks a beginning in a new chapter of Sean Day's evolving hockey career.
On this day in hockey, 15-year-old Compuware defenseman, Sean Day, literally floats above the ice flying high, as he eagerly awaits his next destination in his hockey journey.