Seattle's bid for an NHL team is still alive, but it may as well be on life support.
With only the city of Las Vegas recently being approved for league expansion, many believed that this was the league's way of giving Seattle another opportunity to get its act together in order to get a franchise. The league had a sure thing in the form of Quebec City, but did not approve its bid for an expansion team due to Canada's financial status as well as the league's geographic footprint.
There is a perfect chance for the league to get into the Pacific Northwest of the United States, but everything points to an impasse between those that want to build a new arena and bring a team, and those who are skeptical regarding who's leading the way for a new franchise, businessman Chris Hansen.
"There's people that won't vote to give him an arena that are a little skeptical at this point because he doesn't have a team that he can present to them to show that it's worth giving up a street to this guy for his project," Seattle Times reporter Geoff Baker told The Hockey Writers. "It would be worth it if he had a team."
The deal regarding a new arena in the Seattle area has long been contingent on an NBA team either coming first or alongside an NHL team. It was the focal point of the Memorandum of Understanding (MoU) signed by Hansen and the city earlier this decade that has Hansen looking for $200 million in bond funds to build a new facility. And though it looked like the NBA would be coming back in the near future, that doesn't appear to be the case now, seemingly putting everything on hold.
NBA Commissioner Adam Silver has told Baker as well as anyone who has asked about a potential NBA return that the league won't be back to the city anytime soon, and with Hansen's MoU coming up in November 2017, it doesn't appear an NBA team will be back in time.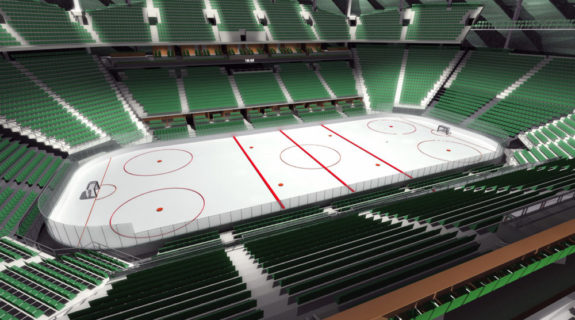 But why does an NBA team matter when it comes to the NHL going to the city? It's all about profit and sustainability.
"They've run the numbers (City of Seattle and King County), and they don't think the NHL is sustainable on its own," Baker said. "They're not going to do it on an NHL team alone, and risk that amount of public expenditure."
If Hansen and the city were to get an NHL team first, the funding would have to be entirely privately funded. Hansen would get $200 million if he could bring an NBA and NHL team at the same time, and just $120 million with an NBA team. Because of the city's belief regarding an NHL team, he would have to foot the bill himself should that be the only option.
It's not something he's looked at doing, nor is it something that many in the area believe he would do. There is a growing belief among those involved that the MoU will expire without anything being done because of the lack of movement over the last two years.
"He hasn't had the real financial partners since Steve Ballmer went off to buy the Clippers," Baker said. "It's one thing when you have a billionaire several times over, it's another thing when you're on your own and you haven't announcement another partner to replace those guys. The Nordstrom brothers are there, but they're in for a very nominal amount."
Even NHL Commissioner Gary Bettman is becoming annoyed at the lack of progress since talks began years ago about bringing a team to Seattle.
"He's (Bettman) tired of hearing about Seattle, he wants to see movement," Baker remarked. "They thought they'd have a team here two years ago.
"Problem is, nobody's going to give public money to Hansen just to build an arena for hockey. If you're going to bring hockey here first, you're going to have to go it alone. He's yet to show anyone he can do that. He just doesn't appear to have partners behind him. He's been asked for two years about who's going to replace Balmer, and he hasn't provided that yet."
According to one person who works for the city of Seattle that asked to remain anonymous, almost everyone involved with talks believes that it's only a matter of time before the NHL decides to move on for good from the Seattle idea, ultimately looking elsewhere.
"How much longer can a league possibly wait for a city to get things together when other willing locations are eagerly waiting, and ready to pay up," the source said.
One market that was brought up is Portland, Oregon which would satisfy the league's desire to add Pacific Northwest team.
"(For that to happen), what you need is Paul Allen to say he wants to bring a team there," Baker said. "If it makes good business sense that he could use to boost his Trail Blazers, and the value of the team and arena, I'm sure it would be something he'd take a look at. Up to now, he hasn't had the interest, but things could change quickly."
Of course, there is the potential conflict should Allen decide he wants a team in Portland. Allen, who also owns the NFL's Seattle Seahawks, could be vilified – albeit wrongly — as the man who blocked the NHL from coming to Seattle.
"That could play into it, and it has to be a consideration," Baker said. "He'd have to be completely blind and removed from the situation not to be thinking that."
It's hard to imagine the man who helped build a Super Bowl-winning team in Seattle being looked at in any other way than great, but it wouldn't be the strangest thing to happen in the world of sports. Some fans in Seattle have gone as far as to never drinking Starbucks coffee again due to the Sonics leaving for Oklahoma City.
As far as the other arena project just outside of the city, that appears to be as close to dead as possible right now without officially being over.
"In October, they stopped all surveying and everything they've been doing," Baker explained. "It's been halted because they need financing."
Renovating Key Arena is also off the table for now as a permanent home for a team due to the current agreement with Hansen. Hansen's plan involves using Key Arena as a temporary home for a new time while the new building is constructed. Because of that, there can't legally be any talk of renovation until Hansen's deal runs out next November.
Should Hansen's MoU with city and county leaders elapse, then all bets regarding the league coming to the Emerald City are off. Sixteen months isn't that long of a time frame in terms of sports and franchising decisions, and if there is no movement between now and November 2017 then the final nail could very well be put in Seattle's NHL coffin.