Two very important centers have made the rumor mill on Wednesday. Both very well could stay with their respective teams, but it hasn't stopped people from speculating. What will become of both Tyler Seguin and John Tavares if the Dallas Stars and New York Islanders can't respectively get their financing and/or priorities in order?
Tyler Seguin to Be Traded… Again?
Is it possible that one of the most dynamic centers in the NHL would be traded twice in what would be considered a relatively short NHL career? It seems unfathomable but that has become the question in Dallas where talk of Tyler Seguin's next deal is near the top of the discussion board.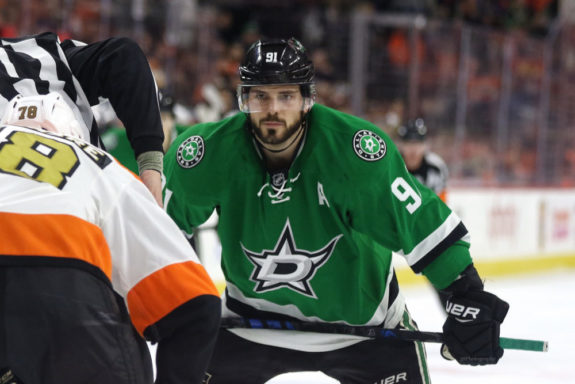 Rumors are Seguin's next contract (2019-20) could be an eight-year deal at as much as $10 million per season. It would be in the best interest of the Stars to get Seguin signed for the same amount or at a lesser cost than $9.5 million per season they are paying Jamie Benn. If they can't convince Seguin to do so (and with the recent deals being handed out to centers, they may not be able to), would the Stars conceivably trade him?
Mike Heika of the Dallas Morning News seems to think so under the right circumstances. Heika was asked about the situation in a recent mailbag segment and his response was that he thinks Ken Hitchcock is looking to make Seguin into an excellent two-way center. Should Seguin not welcome that role and if he wants more than $9-$9.5 million per season the Stars would consider moving him.
Where to John Tavares?
With John Tavares still not re-signed and under contract with the New York Islanders for the 2018-19 season, the concern will continue to mount and interest will grow around the NHL, despite how much Tavares maintains his "desire" to stay with the Islanders organization. Until he's extended, speculation will run wild as to where his next destination will be. A few teams have become front-runners in the discussion.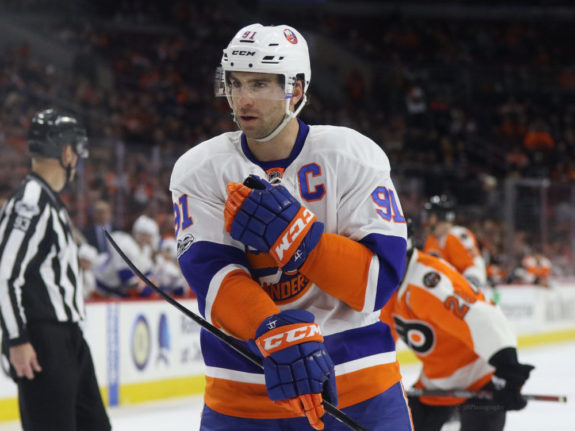 Any team that would be interested in signing Tavares would need to come up with the cap flexibility to fit a $10 million per year contract over multiple years into their team structure. After all, Tavares would be the most talented player to hit unrestricted free agency since the salary cap was introduced.
Montreal Canadiens
The Canadiens always seem to be in the conversation when it comes to a top-line center. That has to be because of how badly they need one. Tavares would solve all their problems in this area and in a recent mailbag segment on NHL.com, Dan Rosen listed the Canadiens as a potential option:
The Canadiens make the most sense, especially with Tomas Plekanec ($6 million) coming off their salary cap after this season. Tavares is going to cost $10 million plus, but at least losing Plekanec's charge would offset some of that.
New York Rangers
Another team always in the mix is the New York Rangers. In fact, they never seem to be out of any big NHL deal regardless of how little cap room they have or the wheeling and dealing they'd need to do to make things work.
If the Rangers became serious bidders, they'd need to first offload salary.  Sure, Rick Nash's contract will come off the books, but J.T. Miller, Kevin Hayes, Jimmy Vesey, Brady Skjei and Matt Puempel are all restricted free agents and will all be due for some serious raises should they have average to better-than-average seasons.
But, the recent trade of Derek Stepan leaves the team potentially a first-line center short. That all depends on how Mika Zibanejad performs.
Toronto Maple Leafs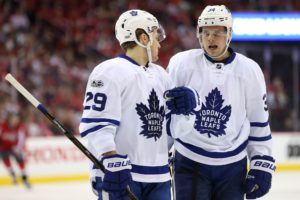 The Leafs are always in the discussion, but most believe that Tavares and the Leafs are not a good fit.
Even though the Leafs did try to land Steven Stamkos (before he re-signed in Tampa), the situation within the organization is no longer what it once was. With so many young players in the system and landing Tavares equals losing someone like William Nylander or Mitch Marner, the Leafs don't have a dire need here — at least not for a player who costs $10 million per season.
It would also require then trading Nazem Kadri who the Leafs believe has a long future in Toronto.
Among other teams speculated, Larry Brooks believed the Tampa Bay Lighting would make an aggressive push. In short, there would be a large number of teams who would move things around if Tavares became available in free agency.
New York Islanders
The favorites are still the Islanders and while Tavares hasn't committed to the organization, most believe he will. It's simply a matter of where the team finishes and stability in their future home. The Islanders made steps to solve the first question when they traded for Jordan Eberle, but the second question is still very much unanswerable.
While many thought it was an upgrade when the team moved to Brooklyn, that move hasn't panned out. The Barclay's Center has not made the hockey team a priority and the conditions are awful, to say the least.