The Colorado Avalanche are struggling to find their consistency in pretty much every place on the ice. Offensively they are either putting up six goals at a time or they are lucky to get one; defensively they are completely out of sorts; their passing looks like it came from a Sunday night beer league; and the only thing currently worse than their penalty kill is their power play.
Yet, despite all these inconsistencies and behind far too frequent lazy efforts, the Avalanche sit right at .500 and are only four points out of a playoff spot. The biggest reason that the Avalanche can even still smell the playoffs right now is the outstanding play of their goaltender, Semyon Varlamov.
But what about his numbers?
Outstanding you say? Ha! Just look at the guy's numbers! He's 6-8-3, has a goals-against of 2.79 and his save percentage is only .910. How is that outstanding?'
If all you were to look at is his numbers the, yes, you might conclude that Varlamov is having an average-at-best season. However, as with so many other things in life, the numbers are only telling you part of the story.
Varlamov does have more losses than wins, and his goals-against average is definitely above where you would expect an elite starter's to be, but his overall play is not reflected in these numbers.
So what are the things he's up against?
He's constantly bombarded by high-quality shots.
If I were a goalie trying to choose a team to play for in the NHL, the last team that I would pick right now is Colorado. I gave you a brief description of their inconsistencies at the start, but allow us to delve a little deeper down the rabbit hole.
Currently the Avalanche rank 27th in the NHL in shots allowed per game, at an even 32 shots-against per game. This is never a good sign for any team, no matter who your goaltender is, because it's pretty much a given fact for your team that your goalie is going to be shelled game in and game out. Allowing 30-plus shots every game all but guarantees several quality scoring chances, and if you go back and watch the tape on the Avalanche, they give up an inordinate amount of scoring chances right in the low slot.
Let's go even further with this. Varlamov has started 17 games for the Avalanche. In nine of these starts, Varlamov has faced 30-plus shots on goal. In three of these games Varlamov have faced 40-plus shots and goal; and in one less than fortunate game, Varlamov faced 55 shots against.
I don't care who your goalie is, if they get this type of peppering in every other one of their games they are going to give up goals.
Penalty Killing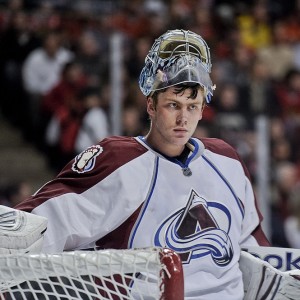 The Avalanche penalty kill is awful, plain and simple. The worst part about this isn't just the poor quality of execution, it's the number of times they find themselves shorthanded. The Avalanche are currently tied for 22nd in the league in number of times shorthanded at 88. As I write this, the Avalanche have played 20 games. This means that the Avalanche will find themselves shorthanded an average of just over four times every time out.
Once shorthanded, the Avalanche don't often do a good job of supporting their goaltender. The Avs rank 25th in the NHL in shots against while they are shorthanded, with 133. This breaks down to roughly seven shots against while shorthanded every game. So if they Avalanche average about four power plays against each game, this means they are giving up a couple of shots during each penalty kill.
Then couple this with the Avs seeming inability to keep the high-percentage shooting area of the low slot covered and that explains why you're the team that has given up the most power play goals in the entire NHL (20), and it also explains why you've got yourself a very upset goaltender.
The Power Play
Yes, the power play is the enemy here. If you're a team that is capitalizing on your power play opportunities, you are also helping out your goalie. Power play goals can be the difference between a one goal game and a three goal game and the Avalanche simply haven't taken advantage of any.
The Avalanche are the second worst team in the NHL in power play percentage (12.5%) and have the fewest power play goals of any team in the league (8). The Avalanche also have the third fewest power play opportunities in the league (64) and have the worst power play to penalty kill differential in the league (-37:54).
Fans are likely to jump to the conclusion that the officials are biased and that is why this differential exists, but conspiracy theories like that are just masks of a greater problem. The Avalanche simply do not work hard enough in front of their goalie to give him the support he needs to win more games.
Team Effort
Nice segue. I wrote a piece early in the season about how, in order for the Avalanche to make the playoffs, they couldn't make their season "A Tale of Two Teams." Unfortunately, that is exactly what it has been. The worst part about it is that it hasn't been from game to game, it's period to period.
You simply never know if the Avalanche are going to jump on you and dominate the play or if they are going to just sit back and watch, and for a goaltender that can be very unsettling. There have been precisely two completely consistent players on the Avalanche night in and night out. Matt Duchene and Semyon Varlamov.
The only reason this team is on the bubble of being a playoff team this season is because of Varlamov, and it's time he was given his due.