The Ottawa Senators are well into their 2020-21 campaign, and while things haven't gone as planned, they might be turning a corner. Before they squared off against the Montreal Canadiens last Thursday, the Sens were losers of nine straight, and nothing was going their way. Now, just a few days and games later, they've found new life.
They are still at the bottom of the Scotia North Division, and that's probably where they will stay. However, this season was never supposed to be about making the playoffs but about the growth and development of their young players to establish a culture and identity for the future of the organization. Here's the latest news out of Ottawa.
Item One: Senators Snap Losing Streak
Apart from the season-opening series against the Toronto Maple Leafs, the first meeting against the Canadiens was expected to be the team's toughest test to date, and they passed with flying colours. Despite losing Sunday's matinee 2-1, the Sens looked completely different from the team we've seen, and they earned two points on Thursday when they defeated Montreal 3-2 to snap their losing streak.
"I thought we played a really good road game," head coach D.J. Smith said. "Just happy we got a win under our belts for these young guys." The two-game series helped form their identity, and the Senators played with a ton of confidence.
"As a younger group, and a group that is learning along the way and gaining experience, I think the big thing is establishing an identity," Derek Stepan said. "I think our last six periods, we're starting to trend to the direction of the way we want to play. It's a good hockey club over there and I felt we did some good things for six periods." While they were unable to sweep the Habs, they gained a moral victory in the 2-1 loss.
They were competitive from start to finish and must build on these great games. "That was one of the worries early on, it looked like we were playing slow, and we probably were, but we're playing a lot faster now and we look more confident," Smith said.
For the second straight game, Ottawa dominated the faceoff circle. They had a 47.3 percent success rate for the season, but they dominated the Canadiens, winning 56.9 percent on Thursday and 57.1 percent Saturday. Establishing possession allowed the Sens to create a better structure in their own zone and control the play better.
The Sens have been blown out by the teams in the division not named Toronto or Montreal, which can be seen as positive considering they're playing .500 hockey against the league's best. However, it won't mean anything if they can't build on this success when they play the Edmonton Oilers and Winnipeg Jets this week.
Item Two: Stützle Finding His Form
In more good news, German sensation Tim "Jimmy" Stützle is breaking through at the NHL level. On Thursday night, the 19-year-old scored in his third straight game and became the second-youngest Senator to record a three-point game, the first multi-point night of his career. He is also the third teenager in Sens history to score in three straight games – the first since 1993 – joining Alexandre Daigle and Alexei Yashin, and the first teenager to have a three-point game in Montreal since Philadelphia's Dainius Zubrus on Oct. 11, 1997. 
When the Senators selected Stützle third overall in the 2020 Draft, they were hoping for a difference-maker. That usually takes time, but Stützle has grown in just a couple of weeks. "For his age, it's unbelievable what he's doing out here," Smith said after Thursday's game. "He's tracking, he's blocking shots, and you get that feeling he can do all things. At the end of the game, I felt comfortable with him out there. He knows how to play the game the right way, even for a young kid. You've got to put some trust in these kids. How are they going to get confidence if you don't give them the opportunity and I thought he was our best player all night so why not?"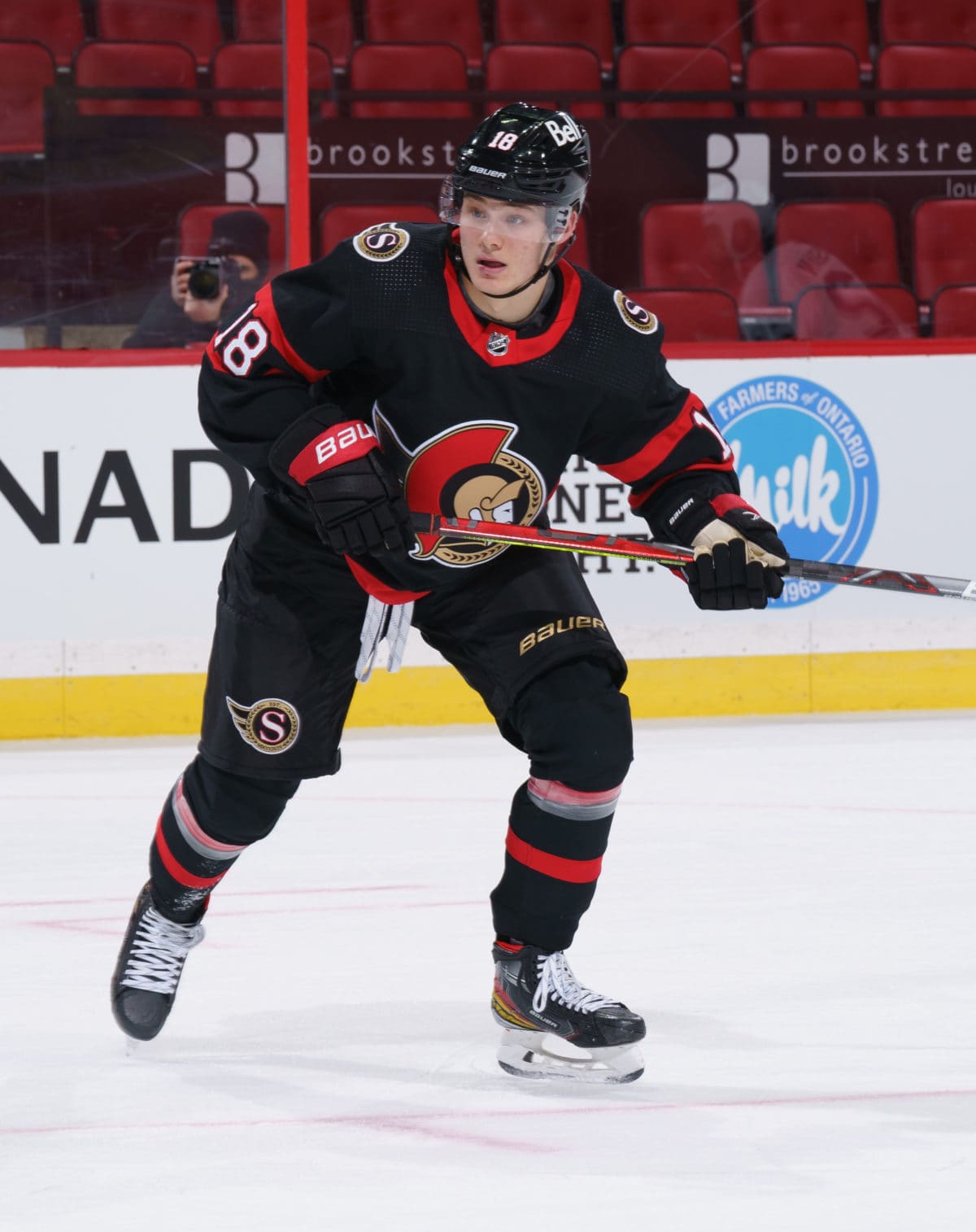 Smith's strategy is working as Stützle acknowledged how quickly he has adapted to the North American game. "He gave me the confidence to play me in the last minute and that's definitely a great feeling. With every game and every shift I play I feel more comfortable and get more confidence to make plays," Stützle said.
He has also earned the stamp of approval from his teammates. "He's adjusting pretty well to North America," Thomas Chabot said. "Just the way he skates and sees the ice and makes plays, it's one of a kind. He's the third pick overall. There's a reason why he's so skilled and so fast. It's always a bit harder at the start for guys coming from Europe after playing on the big ice and getting used to playing in the NHL but he's just really seeming to find his way now."
Stützle missed three games earlier in the season due to injury, but since then, he leads the team in goals with four and has six points in nine games.
Item Three: Stepan Trade Rumours Intensify
As the Senators continue to infuse youth into their lineup, the veterans are expected to help these young players get comfortable. General manager Pierre Dorion acquired Erik Gudbranson, Braydon Coburn and Derek Stepan for this purpose. Yet, the experiment hasn't gone as hoped, and Stepan is ready to move on from the Senators.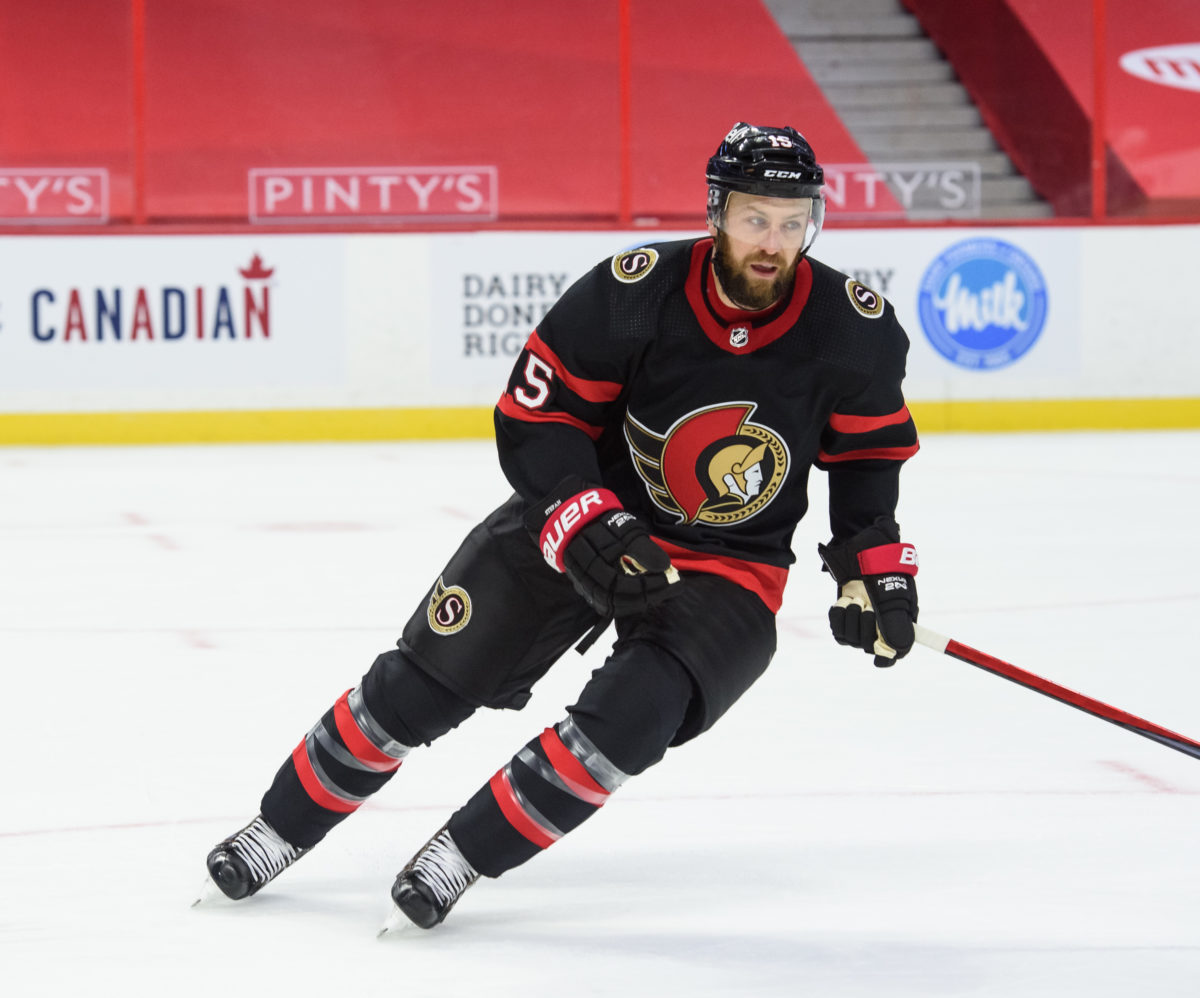 Sportsnet's Elliotte Friedman reported during the Hockey Night in Canada broadcast on Saturday night that the Senators are looking to move Stepan. Friedman noted that it isn't a performance-related issue, but Stepan, who arrived from Arizona, has had a hard time dealing with being away from his family. Ottawa is looking to help him out and move him closer, and understandably so. On top of this, the Senators also have a lot of bodies on their blue line.
Erik Brannstrom, who was called up after following COVID-19 protocols, has fit in nicely, and Artem Zub is playing well. The Senators would like to keep these two in the lineup and offload another defenceman or defencemen along with Stepan to ease up the logjam on the back end.
Item Four: Brannstrom and Brown Arrive
Senators fans were happy to finally see Brannstrom hit the ice. The 21-year-old defenceman, who was acquired in the Mark Stone trade, was promoted to the roster and made his season debut against the Canadiens on Thursday. He had hoped to make the team out of training camp in January but was in quarantine for roughly a month and only participated in one scrimmage game.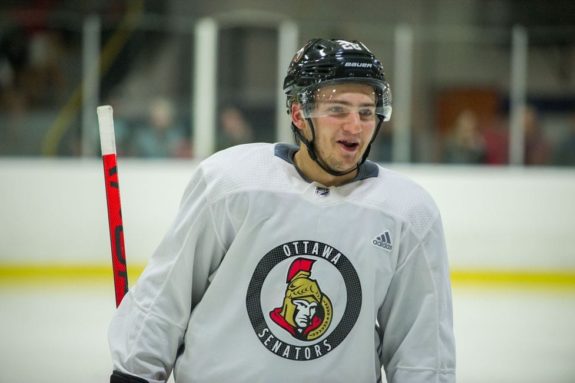 When he arrived from Europe, the mandatory 14-day quarantine was in effect, however, he was later exposed to someone who had contracted COVID-19 which meant he was forced to quarantine for another 14 days without any on-ice activities. Before he was called up to the main roster, he skated with the Belleville Senators in Ottawa.
"He's going to help us move pucks back there," Smith said about Brannstrom before Thursday's game. "He's just got to go out there and play. One morning skate and right into it without a game in a month is a hard thing for a kid but he can jump in the play, create some offence for us and break us out which we desperately need at this point. He's going to get on the power play and we're going to give him some opportunities."
That's exactly what happened. In the two games against the Canadiens, he recorded his first assist of the season and averaged just over 16 minutes of ice time. He made great plays out of his own zone and helped move the Sens up the ice. For a player who barely touched the ice before stepping into an NHL game, he was impressive.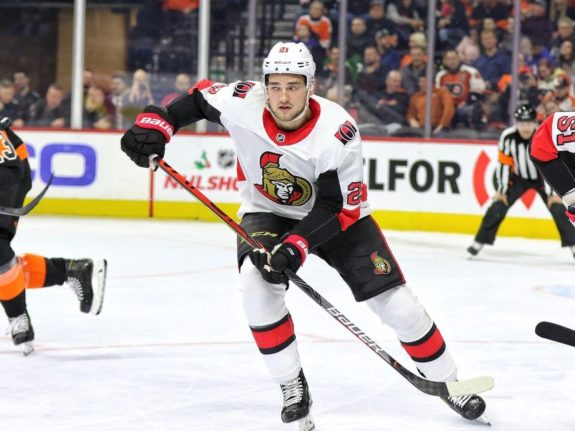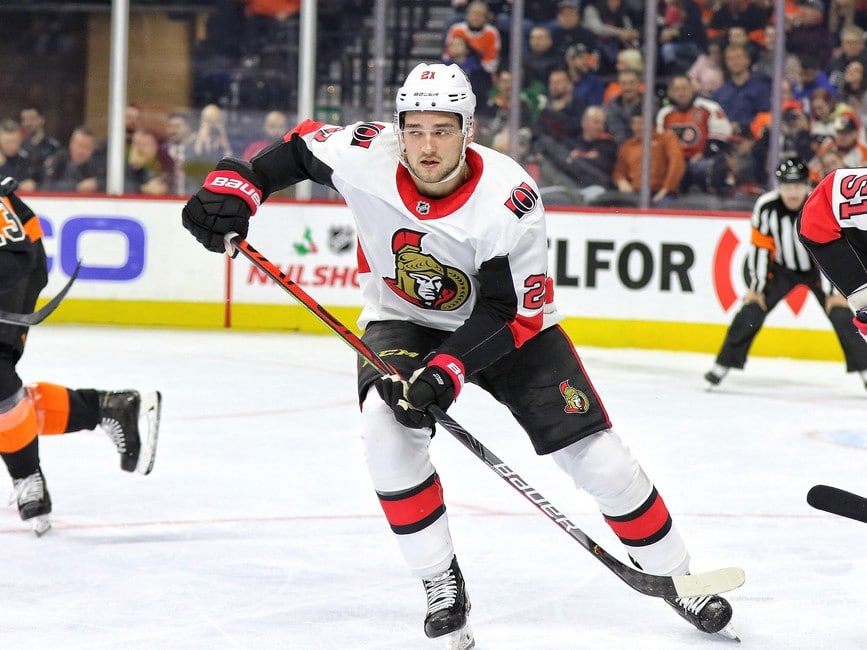 Brannstrom was one of many lineup changes Smith has made and will continue to make as the season rolls along. In the not-so-distant future, Logan Brown will suit up for the first time as well. The Sens recalled Brown from Belleville, and he has been assigned to the taxi squad. The 11th overall pick from the 2016 Draft has played in 29 games for the Senators with nine points.
"He won't play tomorrow, he just had his first practice today and he'll skate again with us tomorrow and we'll make a decision going forward from there. He hasn't skated with us in a month. He'll practice and we'll put him in when the time is right and when it's best suited for him to have the best success," Smith said after Sunday's practice. Because of these changes, forwards Filip Chlapik and Matthew Peca have been sent to Belleville.
What's Next for the Senators?
The Senators take on the Oilers on back-to-back nights beginning on Monday. It wasn't long ago that the Oilers pumped the Sens 8-5 and 4-2, so Ottawa will be hoping for a better outcome this time around against Connor McDavid and Leon Draisaitl. If the Sens continue to play as they did against the Canadiens, they should have a chance against Edmonton. As Smith said recently, the team and certain players are starting to trend in the right direction. Let's hope they can continue that upward trend, and it doesn't go down anytime soon.
---
---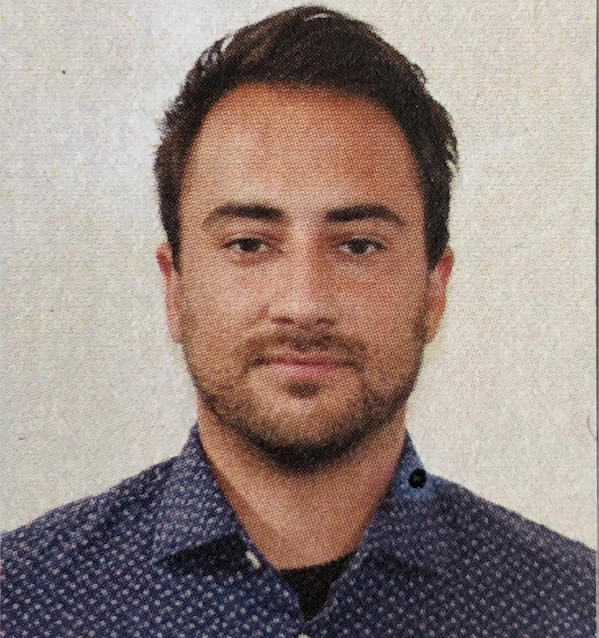 Giovanni Siciliano is a freelance contributor for The Hockey Writers that focuses on the Ottawa Senators. He is a lifelong hockey fan who aims to give his readers more knowledge and better insight pertaining to the game. When Giovanni isn't covering the latest news & rumours in Ottawa, he is usually crying about being a Detroit Lions fan, playing video games or rewatching The Sopranos, Breaking Bad, The Office or Seinfeld for the 1000th time. After completing an internship at The Hockey News, and having his stories published like this one, Giovanni knew he wanted to make this a career and share his passion for the game with others. He hosted the FaceOff Hockey Podcast before joining the team at THW, and currently co-hosts and produces the Improversation podcast. To interact with Giovanni about the Sens, NHL, NFL, T.V shows or games, you can follow him on Twitter by clicking here. You can also read more of his articles here.