The ultimate goal for any athlete is to be the best player that they can be. Regardless of the sport, the time you put in off the field of play will have an impact on it, and in order to be at your best you have to study the game while training your body both physically and mentally.
Related: 2023 NHL Draft Guide
While there are tried and true methods for your sport of choice (you simply can't replace things like weight lifting and cardio), new technology has always been implemented in order for players to further hone their skills and find an edge over their competition. Sometimes that technology is routine, like the creation of batting cages with pitching machines so someone can practice the mechanics of their swing whenever they like, or it can be complex like Cryotherapy to aid in recovery for high-contact sports like the NFL.
---
---
One innovation that many believed could spark the next revolution in sports training is Virtual Reality (VR). While you may think of VR as nothing more than a 1980s movie prop used to show what the future could look like, over the last decade, VR headsets have changed from a pipe dream to a mass-market consumer product offered by major companies like Sony, Valve, and Meta.
---
Latest News & Highlights
---
Oftentimes, the discussion around VR is filtered through the lens of gaming (which has been a primary source of market adoption for the technology) and large-scale projects like the Metaverse, but another area that has massive potential is the use of VR to train athletes. After all, an important aspect of conditioning is repetition and muscle memory, so the idea that you could simulate repetitive experiences using a headset always made sense.
However, it would take time for the technology to catch up to these ideas. Early VR helmets were bulky, their controllers imprecise, and they required tethers to a computer or game console to produce a video stream. This limited their potential as a tool for athletes since they required a full range of responsive movements to accurately simulate gametime experiences.
Sense Arena Develops VR Training for Sports
Despite these shortcomings, companies still believed that there was a future for VR in sports, which leads us to Sense Arena. After launching in 2018, Sense Arena laid the groundwork for VR utilization in hockey and tennis, and in a relatively short time, they have taken a nascent idea and turned it into a complete platform that hosts a suite of tools and programs that players all around the world can utilize to hone their skills.
Along with their work on software, VR hardware has become more, powerful, affordable, and flexible, culminating in the Meta Quest line of headsets, which offers the complete VR experience in one tetherless bundle for under $500.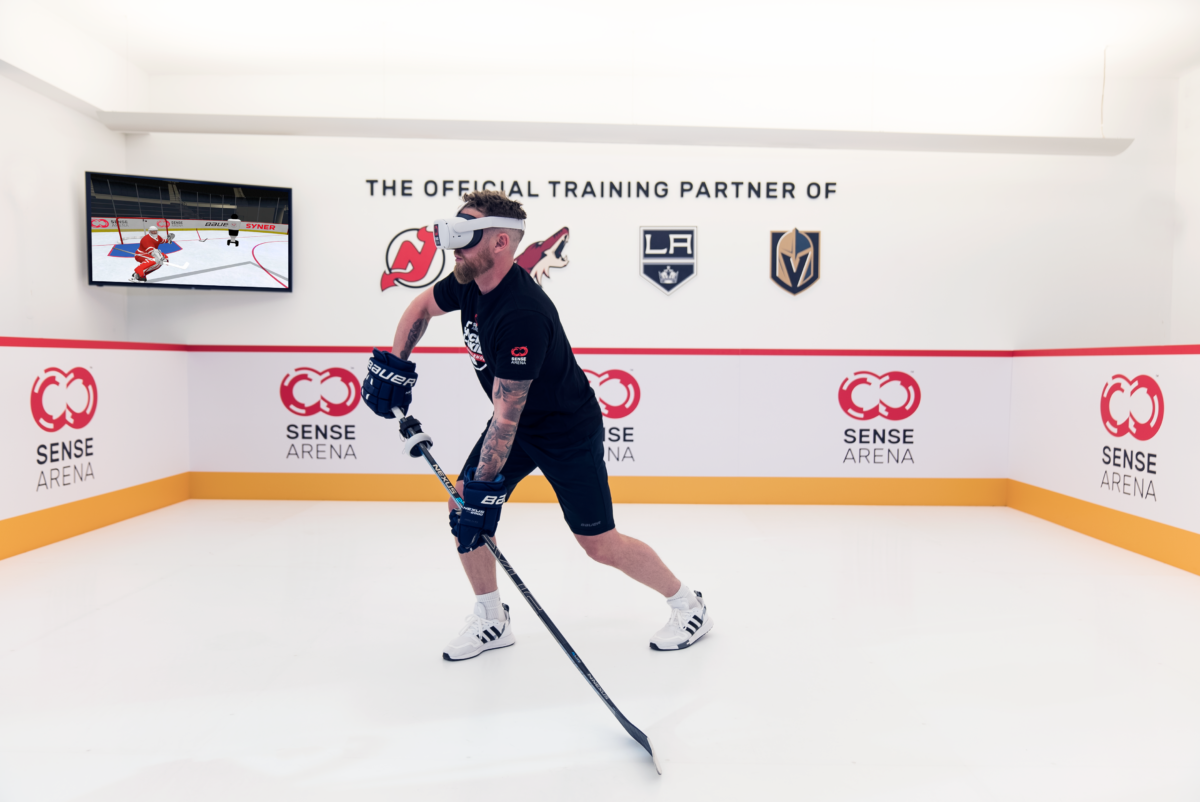 Their work is being recognized at all levels of hockey, with NHL franchises like the Vegas Golden Knights and New Jersey Devils partnering with Sense Arena, as well as major NCAA teams like the 2023 D1 men's ice hockey National Champions Quinnipiac Bobcats donning their VR helmets to further training. Most recently, Sense Arena entered a partnership with USA Hockey to be their official VR training tool, which was announced before the start of the 2023 IIHF Men's U-18 World Championship.
After all of this exciting news about the growth of VR training platforms and their future in sports, THW spoke with Andrew Alberts, the Sense Arena Director of Hockey Player Development and a nine-year NHL veteran, as well as Bob Tetiva, the Founder and CEO of Sense Arena, to discuss VR and what it can bring to the sport of hockey at all levels of play.
VR Offers a Flexible Tool for Player Development
THW: With VR being a relatively new tool, let's start by explaining what types of training programs are offered through Sense Arena for hockey players.
Andrew Alberts: We are proud to offer age-specific training on two separate platforms: Goaltending and Position Player for ages 9 and up. Each platform consists of over 60 drills that include both Animated and HD Video drills that boast current NHL and Premier Hockey Federation (PHF) players, as well as amateur shooters for the young goalies.
We also offer several branded and developed Training Plans by USA Hockey, NHL Alumni, Olympians, and NCAA Champions that drill down on specific skills to teach and challenge the user through multiple training sessions.
THW: While Sense Arena has partnerships with teams across professional and amateur hockey, the recent USA Hockey announcement feels like a significant step for the technology as it becomes a regular part of athletes' routines. So, how was this partnership with USA Hockey made? 
Bob: The story goes back to when we first met with USA Hockey in 2017 when we presented the very first, and admittedly very bad, version of Sense Arena to the U18 USA Hockey team at the Hlinka-Gretzky Cup! They gave us fair and honest feedback about the product and then we went back to work and kept improving the quality until it got to the point where USA Hockey recognized that Sense Arena could serve as a unique and powerful developmental tool.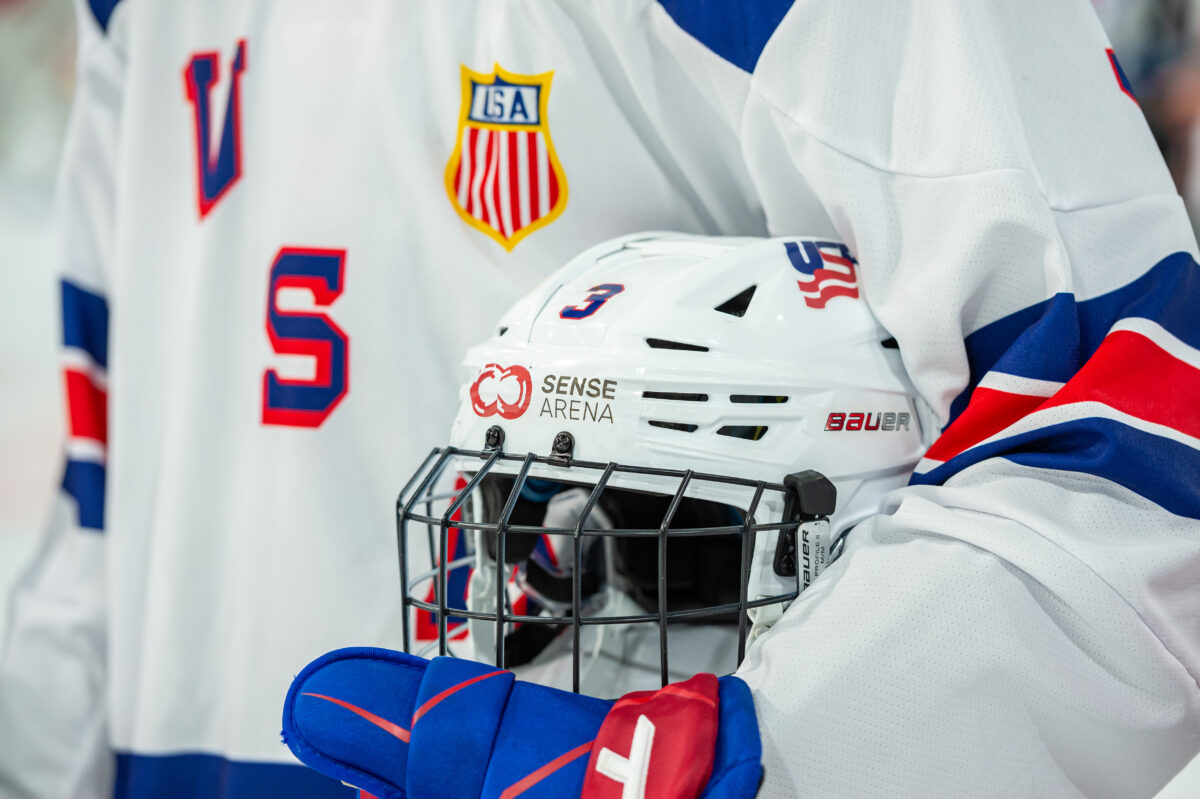 It took Sense Arena more than five years to get here, but it feels like this partnership was meant to be as we share the same mission as USA Hockey: to train and develop the next generation of hockey players!
THW: Compared to other off-ice training options, what advantages does virtual reality offer to athletes?
Andrew: During one of our Advisory Board calls, world-renowned pro coach and former goaltending coach of the Ottawa Senators, Eli Wilson, stated, "Sense Arena is the closest thing to being on the ice in a real drill or game scenario."
That's the benefit of Sense Area and the VR platform! Every hockey player wants to improve their overall game and being able to get enough quality reps during games and practice just isn't enough!
Sense Arena allows the player to train unlimited repetitions in game-like scenarios that goalies and players can only experience when competing in games or in practice, which allows for very little time dedicated to the individual player's skill development. Goalies and position players can get more puck touches and drill reps to improve their scanning and ability to read the play.
With Limited Space, VR Training Can Thrive
THW: How much space is required for each VR training module? Are multiple players able to train in one shared area in order to save on space? For example, I could imagine a school that has a small athletic footprint utilizing VR to expand its training options at a lower overall investment. 
Andrew: For goalies, a 6'x8′ space provides enough room for a user to challenge the shooters on every shot. Players need a little more room and aim for a larger space (10×10) to provide enough space to move around when searching out passing lanes or tipping pucks.
As long as teams have space available they can have many users training all at one time. Our Unlimited Data Plan is meant for teams and organizations as it allows each player to have their own user account to track all of their individual metrics during the drills performed.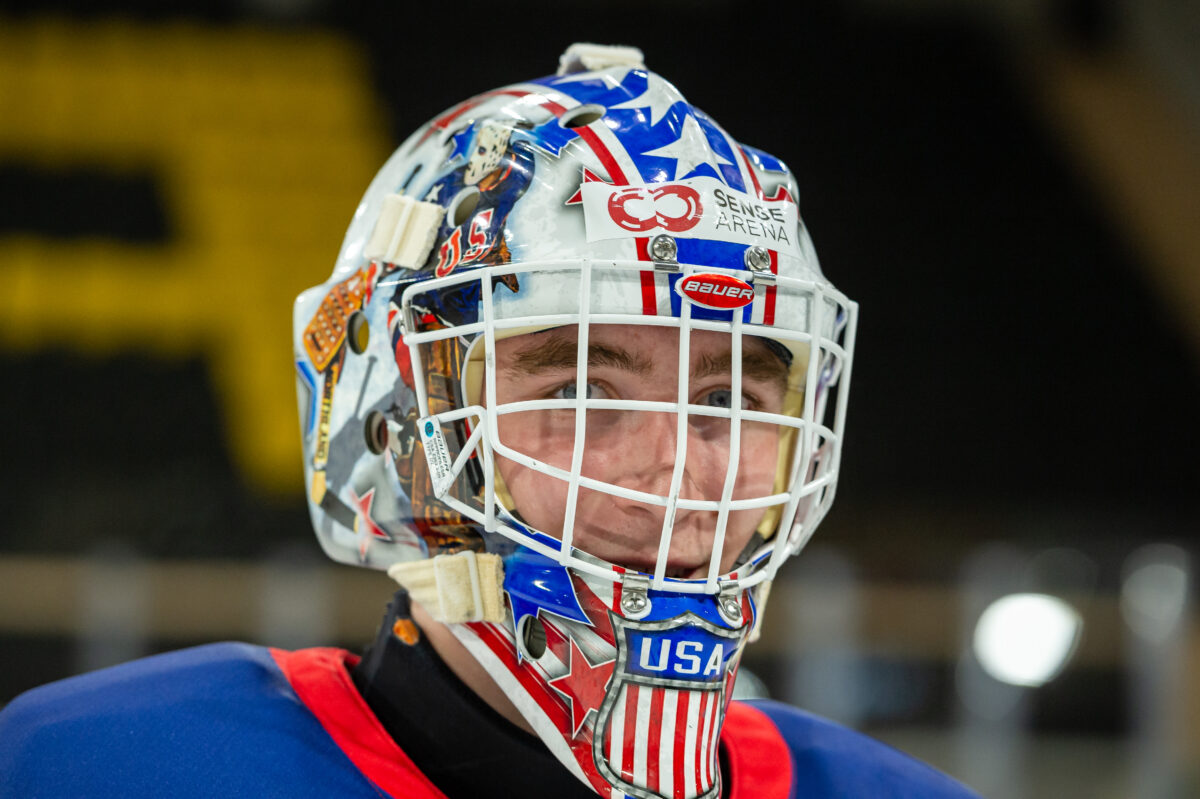 A great example of group usage is a Connecticut U13 team that is currently training with Sense Arena. Every Wednesday evening after their off-ice workout at the gym, every player and goalie finds a space and puts on their headset to train in Sense Arena. The team performs 30-40 min of cognitive training to improve their decision-making skills and has a blast competing against each other for top scores, metrics, and bragging rights!
THW: As the next generation of players enters their prime development age, do you see virtual reality as a new way to connect with them that may be easier to understand and/or implement than just traditional training?
Bob: Yes, 100 percent! Junior players are the sweet spot for benefiting from virtual reality training as their age group has fully embraced new technology and has shown strong interest in adopting VR into their normal training routines.
And just the fact that you can coach a goalie who is 1,000 miles away and be able to see them, talk to them, and see their data points – it creates so many opportunities! We are still at the beginning of what this technology is going to bring over the coming years.
THW: Have you seen pushback to virtual reality training from older players, or have they been able to add these new systems to their routines without much issue?
Bob: Like with any new technology, there is always going to be some initial pushback from an older generation and we have certainly seen some of that in our time building Sense Arena. But that is natural. These players and goalies grew up on different tools and trust their training programs and routines from their time on the ice. We understand that older players might not want to change their routine often because it's risky for them.
By no means do we believe that Sense Arena should replace all forms of hockey training. There is still great value in traditional training methods. If you want to improve your shooting, go to a shooting range and fire pucks there. If you want to work on your strides, go on a treadmill.
Related: The NHL's Most Unbreakable Playoff Records
But if you want to get better as far as your read-and-react skills, there is no better environment than Sense Arena – the intensity of touches and actions offered in Sense Arena is five times more than one can achieve in an on-ice session with 20 other teammates.
Technological Improvements Brought Sense Arena Forward
THW: How have improvements in VR technology allowed Sense Arena to expand its offerings over the last 5-plus years?
Bob: When we first started, the cost of the hardware was around $6,000 and the hardware itself was also very cumbersome. It didn't allow much freedom for movement. However, accessibility, cost, and mobility changed significantly with the arrival of the Meta Quest – our product has become a more affordable, portable solution and the overall quality of our platform has continued to increase since the Meta Quest was introduced.
Andrew: Like Bob mentioned, the early hardware was extremely clunky. Five years ago it involved a high-tech VR platform with cables stemming from the headset – a battery cable and an additional cable leading to a monitor – to show the perspective from the user's point of view inside the headset.  The images on the screen showed a cylinder shape in the net representing a goaltender and a few rectangle blocks combined with triangles to represent players moving about on the rink surface.
Fast forward to the new era of VR and our new updated software contains motion capture players, HD video drills, and more!
THW: On the topic of the Meta Quest and VR hardware, what does it normally cost to create a Sense Arena Virtual Reality setup for an average user?
Bob: The advantage of VR training is the low cost compared to additional coaching and skill development. For the cost of a few friends to hop on a rented sheet of ice with a private coach, you can now have a VR rink, a private coach, and teammates in your basement or garage for half the price!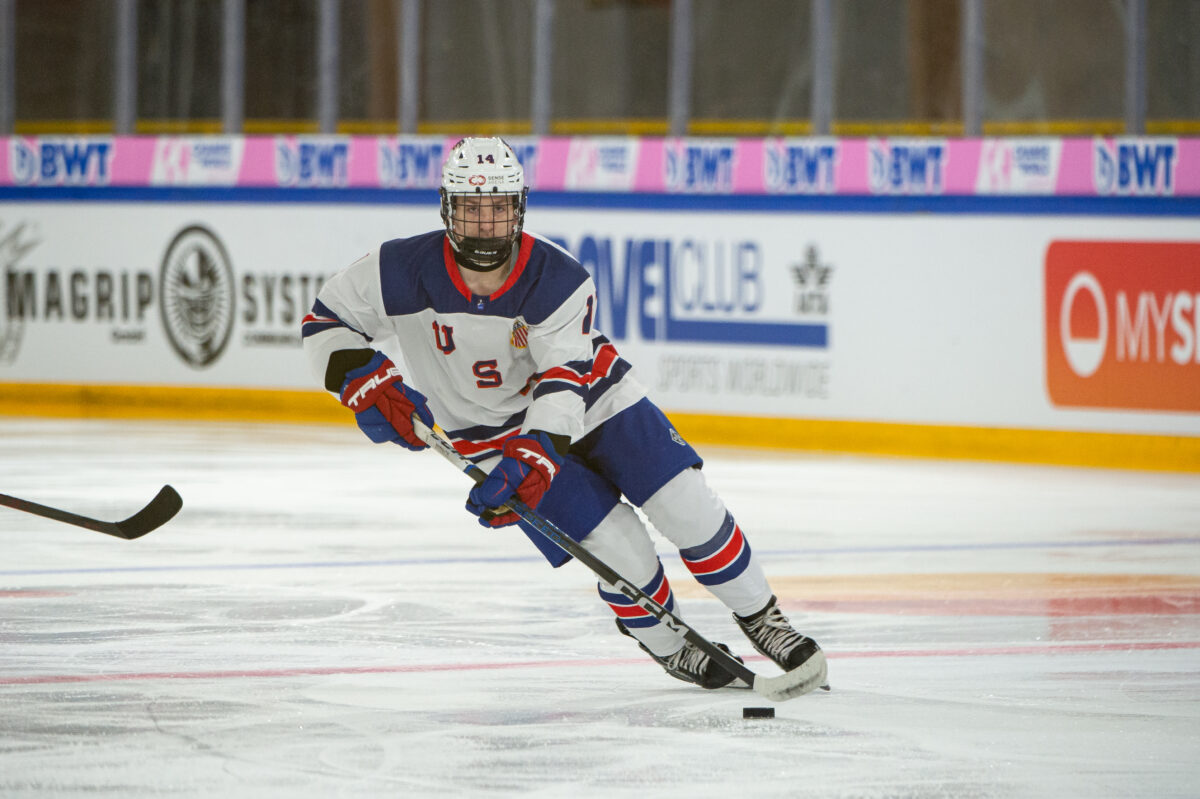 A subscription to our Starter plan, which includes one user account, runs $348 annually, while our Pro plan costs $588 annually and is best suited for households with multiple players, as it provides subscribers with four user accounts. In order to get started, you do need access to a Meta Quest 2 headset, which is sold separately. And then we also offer affordable accessory equipment to hold the Meta Quest 2 controllers including goalie sleeves, and haptic and non-haptic stick mounts
THW: What has the reaction been from the players and their families to the offering from Sense Arena?
Andrew: From beer leaguers to U10 players and all the way to NHLers, the feedback on Sense Arena has been amazing across the board!
The two biggest takeaways include specific skill training and accessibility. Having the ability to train important skills, like scanning and reading, that many coaches and teams do not spend enough time on in practice is huge. And the accessibility we provide to train read-and-react skills and improve decision-making ability is extremely valuable.
Sense Arena offers a training platform like none other, where every drill is about the USER and improving their hockey sense!
As Hockey Grows, VR's Importance Will Continue to Expand
While it takes time for new technology to disseminate across a sport as large as hockey, it should surprise no one when VR finds its place in the daily routines of players around the world in the coming years. By offering so much user flexibility, VR is able to be more than just a single-use tool but a platform that can help anyone develop their game, regardless of their competitive level on the ice.
Related: The Evolution of Europeans in the NHL
THW would like to thank Bob Tetiva and Andrew Alberts once again for taking some time to talk with us about this fascinating subject. In a few years, we will make sure to check back in on how far VR has grown across not just hockey but the sporting world in general.