The '12 Days of Christmas' is a classic holiday song first published in its current form in 1908. In a nod to the classic carol, join The Hockey Writers as we count down the 12 Days of Hockeymas. Each day, we will provide you with a piece of hockey history as we eagerly await the start of the 2020-21 NHL season.
For day number 12, we'll be discussing the San Jose Sharks' most well-known player who happens to wear that number, Patrick Marleau. In this article, we'll talk about the legacy that he's left so far with the Sharks and the legacy he will leave once he retires.
The Beginnings
The Sharks selected Marleau second overall in the 1997 NHL Draft from the Seattle Thunderbirds in the WHL. He was behind Joe Thornton, who would eventually play for San Jose later in his career after the Boston Bruins drafted him.
In Marleau's first season with the Sharks, he had a stat line of 13 goals and 19 assists, a total of 32 points in 74 games. With those stats, he finished 6th in Calder Memorial Trophy voting for the NHL's Rookie of the Year, losing to the 8th overall pick of that year, Sergei Samsonov.
His sophomore season was even better, scoring 21 points and 24 assists, a total of 45 points in 81 games, and the only way was up from there. In total, he's collected 1109 points with the Sharks.
While his numbers are great, it still doesn't tell the entire story of the player he is and what fans will remember him for.
His Legacy Now
Marleau has been a staple on the Sharks for all but two seasons when he signed with the Toronto Maple Leafs to try to compete for a Stanley Cup.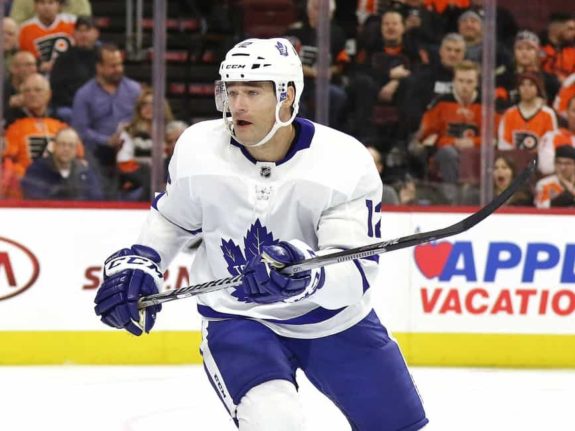 He is also a fan favorite. When KPIX 5 in San Francisco reported on the trade deadline move that sent Marleau to the Pittsburgh Penguins, they used the headline "Sharks Trade Fan Favorite Patrick Marleau to Pittsburgh Penguins."
Recently retired play by play announcer Mike "Doc" Emrick built on that fan favoritism, giving praise to Marleau in a recent NBC Sports California article.
"Everybody likes playing on a team that has Patrick Marleau on it… The same was true in Toronto because of the leadership that he brought and the character that he brought. "
Another part of his current legacy is his love for the game of hockey. The author of the Emrick article on NBC Sports California also cited a video conference where Marleau talked on that subject.
In that conference, he said that he still has a love for the game and that the drive of winning a Stanley Cup, as well as having fun on the ice, keeps him going.
Speaking of the Stanley Cup, it's a perfect segue into the next part, his work ethic. In an ESPN article during that 2016 Cup run, the head coach at the time, Pete DeBoer, spoke highly of Marleau and teammate Joe Thornton's work ethic.
"…All I've seen them is the year I've spent with them and how hard these guys work every day, how committed they are, how badly they want to win."
Hard work and commitment are the two things to take out of that. That is and was the key to Marleau's work ethic during that Finals run. It showed in his points, too, as he totaled 13 points in all 24 games they played.
The Legacy That Will Be Left
The record that being talked about the most on that subject is the games played record. As of now, Marleau has played 1,723 games in his career. The record is 1,767, set by former Detroit Red Wing Gordie Howe. That means Patty is only 44 games away from the record.
Another portion of his legacy that will be left is his service as a captain. Marleau was captain of the Sharks for five seasons, starting in 2003-04 and ending in 2008-09. The only other player on the team to serve for five years is Owen Nolan, with the caveat that he split his first year in the 1998-99 season with Vincent Damphousse.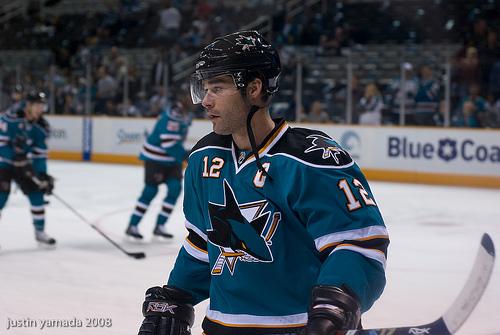 A final portion of that legacy that will live on is his résumé. He has many accolades, which include three all-star games in 2004, 2006, and 2009. There were also six calls to serve on Canada's national hockey team, winning two Olympic gold medals and two world championship gold medals in the process, as well as one silver in 2004-05.
All of these aspects will surely cement Marleau's legacy in hockey and with the Sharks. He hasn't hung up the skates just yet, but with his many achievements, there will be a lot of well wishes once that news does get announced. With that said, for Sharks fans, the association to number 12 will always go to Marleau, and I wouldn't even be surprised if that number goes into the rafters at SAP Center in San Jose.
---
---
Marco Milani is a huge Sharks fan and loves to write and talk about sports, especially hockey.