The 2018 NHL Draft was one that was filled with stars. The first two picks, Rasmus Dahlin and Andrei Svechnikov have made big impacts on their respective teams. The San Jose Sharks cashed in on one of those stars in the first round with Ryan Merkley, a defenseman.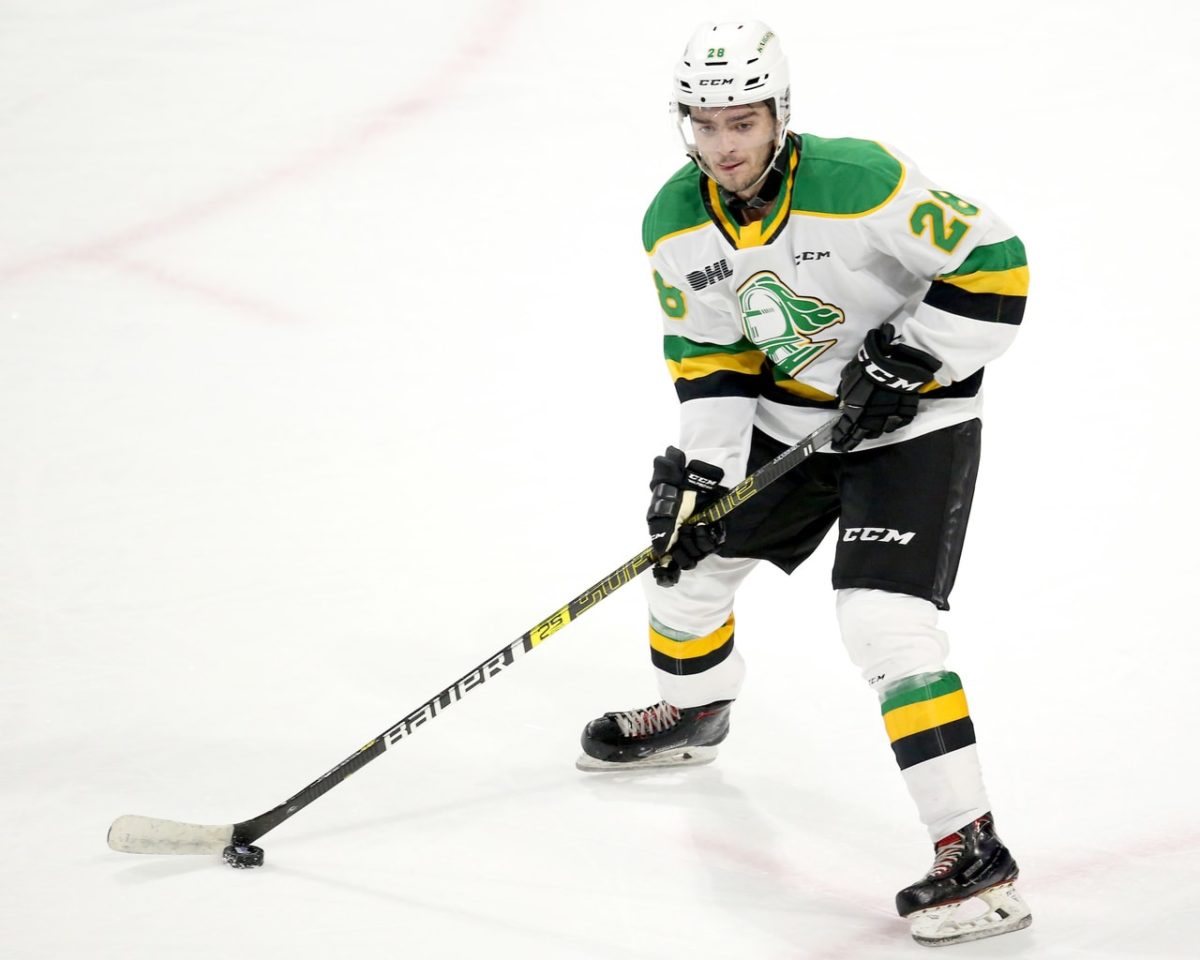 Entering the sixth round of the draft, the Sharks team didn't know that one of their selections, would be a gem out of the University of Massachusetts with the 182nd pick. That player is forward John Leonard.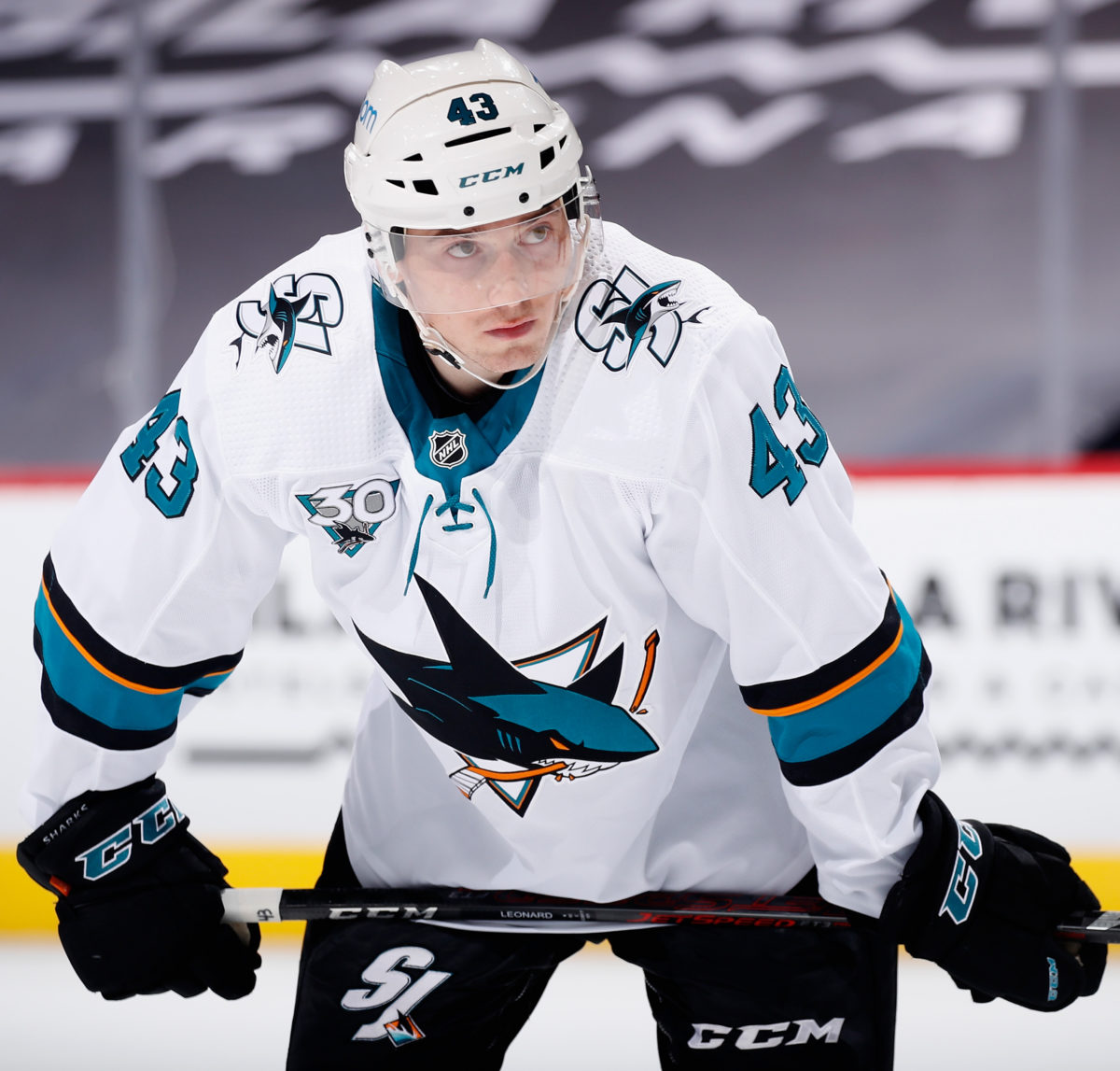 In the past two NHL games, Leonard scored his first two NHL goals. This article will explore his career before these two goals, from his junior career, his 3 years at UMass, and his journey to the NHL roster. 
Junior Hockey Career
Leonard was selected out of Springfield Cathedral High School in the fourth round of the 2014 USHL Futures Draft by the Green Bay Gamblers. He was coming off of a high school career where he had over a point per game. His third year at Springfield was his best, scoring 47 goals and 28 assists for a total of 75 points in 25 games, an average of three points a game. 
His career with the Gamblers started off slow, scoring only four goals and five assists for a total of nine points in 48 games. Leonard also notched 10 penalty minutes. 
The second season with the Gamblers fared much better for the young forward. In 58 games, Leonard scored 19 goals and 15 assists, for a total of 34 points. With that came a doubling in his penalty minutes, accruing 20, and totaling a plus-minus rating of plus-4. 
After those two seasons with Green Bay, his journey continued to the University of Massachusetts-Amherst. 
College Career
John's freshman season at UMass in 2017-18 started with great momentum from the previous USHL season. In his first 33 games, he scored 13 goals and 15 assists for a total of 28 points. Four of the goals he scored were on the power play, while three were game-winners. His minutes in the penalty box went back to normal as well, only earning 10. It was after this season where he was drafted to the Sharks. 
His sophomore season saw major improvements in his game after his being drafted. This reflected in his stats in 2018-19. Leonard scored 16 goals and notched 24 assists for a total of 40 points in 40 games, his first point per game season in his college career. His fifth goal of the season, which came against New Hampshire, got noticed by Sportscenter anchor John Buccigross.
His penalty minutes went up to his highest that he's had so far with 24 penalty minutes, but his plus-minus went up as well, boasting a plus-14. 
His final year at UMass saw him scoring a college career-best in goals with 27 and got 10 assists to boot, totaling 37 points in 33 games, his second straight season with a point per game. He also earned lots of accolades, earning Sharks Prospect of the Week twice within a two-week span, after scoring two hat tricks in those two weeks. He scored one on Feb. 8, 2020, against Providence, earning him the prospect of the week honor three days later, and the other on Feb. 22, 2020, against UMass-Lowell, earning him the honor in another three-day span.  
Leonard also became a finalist for the Hobey Baker award, which is an award presented to the most outstanding hockey player in the NCAA. He ended up finishing in eighth in all the voting.
It was then announced on March 31, 2020, that Leonard was going to join the Sharks organization. The Massachusetts Daily Collegian, a newspaper from UMass, mentioned that he would be "foregoing his final season of collegiate eligibility in the process." (From 'John Leonard agrees to join San Jose, forgoes senior season at UMass', Massachusetts Daily Collegian, 3/31/20)
Career With The Sharks So Far
Leonard's journey continued in training camp, where he continued to earn praise from his fellow teammates. Curtis Pashelka, in an article from the Oroville-Mercury-Register, cited a major example, captain Logan Couture, after he scored a goal in a scrimmage game playing on a line with Tomas Hertl and Evander Kane. 
"I heard good things about him from our organization, and he's proved them right," Sharks captain Logan Couture said Tuesday of Leonard. "He's a very skilled, smart player. Off the ice he's a very hard worker, on the ice as well. He's doing good things at the start of this camp. He's impressed a lot of people."

From 'San Jose Sharks training camp: John Leonard pushes for roster spot', Oroville-Mercury-Register, 1/5/21
That hard work, as well as those good impressions from people, earned him a spot on the opening night roster against the Arizona Coyotes. In an article from the Greenfield Recorder by Kyle Grabowski, it was mentioned that making the roster wasn't a given. He cited a quote from Leonard, who discussed that possibility. 
"It being my first NHL camp, I didn't know what to expect. You get through those first couple days trying to dip your feet in, at the end of the day you've got to be ready to go from the start," Leonard said. "You can't take too slow of an approach."

From 'Work ethic brought John Leonard from Amherst to the NHL' Greenfield Recorder, 1/13/21
In that first game, he ended up getting his first two NHL points, both of them assists from goals from Hertl and Kane. A drought in points followed, and with his ice time steadily decreasing, he was assigned to the AHL's San Jose Barracuda. That assignment proved well for him, as he got his first professional goal, as well as an assist for a total of two points in two games. 
Leonard was then promoted to the active roster for the game against the Los Angeles Kings, where he got no points, with only around nine and a half minutes of ice time. Three days later, in the home game against the Anaheim Ducks, he scored his first NHL goal. Appropriately, it was assisted by a former teammate at UMass, Mario Ferraro. 
In the next game against the St. Louis Blues, he notched another goal and gained over 16 minutes of ice time, giving him a total of four points in all 10 games he's played with the Sharks so far. 
With that, that is forward Leonard's journey from juniors to the NHL. He is a promising young forward, and after those first two goals, it will be exciting to see how many he will score next. 
---
---
Marco Milani is a huge Sharks fan and loves to write and talk about sports, especially hockey.