Tristen Robins realized his boyhood dream earlier this month, when the Saskatoon Blades' star centerman was selected by the San Jose Sharks in the second round, 56th overall in the 2020 NHL Draft.
Coming off a breakout 2019-20 Western Hockey League season where he totaled 33 goals and 73 points, THW's Carson Shmyr wrote about how Robins' size may have resulted in him not going sooner in the draft, making him a low risk, high reward selection for the Sharks.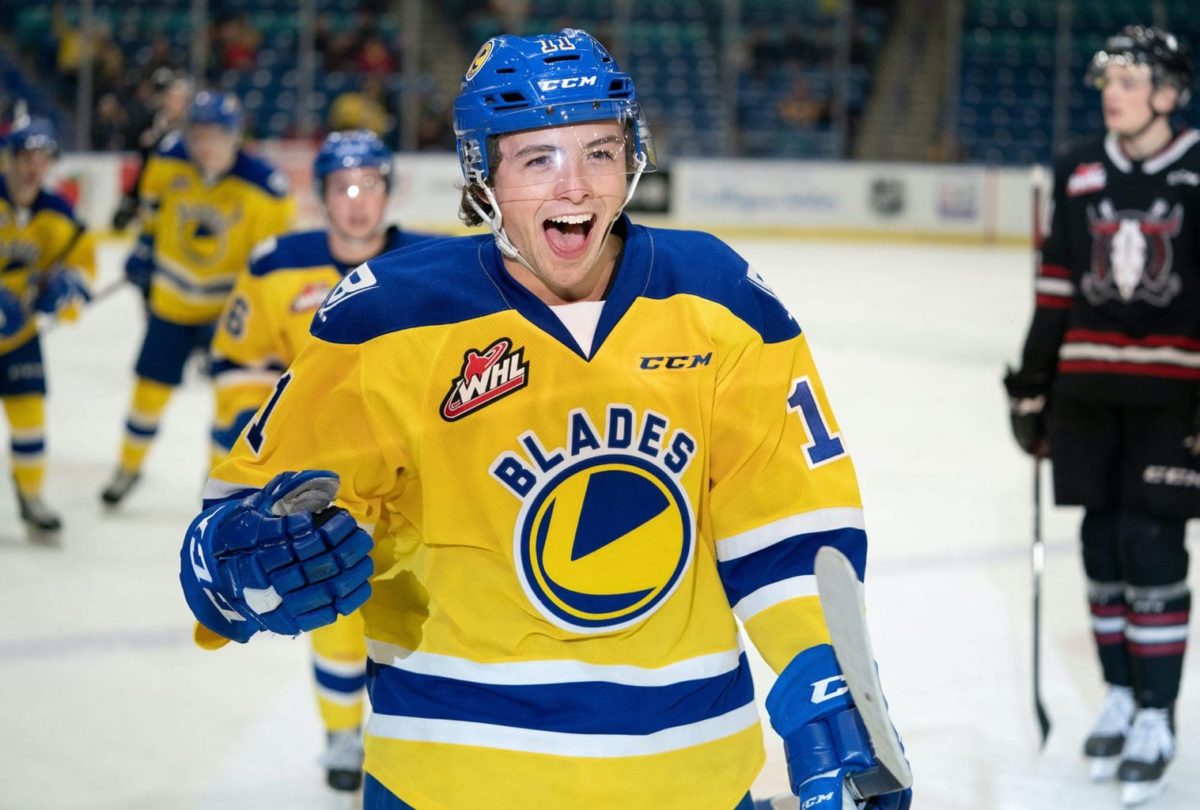 Being selected by the Sharks is the next step along Robins' hockey journey, one that has now re-traced two of the same stops as his father Trevor, who played for the Blades as well as the Sharks organization during his career as a goaltender from 1989 to 2002.
Sharks and Blades Ties
While calling Clear Lake, MB his hometown, he spends much of his offseason training in Winnipeg, where he played at the Rink Hockey Academy (2016-18) but went back to Clear Lake to watch the draft on TV with his family around him.
"I was just hoping to see my name called and didn't really know what was going to happen," Robins said in an interview with THW for this story. "We were just sitting there in the living room and saw my name called on TV. It was pretty magical to spend that moment with all of my family."
Among the family in the room was his father Trevor. A goaltender in his playing days, Trevor spent time in the Sharks organization in the mid-1990s. Though he never saw game action in the NHL, Trevor was called up to San Jose on two occasions during the 1994-95 season to serve as the backup to Arturs Irbe and then Wade Flaherty.
Also just like his son, Trevor played in the WHL for the Blades, tending the net in 150 games over three seasons in Saskatoon (1989-92) before finishing his junior career with the Brandon Wheat Kings (1992-93).
One of Tristen's first moves after the initial reaction was to run to his room and grab his dad's old Sharks jacket.
After junior, Trevor suited up for six different teams in three different leagues over the course of three seasons of professional hockey in North America before playing six seasons in the British Ice Hockey Super League (1996-02).
"(My dad) has told me a few stories, but he kind of keeps to himself about (his career)," the younger Robins said. "He was a big help through this whole process, just giving me little advice during the (pre-draft) interviews and stuff like that. He had a pretty long career in the minors, so I respect everything he has to say."
"(My dad) has been very supportive with me through this whole (draft) process," Robins told the Blades Uncut Podcast's 'NHL Draft' episode. "(He was) telling me to be myself and be confident in the interviews that I had with teams."
The younger Robins also told Blades Uncut that he spoke to every NHL organization prior to the draft.
Preparation Precedes Success
THW's own Dayton Reimer wrote in Robins' draft prospect profile that his size is noticeable when you first see him, but "he possesses an incredible work ethic and determination, never shying away from the corners or taking on a bigger opponent on the forecheck. His tenacity is blended with a high hockey IQ, making him a nuisance to play against."
Born in London, England while his dad played in the BISL, Robins spent his summers as a youngster in Manitoba, and was a fourth-round bantam draft pick of the Regina Pats in 2016. He played his first WHL game with the Pats in 2017-18 before being moved to Saskatoon in a 2018 trade that sent future New York Rangers defenseman Libor Hajek to Regina as they prepared to host the Memorial Cup.
In his first full WHL season in 2018-19, Robins had a modest nine goals and 25 points, slotted down the depth chart of a strong Blades team that featured high-scoring centers Kirby Dach, Gary Haden and Max Gerlach.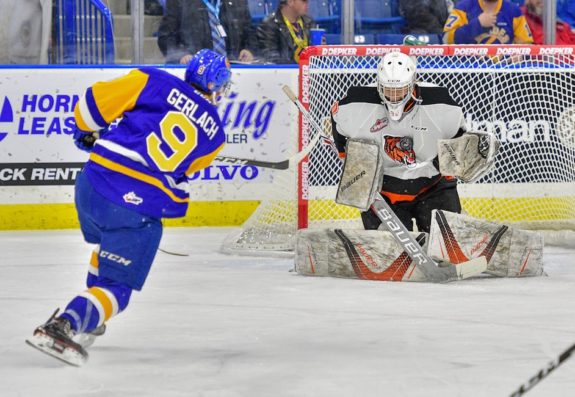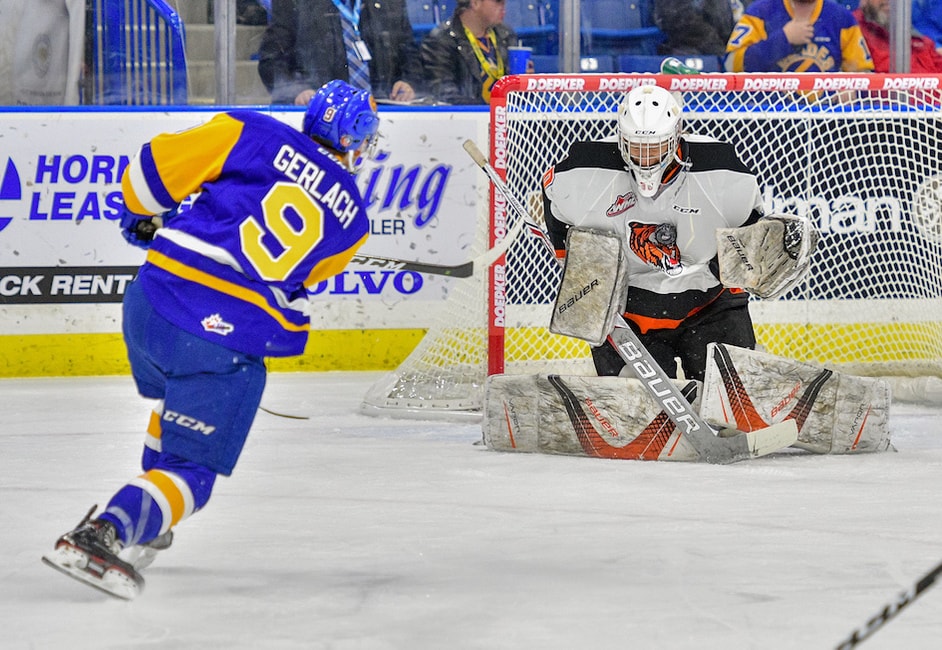 "I was playing behind some really good players (that season), especially Kirby," Robins reflected. "I got to really see what it takes to be a top forward in (the WHL). It was a good learning year, and ultimately I think it led to my success (in 2019-20) because I realized that I have to do a lot more to prepare and train, and a full year of knowledge is beneficial."
Robins went to work immediately during that off season, working out physically, and fine-tuning his training regime.
"I trained like a dog, doing everything I can to prepare myself," he said. "I really started focusing more on literally everything like my rest, body maintenance, and nutrition. I just started training and acting like a pro."
The training paid dividends in his second season with the Blades. With the team's top five scorers from the previous season all departing for various reasons, including the three aforementioned centers, Robins earned the opportunity to man the middle of the ice on the team's top line, joined by draft-eligible winger Kyle Crnkovic.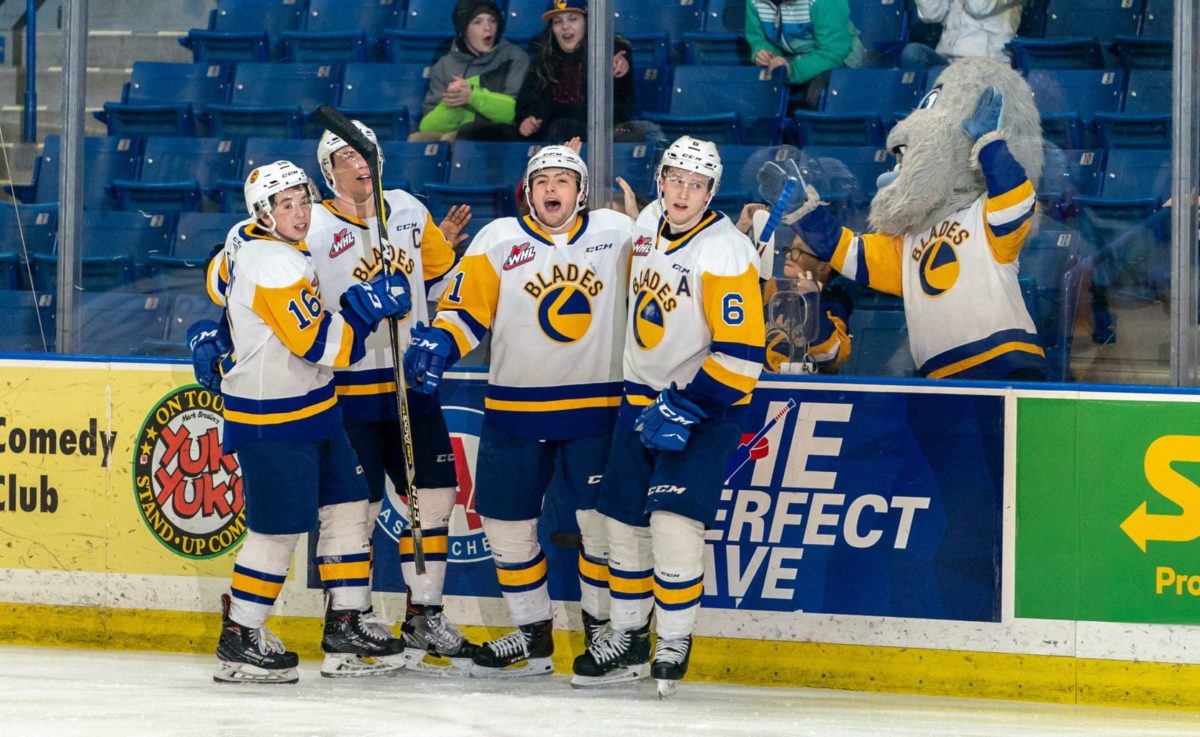 It took until the new year for the points to start piling up, but once they did, Robins was one of the most potent snipers in the league for the remainder of the season. Robins needed much of the first half of the season to grab hold of his leadership role, but once he did, he caught fire. Robins struck for 23 goals and 51 points in 31 games after the Christmas break. Taking it a step further, he finished with 10 goals and 24 points in his last 13 games before the season was halted.
Robins finished 14th in WHL scoring, and third in the league among draft-eligible players, trailing only Seth Jarvis of the Portland Winterhawks and Connor Zary of the Kamloops Blazers. Jarvis would be taken 13th overall by the Carolina Hurricanes and Zary wound up going 24th overall to the Calgary Flames.
Blades Bites
With the WHL aiming to begin their 2020-21 season on Jan. 8, Robins' expectations for the Blades remain high after a 73-point campaign in 2019-20, which clinched a playoff spot before the season was halted in March after 63 games.
Robins noted that a mix of young players and prospects will be in the mix to earn or increase their roles on the squad, which puts responsibility on the returning veterans to show the way to some extent.
"I think it's going to be on the leadership group to guide the younger players and show them how the Blades operate, and how much work they have to put in to be a player in this league," Robins said. "I'm excited for that. I think we're going to be extremely competitive and depending on how things go, hopefully make a run for the top."
In terms of leadership style, Robins is vocal on the bench and strives to be an example of hard work.
Not much more than two years removed from being a young player breaking into the WHL himself, Robins is now part of a Blades leadership group headlined by third-year captain Chase Wouters.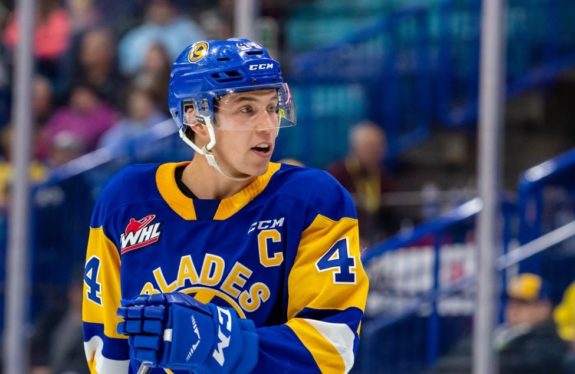 Also playing prominent roles in the Blades' veteran core are four other players who were listed for the 2020 NHL Draft including defensemen Rhett Rhinehart and Aidan De La Gorgeniere, Crnkovic up front, and goaltender Koen MacInnes. The draft came and went with no selection for each of those players, but Robins remains excited for each of them.
"I feel like they're going to respond in a positive way," Robins said. "They going to continue to work as hard as they can to get noticed next year," he said, noting that he is hopeful that those players will receive invites to NHL development camps this season.
The two defensemen in that group will likely be elevated to top-pairing minutes to anchor the back end, following the graduations of Scott Walford and Nolan Kneen. Crnkovic will again join Robins on the top line of the Blades' offensive attack.
Saskatoon's goaltending situation figures to be in great shape with Nolan Maier and MacInnes slated to return. MacInnes will look to push the older Maier for starts.
The 2020 NHL Draft marks the third consecutive draft to include a single Blades' product. Centerman Kirby Dach was drafted third overall in 2019, becoming a core piece of the Chicago Blackhawks youth movement, and in 2018, the Washington Capitals took forward Eric Florchuk in the seventh round.
Around the WHL
Robins is friends with several others who were drafted this year, and is closest with Jarvis after the pair played together at the Rink Hockey Academy prior to entering the WHL.
The Hurricanes' first-rounder ended last season second in the WHL scoring in 2019-20 with 98 points and was third with 42 goals. He also had a pair of goals and four points for Canada at the Hlinka Gretzky Cup, boosting his draft stock.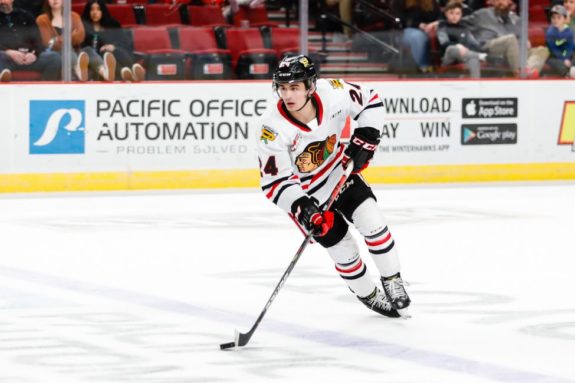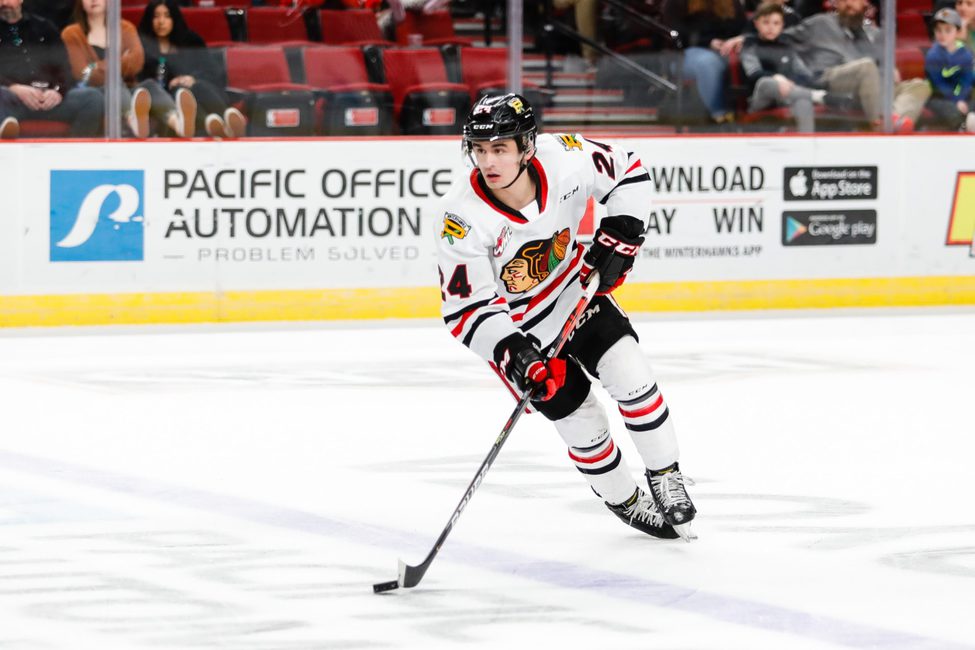 The two snipers return to Winnipeg to train each offseason.
 "We joke around and have a little bit of fun, but we push each other really hard," Robins said of his relationship with Jarvis. "We're both very competitive but support each other too. We're both happy for each other, and we made sure to text each other 'congrats' and show that respect."
Seven WHL players were drafted in the first round, and a total of 28 were taken over the seven rounds this year.
The Prince Albert Raiders and Brandon Wheat Kings each had two players taken in the first round. Raiders' defenseman Kaiden Guhle went to the Montreal Canadiens 16th overall, followed by winger Ozzy Wiesblatt, who has a compelling family story, going with Robins to the Sharks.
Wheat Kings' defenseman Braden Schneider was selected 19th overall by the New York Rangers, and forward Ridly Greig was the Ottawa Senators' third selection of the first round, 28th overall.
The remaining WHL first-rounders were Zary going 24th overall to the Flames, and Jake Neighbours of the Edmonton Oil Kings 26th overall to the St. Louis Blues.
Looking Ahead
When asked to look ahead, Robins said that his game will still need constant improvement.
"I need to make the jump to the next level," Robins said. "I believe that you can't be good enough in any area of your game, and that's what I try to do with my training. I don't train one thing or skill. I think it's important to round out everything."
With such a monumental box checked off on the career to-do list, Robins said that nothing will change in his process even as his sites recalibrate to the next phase of his career.
"The anticipation for the draft obviously stopped, but nothing's really going to change," Robins said. "I'm going to keep my mindset the same and keep training as hard as I can to take that step to the next level. Probably the biggest goal in my entire life is to play professional hockey, and I'm going to work as hard as I can to make it."
Primarily a center last season in Saskatoon, Robins said that he doesn't have his heart set on playing any one position as a professional, and just wants to play wherever he can help his team the most.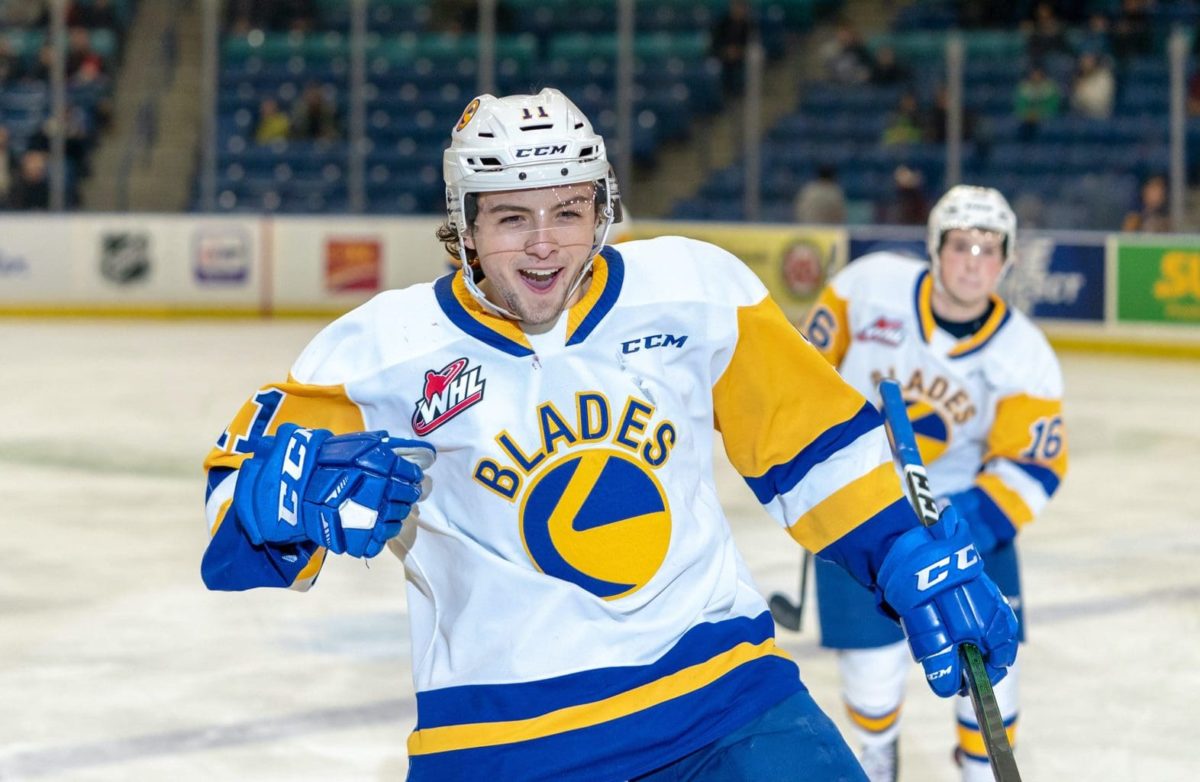 Hearing your name called on draft day is a boyhood dream for any player, but now that he has cherished that unforgettable moment in his family living room, the next phase in Robins' career has begun, and the work continues.
---
---