"Sharks and Kings" says it all. It's playoff time and wow, these two are at it again. The San Jose Sharks and the Los Angeles Kings will do battle for the fourth time in the past six years. Game 1 of their Stanley Cup Playoffs match is at 10:30pm ET on Thursday at the Staples Center in Los Angeles.
These teams know each other well, don't particularly care for one another, and both want to send each other home. This isn't just playoff hockey with all that it embodies; this is a lit fuse that could explode into one of the most epic playoff rounds ever.
The History
NHL.com recounts their recent previous encounters in the playoffs, "San Jose defeated the Kings 4-2 in the first round in 2011. The Kings defeated San Jose in 2013 in the second round and in 2014 in the first round, needing seven games each time. In 2014, the Sharks won the first three games before dropping the next four."
Six games and then seven and seven again. Is there any reason to believe that these two Pacific Division rivals won't battle to the end again this time? While the Kings went on to win the Stanley Cup in 2012 and 2014, both teams missed the playoffs last season, and are ready to take it to each other with everything they've got.
The Sharks owned the regular season series, going 3-1-1 against the Kings.
Sharks at Kings, 10:30 ET.
Sharks: 3-1-1 vs Kings this season. Joe Thornton's 59 points since Christmas Day rank 2nd behind Sidney Crosby

— Bucci Mane (@Buccigross) April 14, 2016
Two of the Sharks' wins against the Kings were in the Staples Center so they know how to win on the Kings' home ice. But, this is playoff hockey, not a Tuesday night tilt in November. San Jose cannot rely only on this season's success in hopes of beating Los Angeles. The Kings are equally as motivated and would love nothing more than to dismiss the Sharks once more.
Skarks vs. Kings Keys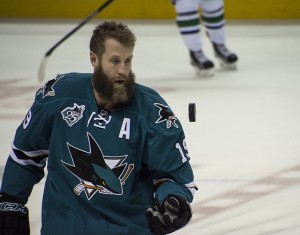 As the above Tweet mentions, Joe Thornton has had a super season. His 19 goals and 63 assists put him atop the team for points at 82. Adam Gretz of CBSSports.com wrote of Thornton on March 19:
"When it comes to "value" added to a playoff-bound team, he is also probably the single biggest reason it is returning. Not only is he the driving force behind the Sharks' turnaround, if you look at the top players in the NHL this season, including the MVP front-runners, you would be hard pressed to find a single player that has made a bigger impact on his team than Joe Thornton."
Gretz laments that Thornton is very much underappreciated when it comes to awards like the MVP, but there is no question that the Sharks' return to the playoffs is in large part due to the play of Thornton. So a huge key for the Kings will be whether or not they can cool off a Thornton who finished the season very hot.
Goaltending will also be an enormous key in this battle. Kings veteran and two-time Stanley Cup winner, Jonathan Quick will be ready. Martin Jones, who backed up Quick in Los Angeles, will be in goal for the Sharks. Teacher versus student will receive a huge spotlight as these teams fight to advance.
Both Quick and Jones had good seasons with similar stats:
Martin Jones should be well-prepared for playing both ends of a back-to-back after years of watching Jonathan Quick do it.

— Jewels from the Crown 💎👑 (@JFTC_Kings) January 25, 2016
Aaron Polevoi at FeartheFin.com wrote on April 12:
"Based on his track record, Quick has the edge over Jones but this series could display some of the best goaltending throughout the whole playoffs."
I don't disagree. The Sharks added James Reimer to the mix as well, so they are ready to defend the net. But Quick may just have the veteran's edge. Stefani Szenda of insportsweb.com agrees:
"However, I do still think Quick gives the Kings an advantage because he knows what he has to do and the Kings know what they have to do in front of him in order to win. Quick is a world-class goalie. His experience combined with his athleticism in the net is what puts him above Jones in this series."
That lays no disrespect at the feet of Jones, he is no slouch. But, a real key to this series will be whether or not he can rise to the occasion, and whether or not Quick will do what he does which is simply, be great.
Defensively both teams are loaded. Marc-Edouard Vlasic returns to the Sharks'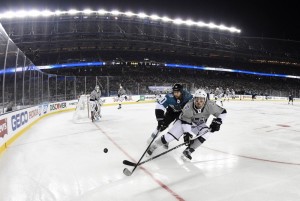 lineup after missing 12 games due to a knee injury. Vlasic has 39 points on the season and is a +15. His return is timely for the Sharks, who will rely on Vlasic and Brett Burns (75 points) to ward off the attacking Kings.
The Kings' defense is anchored by Drew Doughty (51 points, +24), who Kevin Kurz of csnbayarea.com says, "…is the frontrunner for the Norris Trophy due to his incomparable two-way play…" Both teams are putting players on the ice that are defensively strong, fast and will play physical. As far as who has an advantage on "D", I think it's too close to say.
The big names will be out in force when the puck drops. Thornton and Anze Kopitar, Joe Pavelski and Tyler Toffoli, Logan Couture and Jeff Carter and Joel Ward and Milan Lucic to name a few. Like I said, these two teams are talented and hungry and don't like each other. It's playoff hockey times 10, and it will be a war.
The fans are ready:
https://twitter.com/Mel_icious51/status/720450994363088897
My prediction? Epic.
Mark lives in the Raleigh, NC area and covers the Carolina Hurricanes.