Sinking Sharks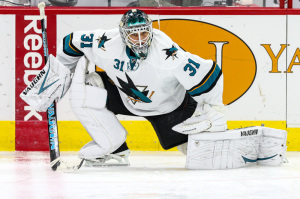 With the San Jose Sharks sinking lower and lower in the standings and the trade deadline approaching, a lot of people are wondering about San Jose's most high profile unrestricted free agent. That of course would be goaltender Antti Niemi. Despite winning the Stanley Cup with Chicago in 2010, Niemi has been nothing more than slightly above average over his four-and-a-half seasons as a Shark. It is amazing how many people associate Stanley Cup victories with individuals as an argument for their talent level. Anyone with half a brain knows that goaltending was by far the weakest part of that 2010 Blackhawks team.
Now some who follow me will undoubtedly feel like this is an anti-Niemi hate piece developing. However, that is not the case at all. Niemi is a very serviceable goaltender that has tons of value. For one thing he is consistently healthy and reliable during the regular season. Two out of four full regular seasons with San Jose has seen Niemi post a .920 or better save percentage and never below .913. Those are quality regular season numbers, well above average. Perhaps a change of scenery is needed though because come playoff time, Niemi has shown to be much less reliable. In two of four years he has turned in save percentages below .900 in the postseason. Furthermore, while he turned in a .914 mark in 2012, he also allowed one of the softest rebound goals imaginable in Game 5 against St. Louis. It was a back-breaking tying goal after Joe Thornton staked the Sharks to a 1-0 third period lead in an attempt to force Game 6. Two quick Blues goals and the Sharks season was over. In Niemi's only other postseason for San Jose he was amazing, a .930 save percentage. However, your starting goaltender being a quality player in just one out of four postseasons is far from good enough.
Few Teams Need a No. 1 Rental
So where does this leave the Sharks when it comes to possibly trading Niemi? Well, barring season ending injury to a No. 1 goaltender on a playoff bound team, there are extremely limited options. This is where the Sharks ought to have traded Niemi earlier in the season if they have been thinking about moving him. A couple months ago, teams like Minnesota, Winnipeg, St. Louis, Philadelphia, were feasible destinations. Now none of them are as the Wild have acquired Devan Dubnyk, Winnipeg has gotten more out of their goalies than expected, Blues have Elliot back healthy and Mason is playing well for the Flyers. The only destination that makes any sense now for a No. 1 job is Dallas. Kari Lehtnonen is having a down year and perhaps Niemi could unseat his fellow countryman if the Stars think they can make a push. However, a recent injury to elite Stars forward Tyler Seguin has basically ended the chances Dallas had at making a late push.
Earlier in the year, the Sharks could have fetched perhaps a first but at least a second round pick for Niemi's services. At this point in time, unless they get lucky with a team all of a sudden desperate for a goaltender, it is hard to imagine them getting anything more than a third round pick. In that instance it would be teams looking for a veteran backup as insurance. It is debatable if giving up Niemi for that little of a return makes sense. The Sharks are still in a playoff position, albeit it barely. Making the playoffs with Niemi does help the bottom line. And hey, if you make the dance, you have a shot, right?
It sounds as if the Sharks are still taking calls about Niemi's services. Considering their Stanley Cup chances are extremely low, getting anything back for Niemi instead of losing him for nothing as a free agent would be a wise move. So yes, the Sharks should trade their No. 1 goaltender. Even just a third round pick would be valuable since it doesn't look as if Niemi will be back next season. It will definitely have been a missed opportunity to get a better return, but something is better than nothing. Making this move now though would make one wonder why they haven't gotten more ice time for backup Alex Stalock. Going from not playing at all to playing every game for six weeks? Not quite the most ideal situation.