The St. Louis Blues are struggling in a way that no one expected. The offseason saw general manager Doug Armstrong bring in Tyler Bozak, David Perron, Pat Maroon, and Ryan O'Reilly to supplement a roster that was already strengthened by the return of injured players like Carl Gunnarsson and Robby Fabbri and the arrival of young prospects like Robert Thomas. But despite what some labeled the best offseason in hockey, a team that missed the playoffs by just a point in 2017-18 now sits dead last in their division and 30th in the NHL in points.
And yet, nothing seems urgent to a front office who showed so much urgency in the summer. With a critical stretch of six games in ten days starting on Friday, the Blues have not made any moves to indicate that where they are at is unacceptable.
Meanwhile, two other teams have fired their head coaches, one of them a future no doubt Hall of Fame member, while Mike Yeo, who himself admits his job should be in question, remains installed as the head coach of the Blues. It may be unpleasant, but the time is now for the Blues to move on from their head coach and send a clear message of change to their organization, their players, and their fan base.
The Blues Under Yeo
Mike Yeo took over the Blues after Doug Armstrong removed his last head coach, another future Hall of Fame candidate and a close personal friend, Ken Hitchcock. In his first season, the team thrived, posting a phenomenal 22-8-2 record and earning a playoff berth, whereupon they promptly overwhelmed Yeo's former team, the Minnesota Wild.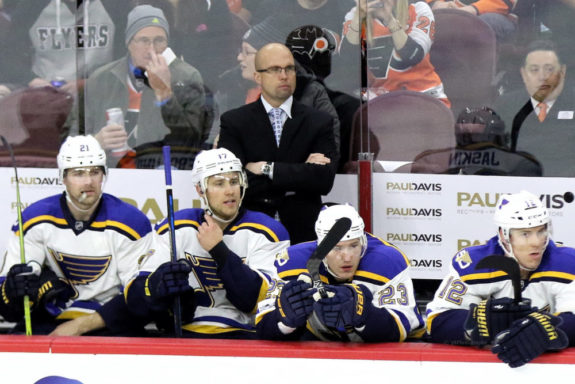 Yeo proved a stark change from Hitchcock, whose grating coaching style had begun to wear on the players. Yeo was younger, fresher, and more approachable than his predecessor, and the team responded well to his leadership.
But the turnaround didn't last for long. In his second season at the helm, the team started as hot as they'd finished the year before, finishing October as one of the league's hottest teams. But things quickly fell apart, due in large part to the collapse of goaltender Jake Allen, who had seemed to straighten out his previous issues under Yeo. The team struggled mightily through the rest of the season, and even their red-hot start was not enough to avoid a playoff miss, sealed with an anemic effort against the Avalanche in the final game of the season.
It was that collapse that prompted Armstrong to make such drastic changes to his roster. The Blues have an entirely new look this season, with eight players (counting injured players Zach Sanford and Robby Fabbri) now on the roster who did not play a single game for the 2017-18 Blues.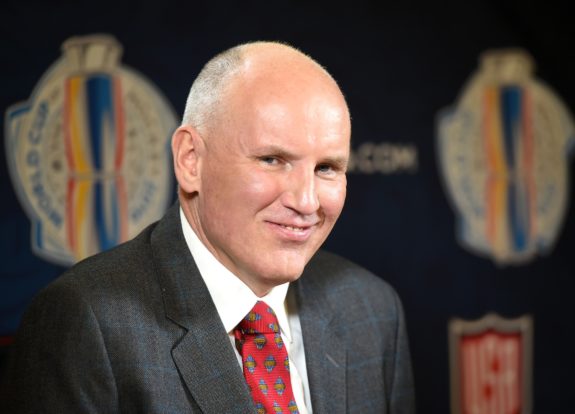 But Armstrong's changes don't seem to have affected much, despite the fact that O'Reilly, Perron, and Bozak are now three of the team's top five scorers. The Blues are 6-7-3, with their 15 points trailing even the anemic Blackhawks by three (though they have played three fewer games). All said, the Blues are 72-47-11 under Yeo, not a bad total, but considering how strong his first half season was, it isn't an acceptable mark at this juncture.
Is Yeo to Blame?
A fair question to ask is whether Mike Yeo is actually to blame for the struggles the Blues are facing. The answer isn't simply yes or no. Yeo cannot be blamed for, say, Jaden Schwartz and Pat Maroon not playing up to their career marks. He cannot be blamed for Jake Allen still being his best option at goaltender despite his years of struggle to maintain consistent play. He cannot be blamed for defensive errors like the one Colton Parayko made that allowed the game-winning goal in a game against the Wild.
But there is plenty that Yeo can be blamed for. Fans are growing tired of his explanations for losses, which never seem to have firm direction or clarity. He struggles to utilize young players, while relying too much on certain veterans, a problem that has followed him since his days in Minnesota.
Mike Yeo: "I thought it was a winnable game. Just made the wrong mistakes at the wrong times. And the mistakes we're making obviously are big ones. But it's not just the mistakes. A mistake is not being firm enough with your play." #stlblues

— Lou Korac (@lkorac10) November 12, 2018
And then there are the very obvious mistakes he's made. The most notable of these is his insistence on relying on Jay Bouwmeester, despite constant evidence that he is out of his depth. Yeo will make excuses to play a player like Bouwmeester, and even excuse his glaring mistakes, while simultaneously blasting younger players who make similar mistakes (as he did on the Parayko error mentioned above). Those kinds of mistakes are the ones that drive fans craziest: those that seem obvious to everyone but the coach himself.
Armstrong's Decision
Whether the blame falls primarily on Yeo's shoulders or not, Doug Armstrong has to take decisive action, and quickly. The Blues, shockingly, have not beaten a division opponent other than the Chicago Blackhawks since February, going 3-13-3 in that time. Moreover, as Elliotte Friedman recently explained, the Blues are one of a few teams who were four or more points out of a playoff spot on Nov. 1, and, according to Friedman, only seven such teams have made the playoffs from that position since 2004-05.
American Thanksgiving is a more traditional measure of playoff potential, with almost eighty percent of teams in playoff spots at that time maintaining a grip on those spots. With that in mind, there is no argument that the Blues have plenty of time to sort out their issues. They are in desperate need of an immediate turnaround.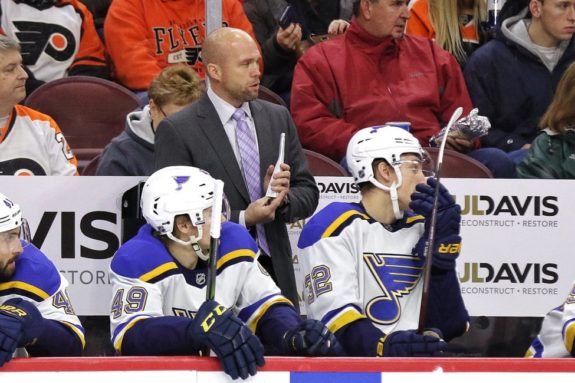 Whether Mike Yeo is the correct scapegoat for the Blues' struggles is a debate worth having, but it's also largely irrelevant. The Blues must make a move that sends shockwaves through the entire organization to immediately signal that changes need to be made. If they aren't prepared to trade a star player (and they probably shouldn't be, with as much roster turnover as they've already had), they must be prepared to move on from Yeo. It's a hard decision to make, but it has to be made if the Blues have any hopes of salvaging this season.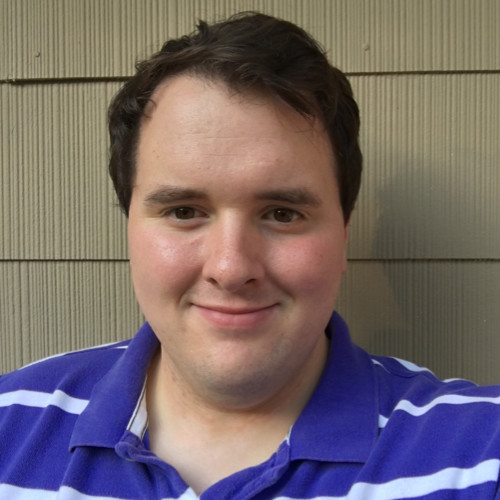 Stephen Ground is a veteran of over three years at THW, focusing on the St. Louis Blues, NHL goaltending, and the annual World Junior Championship. He is the co-host of the Two Guys One Cup Podcast, a hockey podcast focused on the Blues.