The 2017 World Junior Championship, with its Finnish disaster and potential for Canada to continue its dominance on home ice, is almost at an end.
Wednesday's semifinals carried loads of drama as the U.S. beat Russia for the first time in a playoff round and Canada roared back after allowing two goals to the Swedes on their first three shots.
Here's a look at the standout performances from Wednesday's semifinals, heading into the gold and bronze medal matches on Thursday.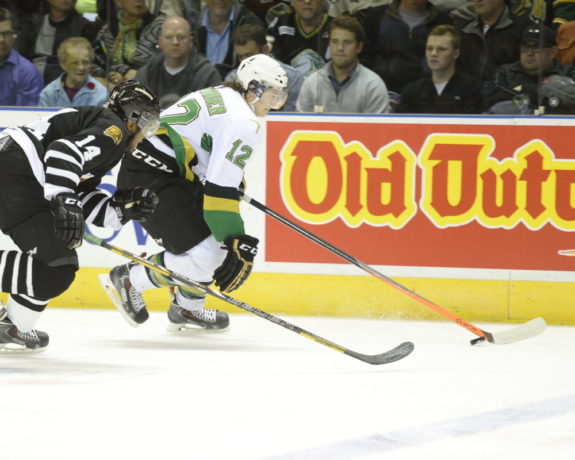 Julien Gauthier, Canada
CAR – 2016 1st ROUND, 21st OVERALL
Coach Dominique Ducharme shifted lines around and put the 6-foot-3 Gauthier with 6-foot-3 Pierre-Luc Dubois and 6-foot-4 Nicolas Roy for a very large all-QMJHL line (with two Carolina draft picks). The shake-up was in part intended to get Tyson Jost on the top line with Dylan Strome, but it sparked this line as well.
Gauthier scored a huge goal in the second that would eventually stand as the game-winner. He also sealed the game with an empty-netter and led the team with six shots. His tournament has been a little middling, but this was a huge performance by the Pointe-aux-Trembles native.
Julien Gauthier taps one home to give Canada a 3-2 lead! @CanadianTire #BigPlay #WorldJuniors https://t.co/JLvAqi0ZFz pic.twitter.com/gKF8NkelGF

— TSN (@TSN_Sports) January 5, 2017
Denis Guryanov, Russia
DAL – 2015 1st ROUND, 12th OVERALL
Guryanov has not had the tournament many expected of him. The Stars prospect is not just highly regarded, he's been playing in the AHL against some very tough competition. The rest of the tournament aside, he stepped up and gave Russia a great shot at heading to the gold medal game.
Guryanov scored two goals, including a breakaway goal that tied the game and forced overtime. The game-winner was a huge goal, coming right after Clayton Keller was awarded a penalty shot and thwarted by Ilya Samsonov.
Then, Guryanov scored twice during the seven-round shootout. In hindsight, it really seems like coach Valeri Bragin should have ridden Guryanov the way the U.S. rode Troy Terry.
Epic celly from Denis Guryanov after giving Russia the lead. One of the best parts of the World Juniors pic.twitter.com/Vkt6WzPuqc

— Brady Trettenero (@BradyTrett) January 4, 2017
Carter Hart, Canada
PHI – 2016 2nd ROUND, 48th OVERALL
Hart didn't get the start for the Canadians. Instead, Canada turned to Connor Ingram, who allowed two goals on the first three shots of the game. He was given the hook and Hart entered the game.
If I was starting a show called "Tough Jobs No One Wants," I'd find time in the first season to feature being the Canadian goaltender. It's often thankless. Fans expect perfection. Hart pretty much delivered on that, though. He stopped the next 28 Swedish shots and helped deliver a 5-2 win on home ice.
Canada's Player of the Game: Carter Hart! #WorldJuniors pic.twitter.com/4WXJgwQnhC

— TSN (@TSN_Sports) January 5, 2017
Oliver Kylington, Sweden
CGY – 2015 2nd ROUND, 60th OVERALL
It wasn't a mistake-free game for Kylington, but Sweden was caught trying to beat Canada at their own game. Once Canada knotted things up the Swedes lost some of their edge and speed. That wasn't the case of Kylington. He played with a lot of fire and was helping tilt the ice in the right direction.
At the end of the game, he was tied for the team lead in shots with four and led the team in time on ice with 21:56.
Tyler Parsons, United States
CGY – 2016 2nd ROUND, 54th OVERALL
His .916 save percentage isn't itself going to jump off the page, but Parsons made some outstanding saves, particularly against Russia's dangerous top line with Kirill Kaprizov and Alexander Polunin.
For the second straight game, Parsons was very good and was a huge part of U.S. success. He wasn't perfect in the shootout, but he did well and outperformed the goaltender at the other end of the rink.
#OHL goaltender @Tylerparsons22 of @GoLondonKnights named Player of the Game for Team USA in Semi-Final victory vs RUS at #WorldJuniors. pic.twitter.com/jL6jOmxHrt

— OntarioHockeyLeague (@OHLHockey) January 4, 2017
Yegor Rykov, Russia
NJD – 2016 5th ROUND, 132nd OVERALL
In a tournament where Mikhail Sergachev was supposed to be Russia's star defenseman, Rykov has been a rock. He and Mikhail Sidorov were solid in Wednesday's match. That's the reason Bragin turned to those two more than any other player during overtime. Rykov logged 4:32 and Sidorov grabbed 5:03 during the extra frame.
Rykov had a fantastic tournament at large. Despite some good performances on the blue line and players like Polunin and Mikhail Vorobyov playing above expectations, Rykov earned a spot in the top three Russians in the tournament. He was given that honor along with Kaprizov and goaltender Ilya Samsonov.
Troy Terry, United States
ANA – 2015 5th ROUND, 148th OVERALL
The Denver Pioneer saw a lot of ice in the semifinal match. He was a big piece of the U.S. attack in overtime and then played the role of hero during the shootout.
Terry scored early in the shootout when each team had to trot out five different shooters. Once it was clear that settling the game would require extra shots, coach Bob Motzko turned back to Terry and he scored on two straight shots, giving the U.S. the win and a date with Canada in the gold medal match.
Throughout the course of the game, there were plenty of other Americans who deserved a shout out, though Terry was clearly the star of the show after closing out Russia in dramatic fashion.
Nonetheless, Clayton Keller took a monstrous 10 shots (and had a penalty shot that he didn't convert on). He continues to be one of the most creative players in the tournament. The puck turns into a yo-yo on his stick. Jordan Greenway continued to be absolutely impossible to take the puck from. Both were named in the U.S.'s top three players of the tournament, as was Senators prospect Colin White.
Good luck trying to knock Jordan Greenway off the puck pic.twitter.com/7Ad1gazI4L

— Pete Blackburn (@PeteBlackburn) January 4, 2017
Additionally, Jack Roslovic hasn't had an outstanding tournament, but Wednesday's semifinal was probably his best showing so far. He made some great plays and helped to give the U.S. three lines that were giving the Russians troubles.
Dustin Nelson writes about news and the Minnesota Wild for The Hockey Writers.