Dallas Stars' rookie goaltender Jake Oettinger was drafted in the first round in the 2017 NHL Entry Draft. The Stars have had a tough history with picking goalies early in the draft, but they decided to take a chance on the kid anyway. And it has paid off. Oettinger had a high amount of potential coming out of Boston University, and due to the odd circumstances of the last two seasons in the league, he has gotten his chance very early in his career. The early pressure, however, does not seem to get to the kid.
Edmonton Bubble 
The NHL was forced to put a halt on the 2019-20 season due to the COVID-19 outbreak in March last year. After a few months with no hockey, the league announced that they would be holding a 24-team playoff to finish the season and award the greatest trophy in sports, the Stanley Cup. 
Among the many rare circumstances of the NHL bubbles was the 'Taxi Squad.' Since the teams would be living in the bubble far from their homes and the risk of injury or illness was great, they would be allowed to bring an expanded roster of 30 skaters and multiple goalies. This allowed the Stars to bring on many younger players who would not normally be up with the NHL team. Among this group was Oettinger, who would serve as the third string goalie behind Ben Bishop and Anton Khudobin. 
Ben Bishop went down with yet another injury early on, and now all of a sudden, young Oettinger is slotted in as the backup goalie and dressing for every game. He would watch most of the playoffs from the bench, but that time with the team on and off the ice proved vital for him and all of the young players. He would end up playing in 36:40 of game time in mop-up duty of games that the Stars trailed big. No matter what the score was, it is a big deal to make your NHL debut in the Western Conference Final as he did. Although the games were out of reach, there was a noticeable calm in his game that impressed the coaches and the fans.
First Full Season
With Bishop's injury carrying over into the shortened 2020-21 NHL season, Oettinger was going to be the number two goalie yet again. The difference during this season is that he was going to need to play crucial games with the busy NHL schedule.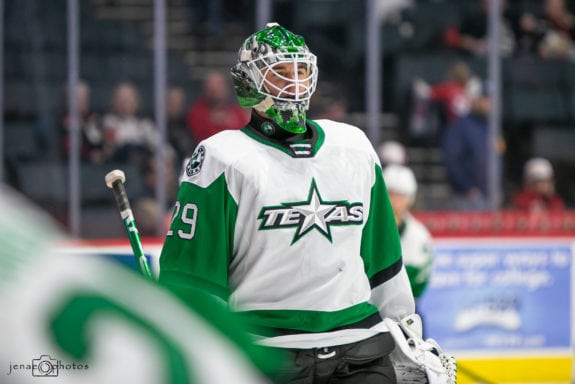 His first NHL start came vs. Detroit at the end of the Stars' first homestand. Wearing the new 'Blackout' Stars sweater, his stats were nothing impressive in the game, but what was noticeable was his body language. Similar to his play in the bubble, he never looked to be in a rush. He went from save to save with very little movement and always looked to be in control. Even when the Red Wings scored two goals to cut the Stars' lead to 4-3, he did not look rattled. That night, he recorded his first career win as his team supplied seven goals in front of him.
So far this season, he has a record of 3-0-4 and a save percentage of .916. He has looked strong in every start he has had and has found ways to help his team win. 
Calm, Cool, & Collected
Reading through quotes from players such as Jamie Benn, Ty Dellandrea, Jason Dickinson, and plenty more, you will see a consistency in the wording when speaking about Oettinger. Words that pop up repeatedly are 'calm, confident, relaxed, smooth, solid, and in control.'
He is also known as one of the hardest-working players on and off the ice. Stars' coach Rick Bowness said following the recent game vs. Columbus, "What you guys don't see is how hard he works. He is the first guy out on the ice and the last guy off. He works his butt off every day and Jeff [Reese] has done a wonderful job with him. This kid is a great kid, and he is a tremendous competitor, but he works." 
It is no coincidence that the Stars usually find a way to score goals when he is in the net. As a player, having that presence in the net to back you up allows you to feel confident in taking chances and playing freely. There is no worry to be extra defensive because you know that guy has your back if things break down.
Oettinger says that his confidence is helped by his coach and teammates showing that same confidence in him. "I think the guys around me are so good and they make me feel like they believe in me no matter what, and the coaches as well, I think. Multiple times this year Bones [Rick Bowness] has texted me after games whether it is a win or a loss. That does so much for a young goalie, and to have the feeling of the guys believing in you and that they want you to succeed is really special and something I don't take for granted."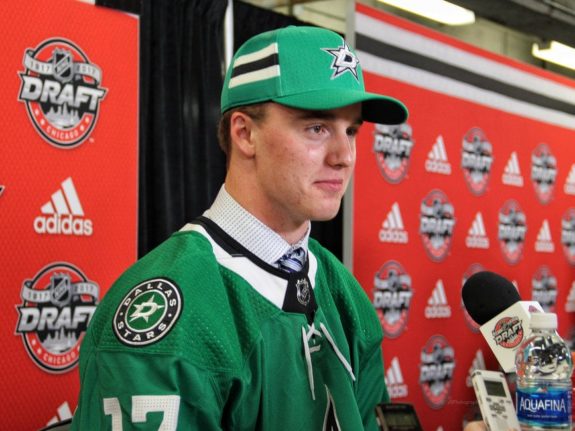 He continues to stay confident and make the big saves at the right moment, all while making them look easy. The calm in his game is something that is hard to achieve, especially at such a young age, but it can bring a team to new heights if it is consistent. So far, it has been.
Early Milestones
Earning his first career win in his first career start vs. Detroit was one of many future milestones for the 22-year-old rookie. He also recently became the youngest goalie in franchise history to record a shutout when he blanked the Blue Jackets on Saturday night. This was a huge game for him not only because of the end result but because of his experience vs. Florida the last time he was close to this milestone. The Stars watched as Florida scored three goals in the final minutes to beat them in regulation 3-2. 
When asked when he started thinking about being close to a shutout, he responded, "It trickles into your head here and there. I think that is just natural. Obviously, I learned a tough lesson in Florida last week. I think that helped me a lot going into this game, just knowing that nothing is guaranteed until the buzzer sounds at the end. So, I was just making sure I worked as hard as I could throughout the whole game and didn't get comfortable, and, obviously, the goal support that I had tonight was incredible." 
The Future Looks Bright
Getting these milestones and playing time so early in his career can prove to be crucial in his success later on. The other bonus of his early play is that while the kid still has plenty to learn, Dallas is now well aware that they have a third legitimate NHL goaltender on their roster who is ready to make a difference right now. In a season where they needed goaltending help as Bishop would be out long-term, they have gotten plenty of it from Oettinger. The future certainly looks bright.
---
---