The Dallas Stars had two debuts Thursday evening on the ice. The first was their 2020-21 blackout alternate jerseys, which should make for some interesting fashion critiques. The second was goalie Jake Oettinger. He was a first-round pick of the Stars from 2017, picked #26 overall, and he was making his first NHL start. Oettinger was the backup for most of the 2020 Playoffs, penciled in for a third goalie spot but upgraded when Ben Bishop was unable to play, due to injuries.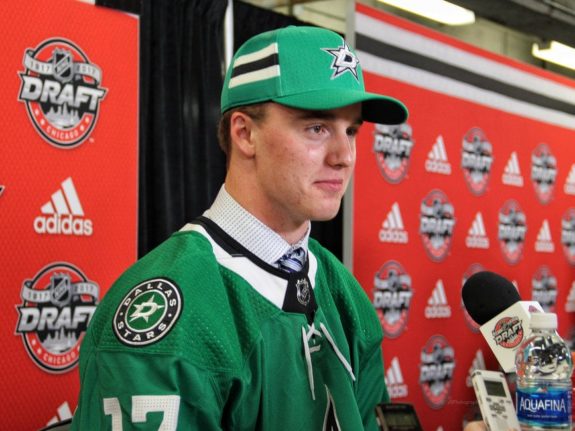 For goalies, the first-round pick is a little bit of a rare feat in the NHL, given that first-round picks are usually molded to be the cornerstone of a minor league prospect pool or given an opportunity to play in the NHL right away. Also, for goalies, they tend to develop a little later, benefitting from an extra season or two of lower skill level to fine-tune their game. The first-round pick of teams, being a bust or a boom, could also make have impact on their respective clubs in the foreseeable future. Seeing a young goalie prospect in Oettinger also brings the Stars back to the 2010 Entry Draft and another first-round goalie pick, Jack Campbell.
Campell and the 2010 NHL Season
Campbell was drafted in the 2010 Entry Level Draft (mostly known as the "Taylor Hall Draft") #11 overall. He was the first pick that year for the Stars, setting the tone for the franchise for the coming year. For a little context, Dallas had just finished 37-31-14 for 88 points in the Pacific division, allowing 253 goals, in the 2009-10 season, and GM Joe Nieuwendyk had G Alex Auld and Marty Turco and traded for Kari Lehtonen from Atlanta. Turco was in the final year of a contract and Lehtonen was rehabbing an injury but was not favored in Atlanta with their goalies of Johan Hedberg and Ondrej Pavelec. Acquiring Lehtonen gave Dallas, if he returned healthy, with a goalie for several years in his athletic prime.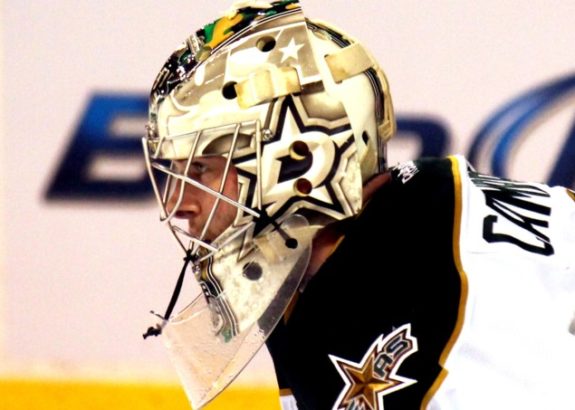 That year's draft, Dallas also decided to take some insurance, drafting G Jack Campbell. Campbell had just had some great success in the USNTDP, leading the team's U18 program to back-to-back Junior golds. He was one of the top goalie prospects going into the draft; however, this draft did not have the strongest classes of goaltenders. Campbell was drafted with some hopes that he developed for a year or two, see what happens with Lehtonen, then either challenge for a spot on the team or as a backup. Also, this class did have some interesting picks later that round:
Cam Fowler #12 to Anaheim
Jaden Schwartz #14 St. Louis
Vladimir Tarasenko #16 St. Louis
Evgeny Kuznetsov #26 Washington
Brock Nelson #30 NY Islanders
These players had impacts on the teams, signing lengthy contracts and providing stability at their positions. Had Dallas gone with someone else available, they might have seen some immediate gains, either offensively or defensively. They used this pick to solidify a position that might not be fruitful for a few years and gambled on the health of a trade. Campbell's successes in the World Juniors might have given him a year advantage or could have challenged right away, but that was also a gamble for the team. These players developed a little quicker and might have turned around Dallas immediately. Dallas had a better record the next season but miss the playoffs with 95 points in a loaded Western Conference.
Campbell did not have much success for Dallas in the coming years. Lehtonen became a fixture in the Dallas net, his injury not being a major factor in the coming years. He had some expectations but had some inconsistencies in the minors. Dallas had some opportunities to promote Campbell but looked outside the organization for goalies. He had some minor injuries, but the biggest concern was his mental health. He became depressed, not knowing if winning or losing made a difference in his outlook on his overall image. He struggled in the minors but still have solid bursts of great performances or winning. Finally, Campbell was traded to the Los Angeles Kings in 2016.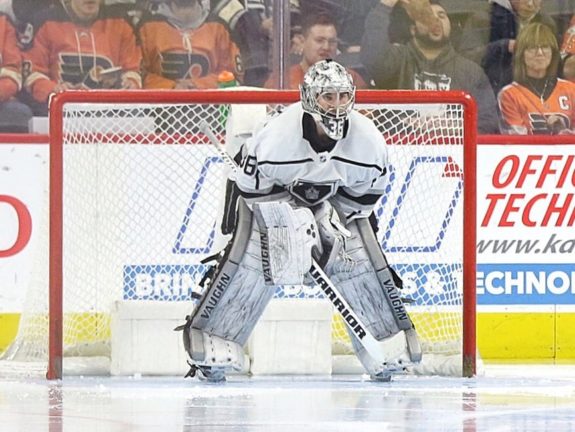 He used the trade to get a fresh outlook on his career, eventually becoming a valuable backup and trade piece for LA. He signed an extension with LA in 2018 but be traded to Toronto in 2019, with the expectation to be a challenge in nets or become a 1A/1B goalie duo.
Campbell and Oettinger Today
The Campbell story leads up to now and connects a little with Oettinger. Campbell has become an interesting option in Toronto, possibly getting more playing time, and spelling Fredrik Anderson. Oettinger's circumstance, being behind a perennial Vezina candidate Ben Bishop and career backup Anton Khudobin led most to believe that Dallas would have him wait in the minors for another year or two. Bishop's injury and Oettinger's development led Dallas to trust him to get NHL experience at a young age. If Oettinger can have an average season this year, behind a Cup contending team and a young defensive core, he could make Bishop or Khudobin expendable after this season, or in the Seattle Expansion Draft this summer.
Oettinger compares to Campbell, both having USNTDP experience in World Juniors, both graded well for their classes, Oettinger being a little older and having some college success. Except for the injuries in the minors and Lehtonen's health, Campbell could have easily been in the same position Oettinger is currently in. Campbell's departure might have changed his mental scenery and refocused his career, but he is now thriving in Toronto, ten years after being drafted in the first round. Look for Oettinger to get a good jump start on his career with some early NHL experience and successes.
---
---
I am covering the Dallas Stars and I live in St. Louis MO. My day job is in the casino industry, I work in a poker room. I deal cards and supervise. I have a passion for goalies, hockey, history, and good times. I have two dachshunds, I enjoy beer and coffee, and took up some cooking in the pandemic.