On Feb. 19, 2020, the Florida Panthers acquired forward Mason Marchment from the Toronto Maple Leafs in exchange for forward Denis Malgin. Coming into the NHL undrafted in 2018, he spent most of his time in Toronto with the Marlies (AHL) and appeared in only four games for the Leafs, tallying one assist. It was one of the last trades that Dale Tallon made as Florida's general manager, and it seemed to pay massive dividends.
After spending more than a season in the AHL, Marchment was named to the active Panthers roster on Feb. 7 of this year. Since his arrival to the active roster, he's been nothing short of incredible. He was so impressive that they even placed him on the top line with Aleksander Barkov and Carter Verhaeghe on Feb. 9 against the Columbus Blue Jackets. He did not register a point that night, but he had four shots on goal. For a 25-year-old, he's definitely a late bloomer, but it comes at a fantastic time during a big push for a postseason berth.
Marchment's Phenomenal Stretch
Over his last seven games, Marchment has made his presence know on the scoreboard. He's tallied a point in four straight, including his first NHL goal on Mar. 4 against Nashville. He would go on to score his second one three nights later against Carolina. With that, he already has five points (two goals, three assists) through eight games played this season and six points (two goals, four assists) through 12 games in his NHL career.
Related: Florida Panthers' 3 Stars of the Month – February 2021
This is the kind of success that earned him a spot on the top line with Barkov and Verhaeghe. If his success continues, he might still be a plug-in on the top line for more than just a few games.
Outperforming Young Stars
Marchment's biggest highlight is that he's starting to outperform some of the younger guys on the team. For example, Florida's first-round selection in 2017, Owen Tippett, only has two goals and two assists through 16 games played compared to Marchment's five points through eight games played. Because of his struggles, Tippett has been sent to the taxi squad and recalled multiple times throughout the season. Furthermore, forward Eetu Luostarinen had a great start, but he's been cooled off as of late, only tallying a goal and an assist through his last 10 appearances.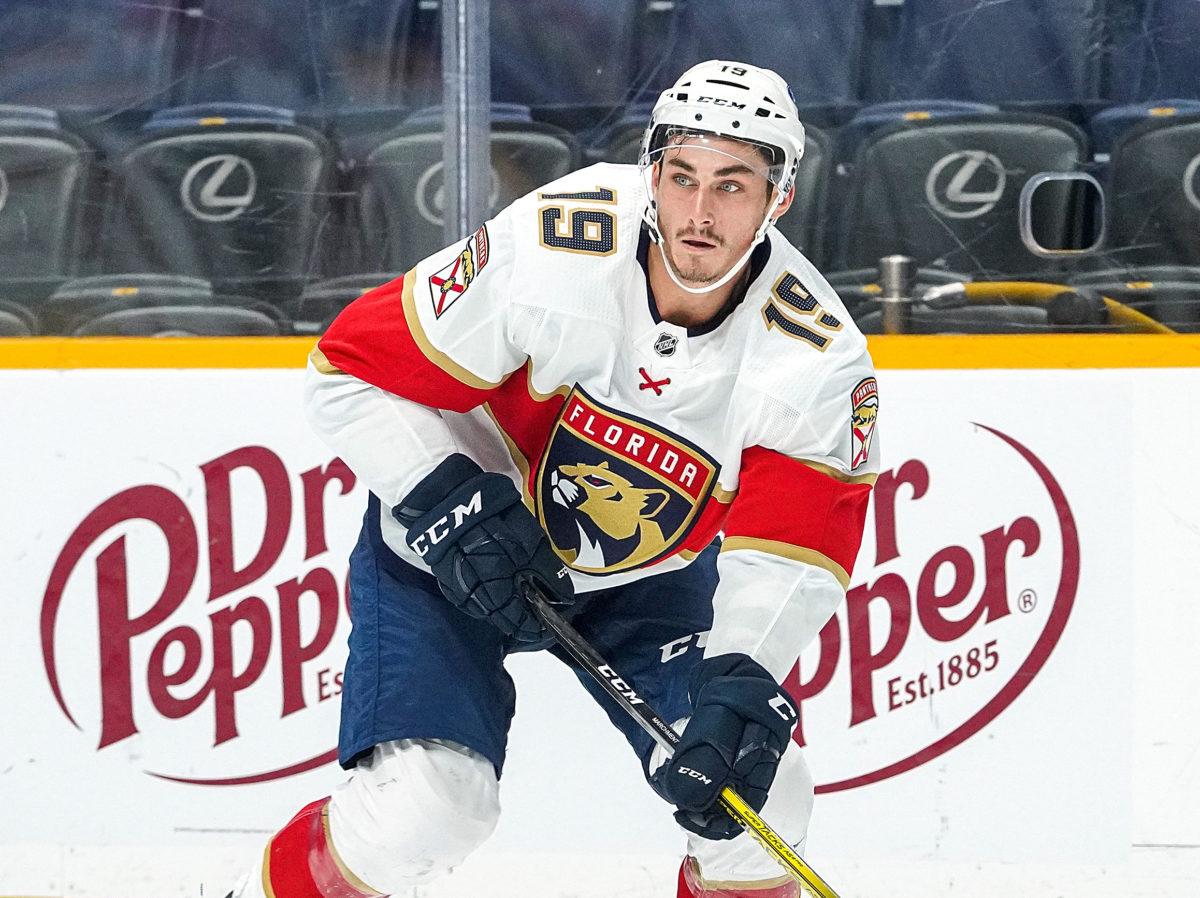 While their performances should not be downplayed by any means, Marchment gives these two a reason to step up on this squad.
Setting the Edge With a Physical Presence
Marchment has a massive frame, standing 6'4 and weighing in at 209 pounds. Naturally, he would use his size to advantage, as he's set a physical tone to his game as a power forward. Over the course of his last five games, he's registered at least one hit in four of those games. On the season, he already has 19 hits. While he isn't anywhere close to his teammates in Noel Acciari and Radko Gudas, it's definitely welcoming, as this team lacked physicality for years.
Related: Panthers Had a Weird February: Beat the Lightning…Lose to the Red Wings
In addition, his size can be a pain for goaltenders, as he can adequately screen a goalie's vision with ease. Furthermore, his strength could help him muscle away pucks during board battles and cash in on big rebounds.
Marchment Is "Marching" His Way Into the Lineup
As previously stated, Marchment's success has made a massive impact for the Florida Panthers as it comes at a great time in their push for the postseason. His ability earned him a spot on the top line after years of being buried in the AHL, and he's shown he can play in the NHL despite coming in undrafted and being 25 years of age.
But the real test has yet to come for the young player. He's only appeared in eight games for the team, and his ceiling or floor is yet to be shown. In addition, he might get a taste of NHL playoff action later this season. If he can handle those troubled waters, he's going to be a shoo-in for the Panthers night in and night out for many years to come.
---
---