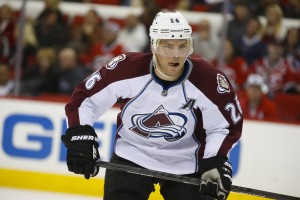 Colorado Avalanche forward Paul Stastny's  performance  in the first game of his team's first-round series against the Minnesota Wild was one for the ages, to say the least.
Stastny scored to tie it up 4-4 with under 15 seconds left in his first playoff game since 2010, as the Avalanche missed the playoffs for three straight years from 2011-13.
While that goal would have been more than enough to earn a "clutch" reputation and plant him in the memories of Avs fans forever, Stastny outdid himself by scoring the overtime winner as well.
The Pepsi Center and Colorado Avalanche were obviously excited for their first victory in their playoff return- as evidenced in this ice-level video of the game-winner.
Just how big was Stastny's performance?
Stastny wasn't just the game's hero- he was one of the biggest single-game playoff heroes of all time.
NHL Analyst John Buccigross noted that Stastny was the first player in a playoff game to score a game-tying goal in the final 15 seconds as well as the overtime winner, even if he didn't communicate it entirely properly.
Paul Stastny: Paul player in playoff history to score game-tying goal in the last 15 seconds of regulation/then score the game-winner in OT

— Bucci Mane (@Buccigross) April 18, 2014
Stastny Jr. vs Stastny Sr.
While Stastny was most definitely overcome with emotion following the goal (understandably so), it wouldn't be absurd to assume his father Peter was having flashbacks to 27 years and one day earlier- where he scored a massive overtime goal of his own. On April 16, 1987,  the Czechoslovakian Hall of Fame center who was with the Quebec Nordiques at the time scored in overtime to beat the Hartford Whalers and clinch a 4-2 series victory.
While Peter was undoubtedly the better player (he's 7th in the all time points per game rankings) Paul's certainly got a chance at being something his father never accomplished- a Stanley Cup hero.
It's important, however, to return to earth once the game has been completed (like Paul did in this post-game interview), and make any individual goal- clutch or otherwise- more important than it needs to be.
It's a long way to the top
Peter could definitely teach this lesson to his son as well as anyone. After the elder Stastny scored his overtime goal, his team was eventually bounced in the second round against the Montreal Canadiens- who were led by current Colorado Avalanche coach Patrick Roy. Peter (among with his brothers Anton and ) had great careers, but he was never able to win the elusive championship that any hockey player so deeply desires.
Despite Stastny's heroics, the Colorado Avalanche are still 15 victories away from their first Stanley Cup since 2001 (where Roy won his third Conn Smythe and his fourth Cup), and it will take much more than just two timely goals from a second-generation NHLer to do just that.  In the end, Stastny's goals will only really become a major part and not a footnote in NHL lore if they are continued with further success this season from the Avalanche.
Conclusively, it's unlikely Paul Stastny will ever have a game quite like Thursday night again- those kind of performances rarely come around more than once in a career. However, it's definitely possible that Paul will be able to raise Lord Stanley's Mug above his head, whether it be this year or another, and have at least one way to definitively brag to his father over who was able to accomplish more in their time in the NHL.
Adam Laskaris covers a wide variety of hockey topics for THW. Additionally, Adam has covered both Jr. A and University level hockey in Canada.