On 18 April 2014, in the first fame of the Gagarin Cup finals Lev (Prague) left Metallurg (Magnitogorsk) no chances of winning. Danis Zaripov, Metallurg's left forward, admitted after the game that his team was not ready for battle.
The first two games of the Gagarin Cup finals have been scheduled to take place in Magnitogorsk. This fact should have provided the team from the Ural region of Russia with additional advantage, given that Lev's fans could not make it to go across Europe to shout for their team.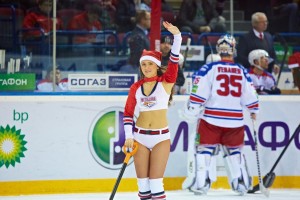 Metallurg started the game strong, but maybe a better description would be – with too much reliance on their physical strength. Thus, in the middle of the first period Metallrug's defenseman Viktor Antipin attacked Petr Vrána into the head with his shoulder. For this violation of the rules he was penalized by having to leave the ice until the end of the game and Metallurg was prescribed 5 minutes of powerplay performed by Lev.
It was the moment when Lev could and indeed did unfold its powerplay potential to the maximum. The team's toughest defenseman Martin Ševc secured a goal for Lev with a terrific slap shot from the blue line. Vrana scored the second goal for Lev in the beginning of the second period – with a beautiful backhand shot over the lying goalie's hand.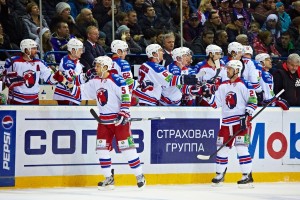 During the whole game Lev was undoubtedly dominating on the ice. The third goal came at the end of the game when Metallurg replaced Koshechkin with a field player. It was Justin Asevedo, who scored into the empty goal from the middle zone.
A short video summary by KHL provides a good understanding of what happened on the ice in Game 1.
Concluding, it needs to be said that Metallurg will enjoy the support of the home base in the second game, too. The game will take place on Easter Sunday of April, 20. In case Metallurg, the team coached by Michael Edward Keenan, fails to win, the intrigue will be very hard to bring back into this year's Gagarin Cup finals.