Sweden has bred great defenders for decades now. Perhaps there is something in the beautiful woods and waters of Scandinavia that allows them to flourish. From the 1970s legends like Borje Salming and Lars-Erik Sjoberg, up through the legends of today such as Victor Hedman and Erik Karlsson. In between there were the likes of Fredrik Olausson, Tomas Jonsson, and of course, maybe the greatest of them all – Nicklas Lidstrom.
There is a young lady from Sweden's "Gold Town" of Skellefteå who is poised to join the ranks of those aforementioned brethren. Malou Berggren just turned 15 years old on Dec. 30, 2017 and already she is representing her country internationally. At 5-feet-5-inches and over 130 pounds, Berggren has a solid build that she uses to her advantage. She is like a little Swedish tank. Her positioning at such a young age is impeccable, and she sees a lot of ice time because of it.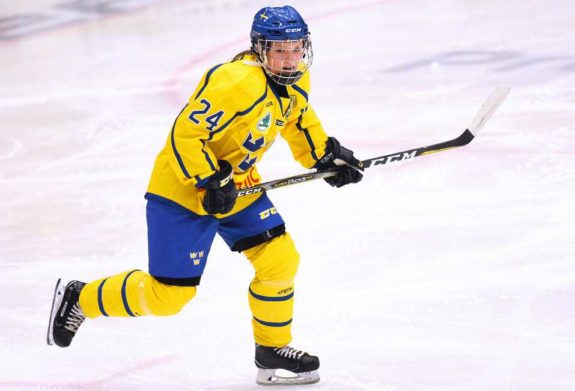 THW had the chance to catch up with Berggren while she is currently playing in the IIHF's Women's U18 World Championships in Moscow, Russia. We learned more about this young lady and what she dreams of accomplishing in her young career.
Early Life in Skellefteå
Skellefteå is located in the northeast portion of Sweden and is a short distance to the Gulf of Bothnia which separates the majority of the country from Finland. A number of Swedish hockey players come from the same town as Berggren, including Adam Larsson, Jan and son Tim Erixon, and Viktor Arvidsson. Berggren herself began playing the game at a young age.
I started when I was six years old. I started because my brother played.
She is a left-handed shot from the back end. Berggren is also known for her positive attitude on the team bench and giving off good energy to her teammates. Last year she played for IF Troja-Ljungby in Sweden's Division I league. This particular league is one step below the SDHL, which is Sweden's elite league for women. The champion of Division I one is promoted each year into the SDHL.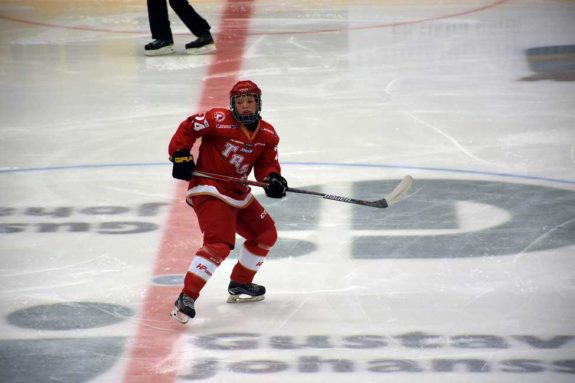 Berggren, who is this year playing for Skellefteå AIK in Division I has a goal of seeing her team be promoted. Asked what her biggest hockey goal is right now, she had more than one. However, one was most assuredly advancement – "I want to win the qualification with Skellefteå so we move up to the highest division," Berggren told THW.
Berggren's Skill Level and Performance
What is particularly enjoyable about watching Berggren play is how responsible she is in her own zone. This young lady plays a lot of special teams. In nine games this season for Skellefteå AIK, Berggren has registered a goal and five assists from the back end. That is the second best point total for all defenders on Skellefteå AIK. And, Berggren has played two less games than the leading scorer among the team's defense.
We have a good mix of players that makes the team dynamic very unique.
Keep in mind too that Berggren just turned 15. Any guesses as to how old Skellefteå AIK's leading scorer is among their defenders? Elin Lundqvist is 30 years old. THW asked Berggren about her strongest characteristics that have made her an effective hockey player at such a young age.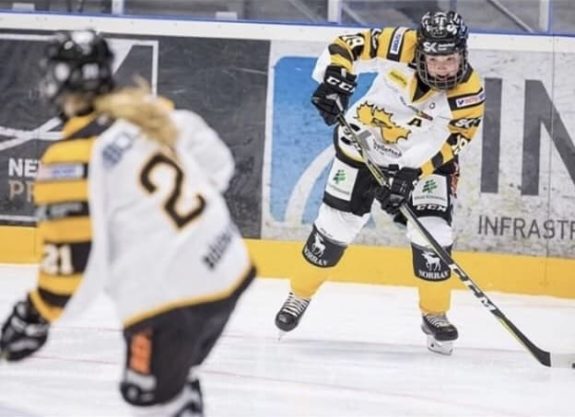 "I think I am a pretty good skater and am good one on one." She would go on to say, "I trust my skating so therefore I can have a good gap control."
If you have seen Berggren play, you would know that she indeed has given a spot-on assessment of herself. She is capable of keeping the perfect distance between an opposing shooter and the net. What is particularly impressive is Berggren's work down low. When the opposition is in deep, she tends to be at her best while playing tight to her own net. Berggren has the size and the wherewithal to position herself where shooters cannot get to her net without having to go through her somehow. That is not going to happen either, as Berggren seems to always take a proper stance, squares herself, and often out-muscles. A consummate shutdown defender.
2018 Women's U18 in Moscow
The 2018 Women's U18 tournament in Moscow is Berggren's first opportunity to have represented her country internationally. She is the second-youngest player on the roster for Tre Kronor.
I am very proud. It has been my dream since I was a little girl.
Through the first three tournament games, Berggren was the only player on Sweden's roster to be a plus player. The Swedes were able to take a powerful USA team to OT in the first game of the tournament. While they would lose 2-1, Berggren was instrumental in keeping the score so close. Not to mention the fact that Swedish goaltender Anna Amholt had 57 saves.
Berggren was at her finest when Sweden shutdown and shutout host nation Russia in the third prelim game by a score of 2-0. The Swedes took nine minor penalties, including four each in the second and third periods. Berggren was all over the ice for Sweden's penalty-kill and kept the Russians at bay. She was easily Sweden's best defender.
"Yeah, I like special teams because they are important situations in a game," Berggren explained. "I think the coach wants me to play PK because I have the attributes that are needed."
This is where Berggren's second hockey goal comes in. She told THW that her other dream is: "U18 women's championship gold."
Learning From One of the Best in Rooth
Aside from her natural God-given abilities, part of what has helped Berggren blossom into a talented defender at such a young age is tutelage she has received from one of Sweden's all-time greats.
I have always looked up to Maria Rooth. I have been to her hockey school three times.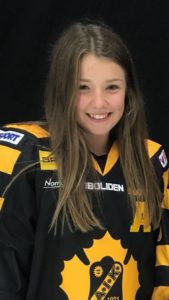 Rooth is an Olympic bronze medalist for Sweden in 2002 at Salt Lake City, and then a silver medalist in 2006 in Torino. She was a three-time NCAA champion at the University of Minnesota-Duluth. During the 2000-01 NCAA season, Rooth scored 41 goals and 31 assists in just 32 games. The UMD Bulldogs have since retired her jersey as well.
Suffice it to say that Berggren has developed an affinity for not only one of Sweden's greatest hockey players, but also one of the very best to ever suit up in the NCAA. She could not have found better inspiration than an individual of Rooth's character and talent. It shows too in what Berggren has been able to learn.
What Lies Ahead for Berggren
Hopefully when the tournament wraps up in Moscow on January 13, Berggren will have that gold medal draped over her shoulders. No question that in order for that to happen the Swedes will need to knock off either Canada or the USA in the final, if they can defeat Russia in the quarterfinals first. Neither would be an easy task, but a defender like Malou Berggren certainly makes it plausible.
But after the Women's U18 wraps up, what lies ahead for Berggren? At this point, she is not entirely sure of where she will be playing next year. Both  IF Troja-Ljungby and Skellefteå AIK have been good teams for her to be a part of. That does not mean that there might not be other opportunities elsewhere.
I am not sure where I will play next season. I have visited different hockey gymnasiums, so we will see what happens.
One thing is for certain though, Berggren has learned some life lessons from hockey at a very young age. She told THW, "hockey has taught me that hard work brings success." You nailed it, kiddo!
Keep close watch on Malou Berggren – she will be a mainstay on Swedish national teams for many years to come. There would be no surprise either if an NCAA team recruits her too when that time comes as well.
General Manager of the Buffalo Beauts (NWHL). Hockey history writer "The Hockey Writers". Credentialed media for the NHL Combine and 2018 IIHF World Junior Championships in Buffalo, NY, USA. Born and raised in Buffalo, NY. Lifelong hockey fan for over 40 years. Proponent of the women's game.