For quite a long period of time I was just like most other hockey fans when it came to Raffi Torres. I absolutely hated him. He delivered this cheap shot to my favorite player growing up in Milan Michalek. However, after Torres' suspension for the playoff hit on Marian Hossa, reports circled that Torres had worked with Coyotes head coach Dave Tippet on cleaning up the way he delivers his checks. For the first part of Torres' 2013 lockout shortened season, the heavy hitter amassed just 13 penalty minutes through 28 games, a significantly reduced pace than the previous season. Upon being traded to the Sharks at the deadline that season, I was willing to give him a chance. Down the stretch Torres showed to be an excellent third line winger and looked to have cleaned up his game.
The spring of 2013 is about the time I started defending Torres as a reformed player. The playoff suspension that year for this hit on Jarret Stoll was a terrible call. It was clearly a shoulder hit intended to separate player from puck. Sharks GM Doug Wilson also adamantly disagreed, writing a statement defending Torres that cost the organization a hefty $100,000 fine.
While many of Torres' questionable and/or dangerous hits are similar, the latest hit is simply indefensible and much closer to the hit on Michalek than the the hit on Stoll.
San Jose's Raffi Torres has been suspended 41 games for an illegal check to the head and interference. Video: http://t.co/0Z9kgVAMyq

— NHL Player Safety (@NHLPlayerSafety) October 5, 2015
Can't Defend Torres No More
This is the point where nobody can defend Torres anymore. This was charging, interference and no real shoulder contact. The hit itself is completely unnecessary as Jakob Silfverberg is already caught up in traffic from both his own teammates and the Sharks' Bryan Lerg who actually steals the puck before Torres delivers the unnecessary high hit.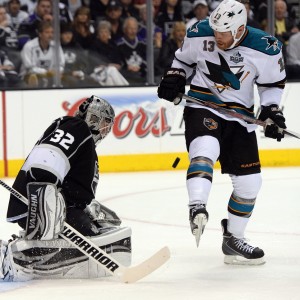 Reverting back to making this type of hit on a defenseless player is extremely disappointing. All of these suspensions have limited the career of a player who is actually quite talented. Torres has been a solid even strength producer over his entire career and if he is in the lineup he can make a real difference. Unfortunately, between injuries and suspensions, Torres simply just hasn't been able to stay in the lineup.
As for this particular suspension, the length of it is quite shocking. Forty-one games is one of the longest suspensions of all time, although this Wikipedia page doesn't list Marty McSorely's year long ban. Now as much as I love watching Torres play actual hockey (IE: more hockey and less running around like a chicken with its head cut off) it is great to see the NHL come down hard on Torres for this particular hit. These are the dangerous fly-by type hits of unsuspecting players that need to be taken out of the game. While 15-20 games was more what I expected, it is hard to argue with the NHL tacking on another 21-26 games to send a message. Clearly Torres hasn't quite learned the error of his ways in terms of hitting through the body and letting up when the play clearly no longer dictates the need for a hit to separate an opponent from the puck.