The Columbus Blue Jackets made the short drive up to the Motor City to play against the Detroit Red Wings on Saturday night. The two teams are in a retooling process with the Wings slightly ahead after a plethora of free-agent signings accelerated their efforts last summer. They're currently in the hunt for a Wild Card spot, while the Blue Jackets bottomed out after being decimated by injuries.
Despite the difference in the standings, the Jackets managed to squeak away with a 4-3 win. It's not completely cut and dry, as they scored four straight and then let the Wings score three in the third period. There's a lot to look at from this game, but here are three takeaways from the Jan. 14 matchup.
Captain Boone Jenner Was Missed
An almost under-the-radar storyline in this was the return to the lineup for Blue Jackets' center, Boone Jenner. He had been out of action after undergoing surgery to fix a broken thumb on Dec. 19. In 11 games missed, the Jackets won only two games without their captain.
While the win over the Wings doesn't rest solely on his shoulders, it's no coincidence. Jenner's return lets the rest of the roster slide more into place. He played as the second-line center but still led all forwards in ice time with 19:17. With a 62% faceoff percentage, three shots, and two hits, his presence was definitely felt.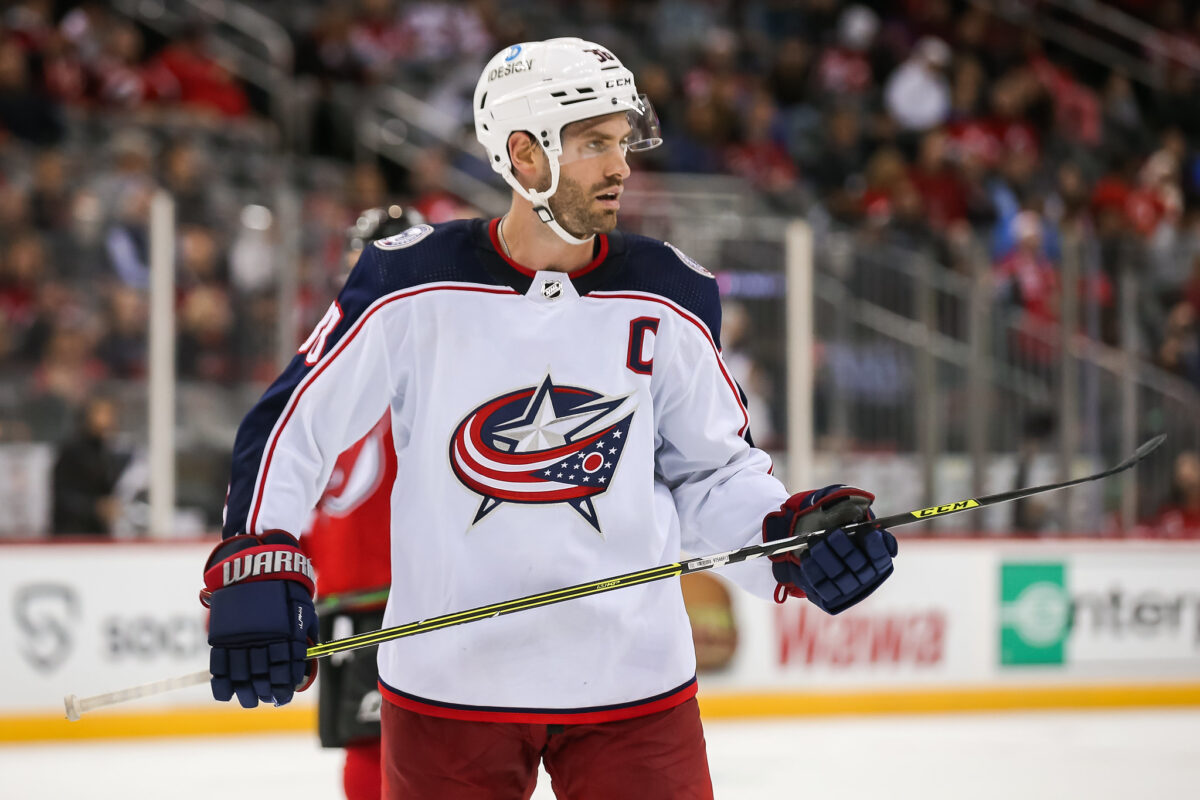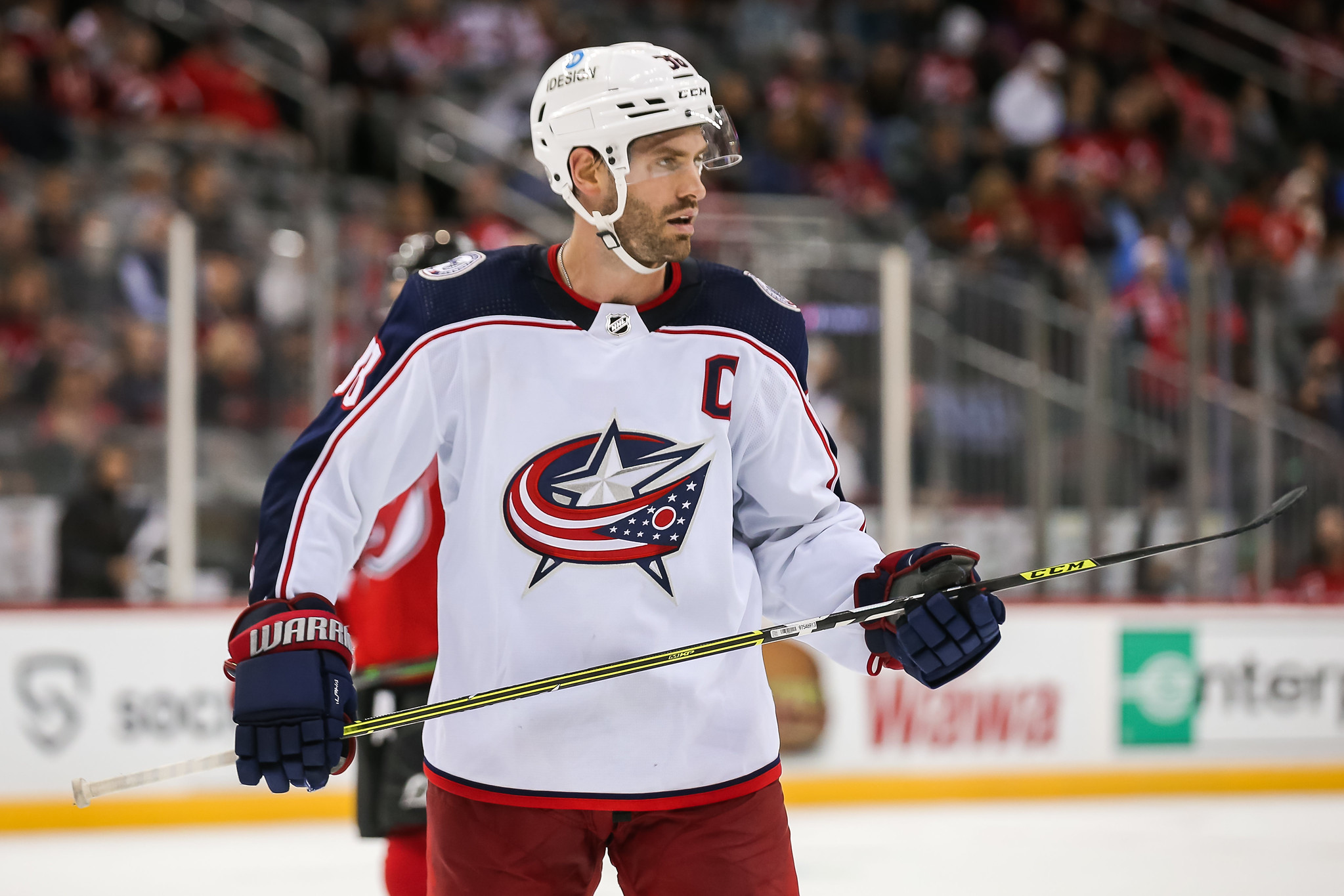 The return marked the end of opportunity for a couple of youngsters, though. Jenner pushed Kent Johnson out of a top-six center role and forced the healthy scratch of Cole Sillinger, which makes sense in both instances. Johnson is still having a tough time adjusting to being a full-time NHL player, let alone all the defensive responsibilities that come with being a top-six center. He can be an elite center in this league, but at 20 years old, he's just not there yet.
Related: Blue Jackets & Red Wings Make Perfect Rivals Moving Forward
As for Sillinger, I'm not sure anyone has had a tougher year than him. After 16 goals and 31 points as a rookie last year, he is definitely experiencing a 'sophomore slump.' His projected stats through the end of this year are four goals and 14 points in 78 games. It's a definite step back for the youngster who could use some drastic measures to get him on the right path. Being scratched could be the kickstart he needs.
With those two youngsters, the center position has been fraught with inexperience. Jack Roslovic and Sean Kuraly are both legitimate NHL centers, and Jenner's return helps to stabilize the position. Aside from the positional awareness, Jenner is still tied for second in team scoring. Clearly, his missing offense hurt the Jackets down the stretch.
---
Latest News & Highlights
---
All of this is to say the value that Jenner brings to this Blue Jackets team cannot be overstated. He is a huge part of the locker room and was definitely missed during his time on the injured reserve. His return, along with that of Nick Blankenburg, gives the Jackets some reinforcements and some hope that their "rock-bottom moment" is behind them.
Blue Jackets Still Unable to Play a Full 60 Minutes
Let's be clear. The first two periods in this one were sheer brilliance by the Blue Jackets. They limited scoring chances while generating a significant amount of their own. Then came the third, which became yet another example of how the Jackets are unable to play well for an entire 60-minute game.
An unlucky own goal early in the third by Mathieu Olivier was the first blemish on a perfect night. Then there was an absolute snipe from Wings' defenseman, Jake Walman, who has been on fire as of late. It all was capped off by a nice backhander from sophomore Lucas Raymond. Just like that, a 4-0 lead became 4-3.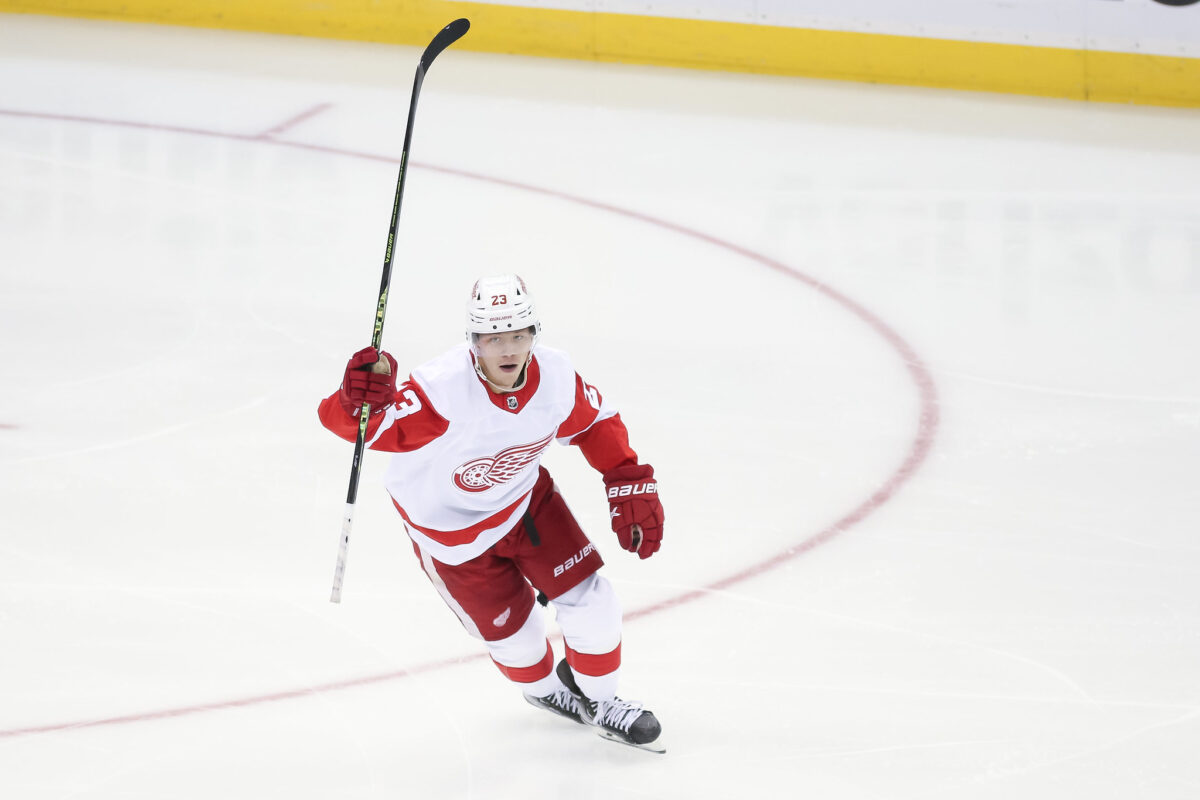 The Jackets were on their heels the entire period. After leading the Wings in shots 22-16 through the first two periods, they were outshot 12-3 in the final stanza. When Detroit finally woke up and began to assert their game, the Blue Jackets pretty much got into the fetal position and started sucking their thumbs. Okay, that may be a bit of an exaggeration, but having a four-goal lead challenged like that in the third period is definitely not ideal. This one could have ended differently had the Wings simply started their comeback effort a little earlier.
While some mistakes were made, there is some merit to the fact that they did hold off the Red Wings' onslaught to walk away with a win and two points in the standings. And it was a very much-needed win for Columbus, who is still one of the bottom three teams in the NHL.
Laine and Gaudreau Will Be a Thing of Beauty…Eventually
At the top of the list of highlights in this game was the three-goal effort from Patrik Laine. His 10th career hat trick was largely the result of the set-ups from his linemates, in particular, a couple of flashes of greatness between Laine and Johnny Gaudreau. The two were separated by head coach Brad Larsen in the last few games but reunited in Detroit. The one obvious thing is that those two are going to be a thing of beauty once they get everything figured out.
Case and point is Laine's second goal. Gaudreau found him wide open with a cross-seam pass through the slot with a pass only possible from a playmaker like "Johnny Hockey" and a finish only possible from a shooter like "Hatrik Laine."
Those two remind me so much of Paul Kariya and Teemu Selanne in their prime with the Mighty Ducks of Anaheim in the 1990s. Both players were so elite offensively that it didn't matter who played between them because they were going to dominate regardless. All the Jackets need is a little more stability from their other positions and Gaudreau and Laine are going to explode like those two Hall of Fame Ducks did. They've got at least the next three years to get things figured out, which takes some of the pressure off.
There were lots of takeaways from this game between the Wings and Jackets, but these three are top of mind in my books. Regardless of how the game almost slipped away from Columbus, they were still able to hold on to their lead and get their first road win in 10 games.