It saw their fewest goals scored, most goals allowed, and smallest margin of victory during their current three-game road winning streak. 
But the Edmonton Oilers' 4-3 defeat of the Vegas Golden Knights at T-Mobile Arena on Saturday (Jan. 14) was also easily the most impressive and important of their three straight triumphs. 
Whereas the first two wins, 6-2 over the Anaheim Ducks and 7-1 against the San Jose Sharks, came by beating up on the weakest teams in the NHL, Saturday's victory was over the team with the most points in the Western Conference. And while those last two games were pretty much over by the end of the second period, against Vegas, the Oilers had to protect a one-goal lead throughout the third period, something they've struggled to do lately. 
Leon Draisaitl had a pair of goals, and Mattias Janmark and Klim Kostin each scored once for the Oilers, who jumped ahead 2-0 before the game was two minutes old and led virtually from start to finish. 
While cohort Stuart Skinner is away from the team awaiting the birth of his first child, netminder Jack Campbell started a third straight game for the Oilers and made 27 saves, stopping all nine Vegas shots in the final frame. 
The Oilers wrap up their Pacific Division road trip with a 3-1 record and return to Edmonton feeling a lot better than when they left a week ago when they wrapped up a four-game homestand with just one win. With 51 points, the Oilers are now seven points back of the Knights for first place in the division and six points ahead of the Colorado Avalanche and St. Louis Blues for a wild-card playoff position.  
Those are just some of the reasons why knocking off the Golden Knights 4-3 was such a big win for the Oilers, and here's why Oil Country should be encouraged. 
Oilers Successfully Hold the Lead 
Flashback to seven days earlier, Jan. 7 at Rogers Place, where the Oilers came out for the third period in front of the Avalanche 2-0 and ended up losing 3-2 in overtime. In their games at home since Nov. 3, That marked the third time that the Oilers lost when leading after 40 minutes and the fifth time losing a game that they led by two goals, all coming at home since Nov. 3. 
Related: Oilers Continue Trend of Blowing Home Leads in Loss to Avalanche 
---
Latest News & Highlights
---
On Saturday, the Oilers played ahead for 59:15 of the 60 minutes, which is the highest amount of time holding the lead in a game this season. And while they did bend, they didn't break. 
After Vegas had cut Edmonton's lead to 2-1, Draisaitl scored to restore the Oilers' two-goal advantage. When Golden Knights forward Paul Cotter scored at 13:39 of the second period to make it 3-2, Kostin answered 18 seconds later. And when William Karlsson tallied with just 42 seconds remaining in the middle frame to pull Vegas back within a goal and send his team into the intermission with all the momentum, the Oilers came back out for the final frame and refused to let the game be taken to them: Over the last 20 minutes, Edmonton outshot the Golden Knights 10-9, and according to Natural Stat Trick, limited Vegas to just one high-danger chance. 
With respect to protecting a lead, this was the toughest test Edmonton has faced in some time: up one goal for the entire third period in the rink of one of the league's best. And the Oilers passed with flying colours. 
The key now is replicating that type of performance at Rogers Place, where no Oilers' lead has been safe in 2022-23. Meanwhile, Edmonton is perfect (8-0-0) when leading after two periods on the road this season. 
Campbell's Coming Around 
Skinner's absence (the 24-year-old goalie has been away from the team for three games now) has created an opportunity for Campbell, who is making the most of it. The veteran is 3-0-0 with a 2.00 GAA (Goals Against Average) and .924 SV% (Save Percentage) since Skinner flew back to Edmonton following the Oilers' first game of their road trip against the Los Angeles Kings, a 6-3 loss, on Monday (Jan. 9). 
This continues a significant upward trend with Campbell since he went nearly two weeks without playing between starts on Dec. 19 and Dec. 31. Campbell was 8-6-1 with a 4.02 GAA and .876 SV% before Christmas, and is 4-2-0 with a 2.02 GAA and .910 SV% since.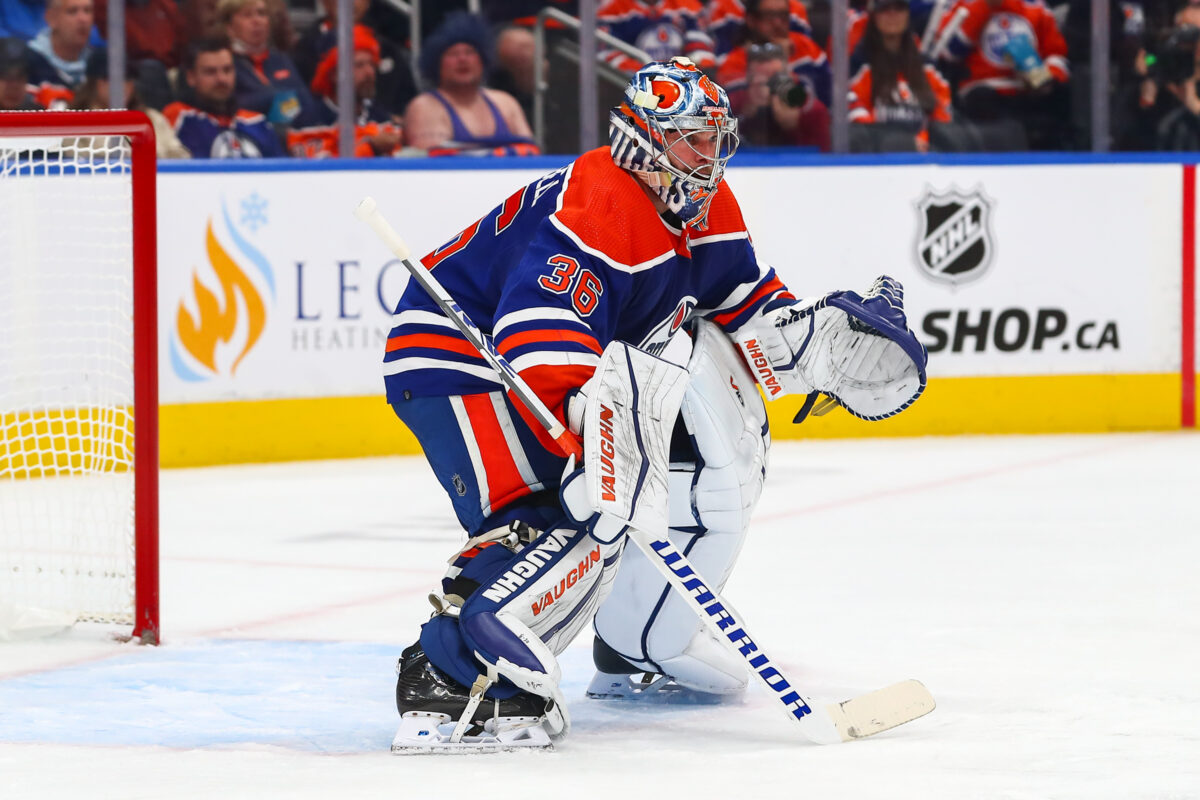 In his latest five starts, Campbell has given up two goals or less four times and not once given up more than three goals. Compare that with the 31-year-old's first 15 starts, over which he only twice allowed fewer than three goals while conceding at least four goals a whopping eight times.  
Edmonton's blue line is making life easier for Campbell, too. In his last seven appearances, the American goalie has faced an average of 22.6 shots per 60 minutes, nearly 10 fewer than the 32.3 per 60 minutes that were fired against Campbell over his first 15 outings. 
This is closer to what was hoped, if not expected, of the former Toronto Maple Leafs starter when he signed a five-year, $25 million contract in the offseason. Moreover, this is likely what's needed for Edmonton to be a true championship contender. After all, following Saturday's games, the Oilers lead the NHL with 164 goals scored (they're fourth in goals per game, at 3.64). So if Skinner (who is 12-10-2 with a 2.96 GAA and .914 SV% in 2022-23) and Campbell can tag-team to keep the goals against to three and under, Edmonton should win a lot more often than not. 
Edmonton Will Try to Contain Kraken 
Skinner should be back when the Oilers next play, Tuesday (Jan. 17) at Rogers Place against the scorching hot Seattle Kraken who have won eight straight games and are now just two points back of Vegas for the Pacific Division lead. This will be the third meeting in less than three weeks between the Oilers and Seattle. Edmonton, in fact, is the last team to beat the Kraken at Climate Pledge Arena on Dec. 30. The second win of Seattle's current streak came at the Oilers' expense, 5-2 inside Rogers Place on Jan. 3. 
Things don't get any easier for the Oilers after Tuesday, with the three-time defending Eastern Conference champion Tampa Bay Lightning, who following a 4-2 victory at the St. Louis Blues on Saturday, have won seven of their last nine. Much like the Golden Knights, Edmonton's next two opponents serve as measuring sticks. Either the Oilers continue their strong play, or, like at seemingly every other potential turning point so far this season, they regress to the mean.