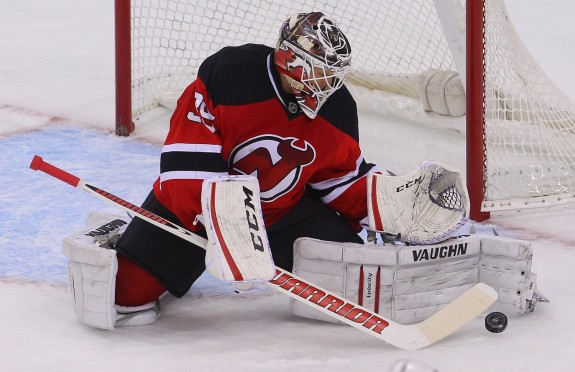 Today's installment involves the New Jersey Devils. We asked David Sarch of Talking Red a series of questions looking back and then ahead to the 2014-15 season. Here are his answers and away we go.
New Jersey Devils Q&A
1. Going below the belt to start, where does Martin Brodeur wind up and why?
Honestly, I just don't see a fit for him anywhere. Barring any injuries to goalies or a starting goalie has a nightmare season I can't see a natural fit. If one of those scenarios does come to fruition I could see a team taking a chance on a rested goalie that has won three Stanley cups, not that I'd advise them to do it.
2. Yes let's go even lower, the Devils pulled the never heard of bagel in the shootout last year. What can they do to fix it this year?
I think this is one of those thing that will fix itself.  I can't picture Cory Schneider having a .552 save percentage again (he was .667% the previous year) and I'd have to think Patrik Elias will be better (career shootout percentage of 33%) as well. Cammalleri will be an improvement over every Devil other than Elias, as he is a career 27% shooter in the shoot out. That being said, I think that the shoot out is a bit of a confidence thing and if the Devils go 0 for 3 and Schneider gives up 2 of 3 in their first go at it this year, it could be very ugly again.
3. What did you think of the long awaited Cory Schneider extension compared to some of the goalie deals you see today?
I actually thought the Schneider extension was really good (7 years, $42M). The Devils obviously didn't have a ton of leverage because they were very desperate to get a deal done with a potential UFA that was acquired with the 9th overall draft pick. On top of that, Schneider's save percentage and quality starts are both among tops in the league over the last four years. When you can lock someone up with those numbers through his prime at a manageable cap hit ($6M) it's always a positive.
4. Cory Schneider was very good last year but it's not a secret New Jersey forgets to light the lamp for him. Did they do enough in the offseason to help?
Would I have liked the Devils to do more? Sure (in fact I'm still waiting for the Evander Kane trade), but given the market and resources available I think that GM Lou Lamoriello did what he could to help the team. He certainly got a winger that can play with Travis Zajac and Jaromir Jagr. Together last year Zajac and Jagr were excellent but were missing that goal scoring winger on the left side. On paper Cammalleri (26 goals in 63 games played last year) is a perfect fit there. Should he stay healthy he should easily reach 30 goals. Adding Martin Havlat to the line up could be a good addition if he can have a bounce back year (think Petr Sykora in 2011-2012). With the forward depth in San Jose he was kind of bounced down to a bottom 6 role, but he'll definitely have the opportunity to play in a scoring role with the Devils.  He'll likely start the season on a line with Patrik Elias, where both have played together before.
Hopefully by adding depth at forward, it will put DeBoer in the situation where he doesn't have to play Stephen Gionta or Steve Bernier in a top 6 role.  The additions of Cammalleri and Havlat, it leaves the Devils with Damien Brunner, Michael Ryder, Tuomo Ruutu, Dainus Zubrus and Ryane Clowe to occupy top 6 roles should injuries occur. Although it's likely that not all of the above players start the year with the Devils, they are in a much better situation than they were last year where Zubrus and Ruutu spent significant time on the first line.
5. Is Travis Zajac a number one center? Why or why not?
This is one of those questions that I hate to answer because it depends on your definition of number one center. Is he in your elite number one center category that maybe a dozen players are part of? No. Is he a top 30 center in this league? Yes. I know that Todd Cordell compared him to Selke candidates during the season, just showing how well he does defensively. He does so while playing against the toughest competition, he's also great on the PK and can win face-offs. It's the offensive side of the game where he does not excel. Last year he was 43rd on NHL.com among centers for points (although that was with mostly Dainus Zubrus and Tuomo Ruutu on his left wing). That being said, playing with Cammalleri and Jagr could be the first time in his career he is really playing with two first line forwards in his career. While he had Parise for years, Langenberunner was a good player but not really a top line winger.
6. Did Peter DeBoer deserve to keep his job after last season?
This was easily one of the most debated topics among Devils fans this year, especially after Toronto's reported interest in bringing him and questions about his contract. Have New Jersey Devils coaches been fired for less? Absolutely. Lou Lamoriello has fired coaches that were among the top teams in the league.
After the last two years I still have questions about Pete DeBoer and his tactics. Do his teams play too much dump and chase hockey? How many players did he get the most out of? Some questions about roster and line management last year. On top of that there are questions over the way he handled the goaltending situation last year and how much of that was his control.
In the end, I'm not convinced that the roster last year was playoff quality and the biggest thing is he hasn't lost the players. If I were the GM I'd give Pete DeBoer one more season. If he can't make the playoffs this year I'm not sure how many more excuses can be made without some sort of shake up.
7. Enough about last year, what should we expect from Adam Henrique? Will he play more Center than Wing?
I think this may have less to do with Henrique and more down to other players. Jacob Josefson was resigned for two years, can he make the jump to third line center? Would a third line with Clowe and one of Zubrus or Ruutu at center be too slow? Will whoever is playing on the wing with Elias and Havlat produce enough?
What's most likely is he'll start the year as a third line center and depending on other players production move up to second line left wing if needed. Last year Henrique caught fire once he was moved up to the wing with Elias but there were questions about the third line, especially against better teams, without him at center.
8. Bryce Salvador is still on the team and that has left a lot of fans fuming. What do you think of this?
Despite his poor Corsi/Fenswick numbers, I still a believer you need one player in the defensive-defensemen role on your team. Especially when you have a lot of young guys who can move the puck in Gelinas, Merrill and Larson in addition to Marek Zidlicky. It was also better to keep Salvador as opposed to Volchekov because Salvador has a lower cap hit and fewer years under contract than Volchenkov. I am sure there are guys better than Salvador at the position (like Mark Fayne) but you could probably do worse as well. He's still very strong on the PK and as noted at HockeyAnalysis, goalies tend to be better with him on the ice at 5v5 than without him. Devils fans will probably be less frustrated with having one defensemen like this rather than many nights of Salvador and Volchenkov.
9. Mark Fayne and Anton Volchenkov were noticeable departures from the blueline? Does this mean we finally get to see a couple more of the younger defensemen at last?
The fans have been calling for the youth movement for years and it appears that it's finally going to happen, at least on defense. As of right now it looks like the D core is pretty much set with three veterans (Greene, Salvador, Zidlicky), three young players (Larsson, Gelinas, Merrill) and Peter Harrold.
All three of the young players have proved they are worth of an NHL chance. Merrill proved to be solid defensively and is able to move the puck out the zone, much like a younger Paul Martin. The hope this year is he can continue the strong play and build on his offensive game. It wouldn't surprise me if he started the year on the Devils top pairing replacing Mark Fayne. Larsson and Gelinas both played very well in stretches last season and were particularly effective together. Gelinas put up 29 points last year and was a big part of the power play (17 power play points). He struggled defensively towards the end of the year. Adam Larsson, the former first round draft pick, has not taken the NHL by storm but is still only 21 and has a lot of room to grow.
That being said, I think a lot of fans were disappointed to see Mark Fayne leaving as a free agent to Edmonton.  Although Fayne didn't put up a ton of points he did a very good job playing some of the toughest minutes on the team since the 2011-2012 season.
10. There was a lot of flack back and forth from the draft. What are your thoughts on the 2014 NHL Draft? 
In terms of what the New Jersey Devils did I was a bit frustrated. They probably could have drafted someone with more upside than John Quenneville but it's not a "bad" pick. I think it was a safe pick but he can provide some good depth down the middle with Henrique for years to come. It was frustrating to see the Devils draft another defenseman with their second round pick but their last four second round picks have been defensemen. These include Eric Gelinas and Jon Merrill who are both on their way to being good NHL players. It also looks like Steve Santini and Damon Severson are on their way to solid NHL careers. I was not too high on the Devils selecting Connor Chatham in the third round but the more I read about him. I could see why the Devils selected him. Drafting a stay at home defensemen and player who projects to be a fourth liner in the later rounds were frustrating picks.
11. What can we expect from the podcast this season? Anything new in the plans?
Well, not much in terms of "new," just hoping to be a bit more consistent in terms of getting guests on the show.
12. Are there any prospects to keep an eye on for this season?
I think it starts with the three young defensemen in the NHL (Merrill, Larsson, Gelinas). The way the roster has been built it gives all three the chance to get a lot of NHL ice time this year. Other than that I am very interested in seeing how Damon Severson does at the pro level. Coach Pete DeBoer made comments that he has a chance of making the NHL roster but I think he will start the year in the AHL. He had great numbers in juniors last year and I think a lot of Devils fans are high on him. The last one really worth mentioning is Reid Boucher. He scored 22 goals in 56 games last year and is the only Devils prospect with offensive upside. As of right now it doesn't look like there is room for him on the NHL roster at the start of the season but as the season goes on I am sure he'll get a chance.
13. Devils Twitter Meltdown really became an increasing thing throughout the year? What is the worst meltdown you have ever seen? 
I happen to think that the Devils Twitter Meltdowns are a bit over stated. I'm a believer that overall most team's fans are pretty similar but when you have Steve Bernier on your second line for 40 games it wont look pretty on social media. The worst was probably when Eric Gelinas was scratched and then later sent back to Albany on paper so he could be eligible for the AHL playoffs.
14.  Lastly, what is the Devils prognosis for this year? Does New Jersey see the playoffs?
The way the Metropolitan Division is setup I think the New Jersey Devils can finish anywhere between 2nd and 6th. The Penguins should still be the class of the division but once you get to the Devils, Blue Jackets, Rangers, Islanders, Flyers and Capitals, I could see any of those teams finishing in that range. With the added goal support from Cammalleri and more starts from Cory Schneider it should push the Devils up into playoff contention.
The Pittsburgh Penguins will be up next.