To become a great player, talent is not enough most of the time. You also need a good coach to achieve that. In this translated article, originally appearing on the official KHL website, Kirill Kaprizov's first coach, Andrei Luchansky, recalls when a young Kirill decided to move from the country to the city to pursue a sports career. He was a second-grade kid at the time. Most of the things happening in this article were before the Minnesota Wild drafted him in the fifth round of the 2015 NHL
* You can enjoy the original article by Sergei Vinogradov and several pictures of a young Kaprizov here * 
Kaprizov's First Steps In Hockey
"I was ending my cycle with 1987-born guys when I started recruiting guys for the 1997 team," Luchansky said. "We had a group of kids of different ages. Some of the guys were already practicing three times a week and some of them could already skate very well. Someone else just started. My task was to watch the guys and form the foundation of the 1997 team, and then let life do its job."
According to Luchansky, Kaprizov distinguished himself not only with his skating and puck control but also with his great character. "He was already very focused on his tasks when he was a kid, and growing up it just developed further," Luchansky recalls. "He was like an adult in his responsibility towards the team and the result. I can always trust Kirill. He hated losing and had no patience. I was living in the same block as he was, and I remember watching him and his brother play soccer with older guys. Kirill was giving all of himself in these yard battles and was never conceding anything. He doesn't know how to play differently."
Kirill was gifted with a rare ability to leapfrog stages. He was always playing against older guys. He started playing in the MHL at 15, started playing in the KHL at 17 and he was the best scorer for Team Russia in his first senior international tournament in February. Many noticed that Kirill showed no fear in front of authority.
"He was like that when he was younger too. For Kirill, just like other young players, it was very important to feel the trust from his coaches. He has this trust now, and it shows. Hopefully, it will be the same in the future. Trust applies to errors too. As the saying goes, the only man who never makes a mistake is the man who never does anything.
Maybe, if Kirill was benched after his first mistake, like too many times it happens with young players, then today we wouldn't have such a great future. We need to thank his coaches for that. You can see yourselves how many players get lost passing from junior to senior hockey. That's a key moment."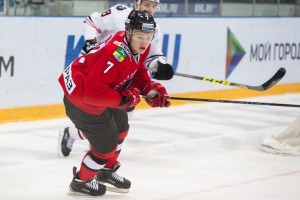 According to Luchansky, this trust was the key component for the development of the other great Novokuznetsk-trained players Sergei Bobrovski, Dmitri Orlov and Ilya Sorokin, among others. "In Novokuznetsk, there is a great organization. Metallurg for many years had a goal to reach the playoffs, but they could not reach the postseason. This, of course, gives young players a chance to show what they are worth. Especially at the end of the season, many guys start playing great and it works."
Kaprizov's Strong Points
Luchansky admittedly used Kaprizov's strong character, resilience, and passion for hockey to his team's advantage. He was quickly told that he should play in any position, and play his best both on the powerplay and penalty killing units. Kirill was also iced as a defenseman because of his backward skating skills. This actually helped him in becoming a better forward. "In different tournaments, I had a need to play him as a defenseman, and he always played great. It happened not only in youth hockey but also when he was a bit older."
Kaprizov was a starlet at ten years old. "We didn't play in tournaments until kids were third-graders. I needed to teach them something, and only then compete with others. In our very first tournament, which we played in a city located 120 kilometres from Novokuznetsk, Kirill got the attention of everyone. If I recall correctly, in each tournament we played – and we played many – Kirill always won some individual award, as "Tournament top scorer" or "Tournament top forward".
He scored many, many times tournament-clinching goals. I remember that once he scored a game-winner at about one second before the horn. He would always fight until the final horn." Kaprizov's team never finished any worse than second. "We were always competing tightly with Sibir Novosibirsk. Sometimes they would win, and some other times it was our turn."
Kirill Kaprizov scored the youngest Russian national team hat trick at the Euro Hockey Tour! All match facts: https://t.co/WHfRDFp4Ce pic.twitter.com/sA5EVtwK83

— Russia Hockey (@russiahockey_en) February 12, 2017
Luchansky's guys always had good results both on the ice and at school. The players would attend a school next to the ice arena. "I always had good ties with teachers. Kirill was a good student. He loved hockey, but this didn't prevent him from studying." His great character helped him in achieving great things in hockey. He was always a great teammate and always loved to spend times with the guys after the practice. "Even when, in Novokuznetsk, he was iced on a line with foreign players, he found a common language with them right away, even without knowing a single word in English. This truly helps him on the ice."
Today Luchansky coaches kids in Ekaterinburg, and he rarely meets his players from Novokuznetsk. "I usually talk with his father, and I get from him all the news regarding Kirill. But last summer I had a chance to meet him, we talked about his move to Salavat Yulaev, about practices and coaches. He is the same kid he was, didn't change at all."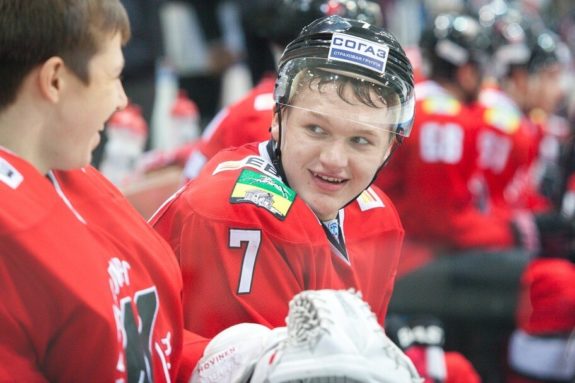 This is what Kirill Kaprizov said about his first coach:
"I can say only good things about my first coach. Andrei Removich raised me since my childhood and played a huge role in helping me becoming the player I am now. I want to really thank him for that. I worked with him from my childhood until I was 16 and he gave me a lot.
He knew how to be strict when it was needed, or good-hearted when it was needed too. He knew when it was the right moment to raise his voice. He always told me the right things, trying to improve my game. Of course, it was not only about me, he invested a lot of time on our team and he always tried to get the best out of us.
He often said that it's easy to lose yourself after a game and that then rebounding back would have been hard. He was always telling me, 'Kirill, keep your feet moving and all will be great with you.' Now we don't talk all that often. He mostly talks with my father. What do they say when they speak? I don't know." (laughs)
A professional hockey writer and translator. Loves Russian culture, language, and hockey. Reachable on twitter @AlexSerenRosso