by Jas Faulkner, contributing editor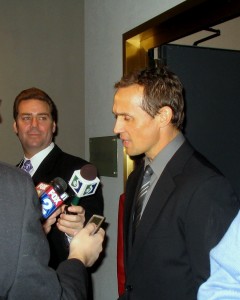 The looming trade deadline caused the usual flurry of hints, allegations, and things that sometimes we wish were left unsaid.  Some have attributed the crop of available players as the reason that many transactions this season to skew heavily towards player-for-draft-pick transactions.  Many of these are provisional trades that GMs hope will result in their clubs getting a shot at the hotter prospects.
Earlier this week, Bolts GM Steve Yzerman decided to address some concerns about his decision to send some key players and fan favourites to other clubs in exchange for fresh talent and a fist full of draft picks.  With just a few weeks left in the season, Yzerman is already strategising well into the 2012/2013 season.  His vision is not to create a transitional crew that will eventually lead to a good team.  What Yzerman wants is to make a whole 'nother critter, a beast to emerge fully grown from the wild southlands, snatch the cup from Gary Bettman, and return to gnaw gator spleen, the scary ends and pieces of Carolina BBQ, and tail feathers from the Caps' eagle until it's time for the puck to drop again.   He sees the future of the Bolts in the hands of emerging talent, the kids who are dying for a chance at NHL glory.  In order to do that, he had to make some difficult decisions.  This wasn't something he entered into lightly or without a lot of forethought and discussion:
 Initially, the discussions were with Colorado about Kyle Quincey. I thought more about him and talked to other general managers around the league as to what they were looking for and his name came up. You take everything into consideration: contract status, where they're going to fit on your team, the type of player they are, and we had to think if we wanted Kyle Quincey or a first-round pick. I thought we should take the first-round pick.
Yzerman made it clear that he was aware that some of the choices he made would be met with surprise by Bolts fans and observers.   What he wanted to remind those talking heads is that the key to rebuilding is getting strong materials to work with in the first place. To do this, he needs to set the club up to be at in the best position he can deal for come draft time.
If we have draft-related or trade-related options to acquire some players; we have some flexibility. We can hang on to some of those picks and if a move comes up where a team is looking to move a player; there's a lot of options for us. When we get to The Draft, we can move up or move down and do a lot of different things. When you look at today, we traded players off of our roster to get draft picks, but I think it puts us ahead in the long run.

These moves are made to make us better in the future. Any situation that comes along from today through the trade deadline and into the off-season is something we're willing to look at. Our picks give us options. My goal is to win a Stanley Cup here, and I think we have to do some tough and difficult things along the way to do that. We need young players. We need to draft well and build that way, and this was an opportunity to take advantage of that and acquire more picks, and relatively high picks. The message to our players has been that I want to win a Stanley Cup and I'm going to do what I have to do to get us there.
In response to the impact all of this will have on the morale of the Tampa Bay Lightning community, Yzerman stressed that while it does send a definite message to the club, it should also be seen as a promise on his part to move Tampa Bay onward and upwards in  the standings
 These moves are made for the future. My only message is that I feel I have to do what I think is necessary to make us a Stanley Cup contender. I think these moves get us moving in that direction again.