It's been nearly a decade since the Anaheim Ducks raised the Stanley Cup. At that time, the team was led by veterans like the Niedermayer brothers (Scott and Rob), Chris Pronger and Teemu Selanne, while Jean-Sebastien Giguere and Ilya Bryzgalov ran the show between the pipes.
Today, there's only two players from that 2006-2007 team that still don the Ducks logo – two mainstays who've had major roles with the franchise since their first Cup win. While the club has made numerous moves over the past nine seasons – rebooting a team that seems to be a perennial contender – Ryan Getzlaf and Corey Perry remain the leaders of a now Cup-contending franchise.
After a trip the Cup Final last season, the Tampa Bay Lightning seem to be a favourite coming out of the East again. While I'm not looking to sit here and make preseason predictions, I will argue the Ducks seem to be ready to take that next step in their pursuit of a second Cup for the California-based franchise.
Ducks' Veteran Core is Ready
For starters, let's look at how some of the Ducks' players stack up statistically over their career:
Ryan Getzlaf – 678 points (208g-470a) in 710 regular season games
Corey Perry – 602 points (296g-306a) in 722 regular season games
Shawn Horcoff – 496 points (180g-316a) in 949 regular season games
Ryan Kesler – 440 points (202g-238a) in 736 regular season games
Kevin Bieksa – 241 points (56g-185a) in 597 regular season games
Now, this short list is a simple one. It's basing this idea that the Ducks are going to be competitive off of plain offensive numbers. However, each of the players listed above are strong, physical presences with the ability to show up offensively as well – a skill set that makes them all-around impressive players.
Bieksa – a new addition to the Ducks this offseason – will fill a big hole on the team's blue line after the departure of Francois Beauchemin. While his game is slightly different from that of Beauchemin's, he adds size and physicality to a team filled with skilled forwards.
"It's nice to have a new team and a new challenge. I've been in the league for over 10 years, but now it feels like I'm a rookie. It's going to be exciting for me," said Bieksa in an article by the Hamilton Spectator's Glen Cuthbert.
"It's Cup or bust for us this year, and that's pretty exciting." – @f_andersen30 talks #DucksCamp and more.https://t.co/9oT7YU8Km1

— Anaheim Ducks (@AnaheimDucks) September 20, 2015
And it should be exciting for the whole club. The addition of Bieksa comes along with the team also adding Horcoff, Carl Hagelin, and Anton Khudobin to the existing core in Anaheim – a core that remains at the peak of their prime years (at least for the most part).
Are Goaltending Questions Answered?
Scoring isn't going to be an issue for this club, who ranked 10th last season with 228 goals for. But they were 17th when it came to goals against – even with a goaltender who notched 35 wins in 54 games.
It's expected that 26-year-old Frederik Andersen will remain the team's No. 1 goalie heading into 2015-16, but his NHL experience isn't deep enough to tell if last year was a fluke or not.
He's played 82 games over his two-year regular season career with 55 wins to his name. His save percentage sits at .918 for his career and he holds a 2.35 goals against average. The numbers certainly aren't bad. But like I said, who's to say his next 100 games are anything like his first?
With that in mind, not only did the club lock up highly touted prospect John Gibson with a three-year extension, they went out and grabbed Khudobin to back up their starter. Khudobin's regular season numbers are actually quite similar to those of Andersen. He has a .919 save percentage and 2.40 goals against average in 91 career regular season games (41 wins).
So the experience of their goaltenders will certainly be the main question for an otherwise strong Ducks franchise. It won't be a 1A-1B type of tandem by any means; the team likely has more faith in Andersen than that.
But as Griffin Foster points out in his article for Pucks of a Feather, Andersen saw a decline in his numbers when he was over-relied on or in months that he played every game for the Ducks.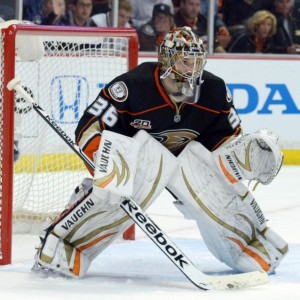 That being said, Khudobin gives the coaching staff another option if they want to allow Andersen to have a day off. While his numbers were slightly skewed last season, playing for a dismal Carolina team, he'll give the Ducks a chance to win every game that he steps into. His importance to the franchise is much more than just that of a simple backup. He'll be looked upon to mentor his young counterparts in Andersen and Gibson as the team looks towards their future in net.
Ducks: Biggest Threat in the West?
It goes without question heading into the 2015-16 season that the Anaheim Ducks are the clear-cut favourite to come out of the Pacific Division. They took home that honour – along with being tied for the top team in the West (with St. Louis) – with 51 wins and 109 points.
While Calgary, Edmonton and Los Angeles made significant changes to better their teams, without Cinderella-type seasons, they won't catch the Ducks atop the division.
Now, in the Central there are numerous clubs that could overtake the Ducks. The Blues have Vladimir Tarasenko ready to go. Jake Allen can finally grab the No. 1 job and Paul Stastny is entering his second season with the club and looks healthy. Robby Fabbri could look to add some more offence to that talented club and Alexander Steen is looking for a slight bounce back this season.
Chicago is always dangerous and are the defending Cup champions. Mind you, with that comes the drought often referred to as the 'Cup hangover.' And who knows how the Kane investigation with affect the Blackhawks this season.
And then there's the Wild, Jets and Stars. The Stars might be the best of the three, but all of them have the talent to make a push this season. Will they find themselves atop the Western Conference come April? Likely not. But they could be the sleepers when it comes to playoff picks.
Regardless, the Ducks certainly don't have an easy path to the Stanley Cup. But one win away from the Cup Final in 2014-15, the team knows exactly what needs to be done to get back to where they were. And while it will depend on the health of the team and how the core players can perform, on paper the Ducks look to be the favourite in a dominant Western Conference.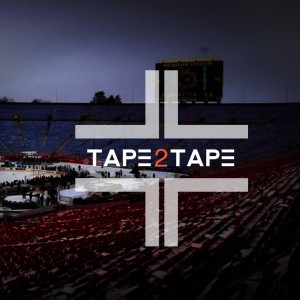 Have some thoughts about this week's column? Let me know on Twitter at @AndrewGForbes or @Tape2TapeTHW.
Tape2Tape is a column looking at some of the biggest stories from around the world of hockey. Discussing different topics, it focuses on delivering some opinion to hockey's biggest fans. Whether you agree or disagree, writer Andrew Forbes would love to hear what you have to say.