It's every reporter's dream. The naturally outspoken Taylor Hall, whose Devils team is middle of the pack and his former squad having the second-best record in the NHL. The Oilers are indeed one of the better teams in the league statistically right now, enjoying one of the best starts they've had in years. The Devils aren't terrible — they're currently 14th overall, though tied in points with seven other teams. Hall himself has had a great start, posting five goals and six points in six games so far. But how could anyone resist asking the ex-Oiler how he feels about his former mates' success?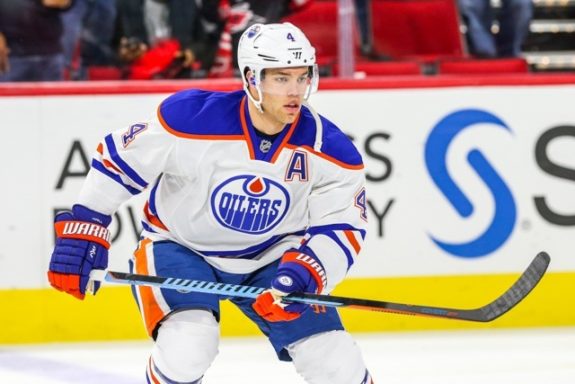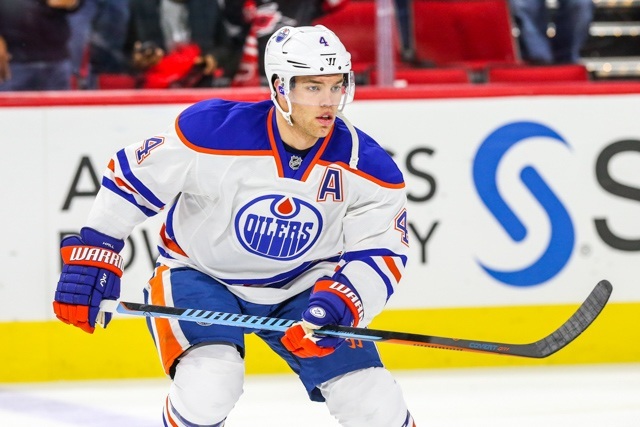 Hall Never Wanted to Leave Edmonton
Taylor had no qualms about expressing his displeasure over the trade. He wanted to stay and he never complained during the bad times. He took the trade personally, a move that shocked both him and the hockey world alike. But Hall didn't mince words when it came to his belief about the Oilers feelings towards him.
'I'm still a little disappointed with how it all went down in Edmonton,' Hall said. 'Sometimes I feel like I got the short end of the stick, but you know, hockey's a business and as soon as I got over that part, I think it's just about looking forward to what I have in Jersey. Once game 40 and 50 rolls around, playing in Edmonton will be an afterthought.' (Oil on Whyte)
But for a situation that Hall described as a "break-up," the Oilers still aren't quite in the rearview mirror. On Thursday, after the Oilers won their fourth game in a row, Hall was asked whether or not he's been keeping tabs on his former teammates.
'I follow. They won last night. It's kind of a weird feeling. I'd be lying if I said it's not hard to see them get off to such a hot start. But I'm happy for the guys there, for sure.'
Obviously, Hall wishes that he could be part of the fun going on in Edmonton right now. He endured some of the hardest times for that organisation, and won't be able to enjoy any of the fruits of his labour. There also could be that thought in the back of his mind, "what if it really was my fault?" (It wasn't). The Oilers were due to be better at some point, especially with the presence of Connor McDavid. It's likely more coincidental than anything else that the success is happening right after Hall left.
---
Complete Oilers Coverage From THW
---
Another factor that can't be forgotten is that we're just seven games into the season. It's still October. The Oilers could fall off a cliff and then Hall would have the complete opposite feelings that he has now. In any case, it's hard not to sympathise with a guy who really wanted to stay and see the process out.
'It's tough,' Hall said. 'I put a lot into my time there. I didn't want to get traded. But they had to do what they had to do. I don't think I felt like a scapegoat. I just felt like I was shortchanged in the fact that I had been there for so long and now that they had Connor they were finally making that step and I'm the one that gets let go.'
It certainly feels like he's not quite over the ordeal just yet, which probably isn't what Devils fans want to hear. He did finish the interview by saying the right things, however.
'As the summer went on, I started realising it's not about proving Edmonton wrong. It's about proving your teammates and the organisation here in New Jersey right,' Hall said. 'We're over .500. We're a team that is going to fight for a playoff spot. That's going to be a lot of fun. I'm just hungry to be in a playoff race, to have games at the end of the season that mean a lot.' (Quotes courtesy of TSN)
The Trade Will Never be Forgotten
The fact that the Oilers are third in the league in goals scored certainly calms the concern that they wouldn't be able to replace Hall's offensive production. And all the winning is taking the focus away from the guy who came to Edmonton in the trade, Adam Larsson. So far, Larsson has been solid — essentially playing exactly how they expected him to. He's got one assist on the year while being a plus-three and averaging 20 minutes of ice time. There are still many who don't believe the Oilers got fair market value for Hall, but who determines that?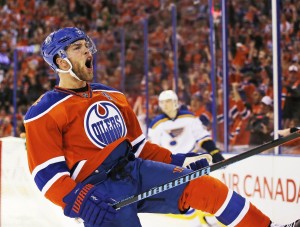 In terms of stats, Hall is a better player than Larsson, but he's also a completely different player. The Devils needed more goal scoring, and the Oilers needed more steady defensemen who could eat a lot of minutes. It's possible that Oilers' fans overvalued Hall. It's also possible the Oilers undervalued him. For right now, though, each team is getting what they needed. The problem is, if the Oilers start losing, the spotlight might end up on Larsson again. They're getting wins, but they're also allowing a lot of shots, in particular on the penalty kill.
The Oilers aren't going to win the next 70 games in a row. There are going to be losing streaks and bad games. Hopefully, when that happens, Larsson won't be cast as the scapegoat. He is who he is. Obviously, no one will forget that trade, especially Hall himself, but what's done is done. When the Devils visit Edmonton in January, one would imagine Hall and Larsson will be the men-of-the-hour, and rightly so. That's the way hockey works. Narratives make the world go round.
Taylor Hall is going to be a great player in this league — in fact, he already is. Whether or not he extends energy lamenting his time with the Oilers is up to him. The best case scenario is that both teams end up happy with their acquisition. We'll have to wait and see to determine that.