There are 10 games on the NHL schedule Saturday and the focus in Canada will be on the Toronto Maple Leafs versus the Montreal Canadiens. The Canadiens have won six straight and lead the NHL standings with 15 points. Not far behind them are the Detroit Red Wings, also winners of six straight, who will be taking on the struggling Boston Bruins. If you're a fantasy player, the odds are that making selections from one of these two teams could be good for your results.
Yesterday's Games
Every suggestion made in yesterday's cheat sheet did something. The problem was, only Cam Talbot did a lot and as such, even though the selections were correct, the points just didn't add up to being a clear-cut winner. Connor McDavid and Sam Bennett both scored a goal, Taylor Hall had an assist and Lee Stempniak along with Oscar Klefbom were held to shots on goal (SOG) or blocks.
Tonight's Games
Florida Panters at Buffalo Sabres
Boston Bruins at Detroit Red Wings
Pittsburgh Penguins at Philadelphia Flyers
Tampa Bay Lightning at New Jersey Devils
Toronto Maple Leafs versus Montreal Canadiens
Dallas Stars at Minnesota Wild
Los Angeles Kings at St. Louis Blues
Colorado Avalanche at Arizona Coyotes
Washington Capitals at Vancouver Canucks
Nashville Predators at San Jose Sharks
Centers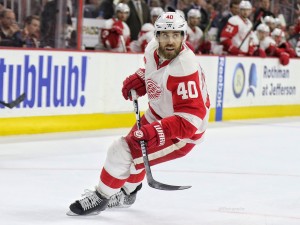 Henrik Zetterberg ($4800)
Detroit's captain isn't scoring when it matters most to fantasy owners, but the Red Wings are still winning hockey games. Zetterberg is seeking his first non-shootout goal of 2016-17, though he does have four assists in eight games.
His price in fantasy play is about a low as I can see Zetterberg's price going, so perhaps this is a good time to jump on and see if the value can be exploited.
Forwards
Matt Duchene ($6300)
Going into yesterday's game against the Winnipeg Jets, Duchene was exploding offensively. The Jets shut the Avs down, but it appears Duchene has turned the corner and should be back to helping fantasy owners get a few points.
The Avalanche will be playing against an Arizona team who ranks dead last in the NHL in goals allowed per game and dead last in shots allowed per game.
Zach Parise ($6600)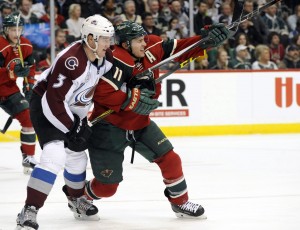 Parise has been a very strong fantasy play all season. He's got six points in eight games and ranks at just over four fantasy points per game. He'll be playing at home against the Stars who are a below average team in terms of goals and shots against. Dallas also lost their last game, while the Wild are winners of two in a row.
Defense
Ryan Suter ($5400)
If you're playing on Draftkings.com, you'll notice that Suter has 15 fantasy points in his last two games. He also has nine points in eight games for the Wild. He's their leader on defense and plays between 27 and 30 minutes per game. He shoots often, he blocks shots and he's frequently on the scoreboard with an assist or a goal. Finally, he's a good price for fantasy players.
Jordie Benn ($3000)
Benn has three points in five games from the Stars blue line. He's also been a point collector for fantasy players since day one of the 2016-17 season. He's not the kind of player you'd take to get you more points than the rest of your team, but if you want a reliable option at a good price, Benn is a fine option.
Goaltender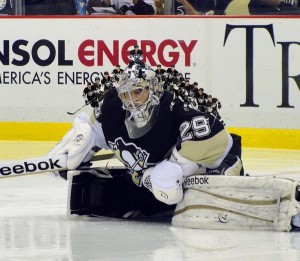 Marc-Andre Fleury ($7600)
With Sidney Crosby back, the Pittsburgh Penguins are a different team. The Penguins have won two straight and Fleury played well against the Islanders with 35 saves. There is some reason for caution.
Fleury's numbers haven't been very good on the road. Fleury, who has started all eight of Pittsburgh's games, has allowed nine goals in two road starts. Take Fleury with caution. The Penguins may get the win, but they may let in some goals if Fleury's pattern continues.
If you don't take Fleury, consider whoever is playing in net for the San Jose Sharks.