Facing Off is a weekly column debating five of hockey's hottest topics each and every Monday. From current events like trades and hat tricks to bigger-picture stuff like scandals and expansion — you name it, we're debating it. Albeit, not always with a serious tone. We're keeping this column light, so keep that in mind when reading, and feel free to join in on the fun by leaving a comment. Follow us on Twitter (@FacingOff_THW) and get in on the debate there too.

Sidney Crosby is back and his return has inspired the latest episode of the Facing Off podcast.
Félix Sicard, one of our regular contributors to the weekly Facing Off column, makes his second appearance on the podcast and proves his impressive debut in Episode 2 was no fluke.
We debate all kinds of topics in Episode 4, including Frederik Andersen and the Leafs, Shea Weber and the Canadiens, Adam Larsson and the Oilers, Hampus Lindholm and the Ducks, and of course Jacob Trouba again. Lots of defencemen talk, but we start off with the scoring race and whether Crosby is capable of catching Connor McDavid for the Art Ross Trophy.
https://soundcloud.com/larry-fisher-670384684/facing-off-podcast-4
It was a fun show from start to finish, with lots of back-and-forth banter, a bit of humour and some serious debate.
We recorded it yesterday afternoon and had it online prior to puck drop in last night's games, which makes me think Cam Talbot must have been among the first listeners. It was clear that Talbot is still trying to win over Félix in proving he's a legitimate No. 1 netminder, and I don't know how much more he can do.
Fresh off his second shutout in three games, Talbot might be the frontrunner to repeat as the NHL's first star this week — depending on how he fares Sunday against the visiting Ottawa Senators in Edmonton. Nevertheless, the Oilers are now 7-1 to start the season — thanks largely to Talbot — and, yes, pigs were flying in the Alberta capital after Friday's 2-0 blanking of the Canucks in Vancouver.
I'm glovin' it. #EDMvsVAN pic.twitter.com/gq7DMdnmzr

— Edmonton Oilers (@EdmontonOilers) October 29, 2016
Another topic that came up, almost in passing, was that of analytics and advanced stats, but I feel now is as good a time as any to address that further.
Granted, the season is young and we're still working with a small sample size, but my fancy-stat friends must be feeling copious amounts of shame for essentially calling Weber washed up this summer. He was supposedly an "average" NHL defenceman, no longer effective in a top-pairing role and a liability at even strength, with his blistering slapshot the only thing keeping him in the league.
OK, they didn't quite go to those extremes, but these past and present THW colleagues who shall not be named — cough . . . Félix, Andrew Bensch and Jordan Dix — didn't have Weber in their top-20 or even their top-40 rankings of NHL defencemen based on overall impact and ability. We weren't taking into account any contracts or ages either, this was strictly a discussion of the top defencemen for the season that is upon us.
I'm not one to say 'I told you so,' but I had Weber ranked right around No. 10 — perhaps as high as No. 8 but no lower than No. 12. I stand by that, obviously, considering Weber is currently playing 25 minutes a night and has only been on the ice for two even-strength goals against through eight games. Not to mention he's leading Montreal in scoring and averaging more than a point per game, with three goals and nine points for a team that has yet to lose in regulation (7-0-1) heading into tonight's home game against the rival Toronto Maple Leafs.
Not bad for a guy that Andrew had ranked outside the top 75 in terms of 5-on-5 effectiveness, while suggesting Weber would slot into San Jose's third pair had the Sharks acquired him instead of the Canadiens.
I think I can hear Marc Bergevin laughing from here. You and me both, Marc.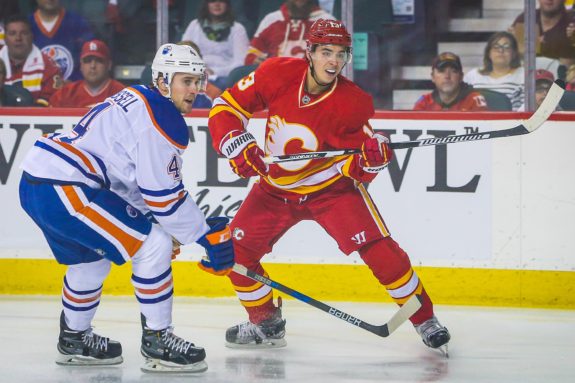 Yet, even worse things were said about Kris Russell — some of which I believed or accepted as fact — but I have to say he's been passing the eye test with flying colours for the Oilers too.
Ah, yes, the eye test, which takes us back to the topic of analytics.
I've always been more of an eye-test guy. Maybe that makes me "old school," but I still form the majority of my opinions from actually watching the games and trusting what I'm seeing. Maybe that's why I never saw Weber losing a step, on paper. Just sayin' . . .
I'm also a bit of a wannabe scout, and having played rep hockey growing up and a little junior, I like to think I see the game from a players' perspective and that I have a good eye for talent. I don't think my eyes lie to me.
On the flip side, I'm relatively new to analytics and I'll admit to having a very elementary understanding of how they work and how to interpret them — what metrics to value and when. I have a lot to learn, no doubt, though I'm slowly but surely gaining a better appreciation for advanced stats and their place in hockey.
I do feel the need to embrace analytics more than I have in the past. They aren't a fad, they are here to stay — just like the internet — and I'm stuck playing catch-up to some degree. I do realize advanced stats are going to play a big part in the sport's future, and in my role as a journalist covering the games — hopefully at the highest level, sooner than later.
Félix has been helpful in showing me that light, if you will — and I've been following, out of curiosity, some of the live stats that can be found at hockeystats.ca, among other websites.
Math has never been my strongpoint and I get overwhelmed by all the numbers at times, but I'm able to grasp the general concepts. The graphs and charts are making more and more sense to me.
Wrote about Anaheim's predictable struggles early on this season, and how Randy Carlyle isn't helping the cause: https://t.co/O7BJhdyQGG pic.twitter.com/Pr8hGjYCc9

— Dimitri Filipovic (@DimFilipovic) October 26, 2016
I do follow and regularly read analytical writers like Jonathan Willis with the Edmonton Journal and OilersNation, Dimitri Filipovic with Sportsnet, Travis Yost with TSN, and James Mirtle with the Globe and Mail. I do trust what those guys are telling me for the most part — they are all knowledgeable people and progressive hockey minds — but I still side with my own eye test in some cases.
Certainly with Weber, who I've watched closely with admiration for more than a decade, and so far with Russell's tenure in Edmonton, though I hadn't paid close attention to his years with Calgary where he became a poster boy as a "bad" analytics player.
Tossing back another @Molson_Canadian #TBT to #Oilers d-man Kris Russell competing for @HockeyCanada at 2007 World Juniors. pic.twitter.com/wSYuRdZX5C

— Edmonton Oilers (@EdmontonOilers) October 28, 2016
I did watch Russell a lot in junior with the Medicine Hat Tigers, and now again with the Oilers, but I can confirm he's a totally different player. He used to be a power-play quarterback, a Tyson Barrie type in his WHL days, believe it or not. The Russell that I'm seeing in the present is a shot-blocking machine, and just a fearless battler in general, especially for his size — he's not a big guy, but he drags everybody into the fight and there is something to be said for that trait.
I have the utmost respect for what those kind of players bring beyond the statistics — both traditional and advanced. And I do think, in time, there will be new or different metrics to measure the true value and worth of a player like Russell. Then, the analysts of today will be looking back and saying 'wow, I guess he wasn't so bad after all.'
http://gty.im/611249922
I can say, with almost certainty, that the Oilers wouldn't be 7-1 right now without Russell and the aforementioned Larsson. They have made a world of difference and the early returns have been overwhelmingly positive. Taking it further, I honestly don't think the Oilers would be 7-1 with Taylor Hall instead of Larsson, but I elaborate more on that thought in the podcast.
I shouldn't even get started on intangibles because that debate goes down the same road as religion. The hardcore stats junkies are much like atheists in the sense that if they can't see it, they won't believe it. They are of the belief that intangibles don't exist — and that even if there was such a thing as leadership or intimidation, character or grit, that it would already be reflected in their numbers. They refuse to place any added value on such meaningless hogwash.
That's where we will always differ. I'm a big believer in intangibles, which is part of the reason why I hold Weber and Russell in much higher regard.
I do think some of the advanced stats and analytical data can be misleading, and often fails to tell the whole story. There is a bigger picture beyond the numbers. Those stats shouldn't be ignored, but nor should they be used, solely, to draw conclusions on a player you have never (or rarely ever) watched — be it live or on television.
I swear I'm not anti-analytics. I'm open-minded, but I do tend to lean toward the eye test and I don't foresee that ever changing. I feel like these emerging and evolving advanced stats should be a complementary tool, supporting what we are already seeing. That's how I plan on using them going forward.
There's my rant for the day — a long time in the making. Here's hoping you were enjoying the podcast while hearing me out. If not, give it a listen and have your say in the comments below.
---
Who won this round of Facing Off? Feel free to weigh-in with your opinions. We will be checking in periodically to both defend and expand on our initial answers. If you want to see us face-off over a topic in a future column or podcast, we're open to suggestions as well.
Larry Fisher is a senior writer and head scout for The Hockey Writers, having been an at-large contributor for THW since August 2014. Fisher covers both the NHL and the WHL, specializing in prospects and NHL draft content, including his annual mock drafts that date back to 2012. Fisher has also been a beat writer for the WHL's Kelowna Rockets since 2008, formerly working as a sports reporter/editor for The Daily Courier in Kelowna, British Columbia, Canada from 2008-2019. Follow him on Twitter: @LarryFisher_KDC.