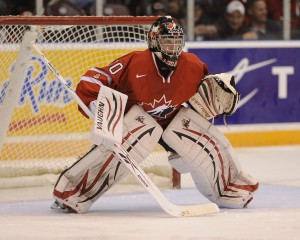 The final day of Team Canada Selection Camp began with cuts, also contained a collision with a CIS All-Star Team, and then ended with more cuts. Such is life at a camp where half the attendees go home empty-handed.
The important things to note heading into Tuesday night's game against the CIS All-Stars: the players that were scratched, and therefore considered to be unofficially on the team:
Defensemen Brandon Gormley, Dougie Hamilton & Ryan Murray
Forwards Brendan Gallagher, Freddie Hamilton, Quinton Howden, Jonathan Huberdeau, Mark Scheifele, Jaden Schwartz, Devante Smith-Pelly & Mark Stone
Note: Howden and Huberdeau are recovering from injuries, but expected to be on the World Junior club.
And that leaves four blue-line spots and five forward spots up for grabs after the night's contest… High stakes, indeed.
The first period was really a tale of two sections. In the first section, Team Canada absolutely dominated five-on-five play, pressuring Team CIS into taking a penalty with strong passing and body-work and then converting on the power-play. Nathan Beaulieu orchestrated a very strong passing play, whipping the puck around to Boone Jenner, who found Tyler Toffoli at the side of the net for the tap-in on an open net. Then Canada's Brad Ross went off for a tripping call, followed by Jamie Oleksiak for shooting the puck over the glass. On the ensuing 5-on-3, CIS converted twice on three shots on Tyler Bunz. The penalty kill wasn't particularly bad, but the combination of permeable coverage and CIS pressuring the net led to a 2-1 lead for CIS through 20 minutes. The score probably wasn't fair to Canada, as Tanner Pearson whiffed on two great chances in the slot and Canada couldn't convert on a pair of two-on-one rushes. Canada out-shot CIS 9-4.
The second period was decidedly more one-sided. Canada out-shot CIS 18 to 7. They out-scored them 4-0 in the period, leaving after 40 minutes with a 5-2 lead. Nathan Beaulieu was rewarded for his power-play efforts with his second point of the game, a goal that tied the contest at 2-2. A short while later, Phillip Danault slapped home a pass from Ty Rattie to put Canada up 3-2. Following the goalie swap, Canada kept pounding on the CIS defenders. Danault converted his second goal of the game, a garbage goal slipping in a rebound left loose around the net to make it 4-2. Michael Bournival lasered a shot top-shelf on Louis Domingue late in the period to make things 5-2. Scott Wedgewood left the game after facing 21 shots (and allowing 3 goals), but he looked strong considering he had no help from his defense. Tyler Bunz left having made just 4 saves on 6 total shots and his spot on Team Canada may be very much in jeopardy.
The third period was almost entirely one-sided for Canada, with a brief interlude of offense for Team CIS. Each team scored twice, with Canada's Tanner Pearson and Tyler Toffoli potting markers. CIS scored twice mid-way through the period after weathering an offensive storm from Team Canada, bringing it to 5-4…but Canada soon pulled away and took the game by a 7-4 final. Canada out-shot Team CIS 22-8 in the third and 49-19 total. Mark Visentin stopped 11 of 13 shots in the Canadian nets, while Louis Domingue stopped 24 of 28 shots for Team CIS.
—
As Team Canada hopefuls mulled over their World Junior chances, they reflected on the past four days of on-ice action and the adjustments they had to make on the final day when they competed against college-aged players from the Universities of Calgary and Lethbridge. Defender Jamie Oleksiak felt there wasn't a huge difference in preparation for the final game.
"I think your goal every night is to come out, compete and play your game," said Oleksiak. "I think the only different was these guys were older, a little strong I think, and you had to work that much harder to get position and get behind them. I think tonight's game had ups and downs, like all games, and I think I can move forward from this camp knowing I put a good effort out there and left everything on the ice."
Both Oleksiak and fellow prospective Team Canada player Brad Ross didn't envy Hockey Canada's tough choices, as both noted that several players in camp put forward a strong enough effort to merit serious consideration. While Oleksiak listed many players as having good camps and said that the roster chosen depends on what kind of team the coaches want to ice, Ross hose one of the players he's most familiar with…a Portland Winterhawks teammate.
"Everyone's given it their all, but I think Ty Rattie's played really well," said Ross. "Today he was really good and it was kind of nice that we got to play with each other. We've got a lot of chemistry, but Ty's always good, so that's not really a shocker."
Team Canada's final 22 man roster is expected to be announced at approximately 6 a.m. on Wednesday morning.
—
My final 22 selections for Team Canada's roster for the 2012 IIHF World Junior Championships:
This is entirely 100% non-scientific. I watched all three selection camp games and spoke with a handful of scouts and other media representatives. Here is the roster I would ice if I had to switch places with Kevin Pendergast.
Goaltenders:
Mark Visentin – Niagara (OHL)
Tyler Bunz – Medicine Hat (WHL)
Defensemen:
Nathan Beaulieu – Saint John (QMJHL)
Brandon Gormley – Moncton (QMJHL)
Dougie Hamilton – Niagara (OHL)
Ryan Murphy – Kitchener (OHL)
Ryan Murray – Everett (WHL)
Jamie Oleksiak – Saginaw (OHL)
Alex Petrovic – Red Deer (WHL)
Forwards:
Brett Connolly – Tampa Bay (NHL)
Phillip Danault – Victoriaville (QMJHL)
Brendan Gallagher – Vancouver (WHL)
Freddie Hamilton – Niagara (OHL)
Quinton Howden – Moose Jaw (WHL)
Jonathan Huberdeau – Saint John (QMJHL)
Brad Ross – Portland (WHL)
Mark Scheifele -Barrie (OHL)
Jaden Schwartz – Colorado College (WCHA)
Devante Smith-Pelly – Anaheim (NHL)
Mark Stone – Brandon (WHL)
Ryan Strome – Niagara (OHL)
Christian Thomas – Oshawa (OHL)
Ryan Pike has covered the Calgary Flames and the NHL Draft extensively since 2010 as a Senior Writer for The Hockey Writers and Senior Contributing Editor of FlamesNation.ca. A member of the Professional Hockey Writers Association, he lives in Calgary.