On its way to a 8-0 victory over Germany, USA once again rode its power play to success at the 2014 World Junior Championship.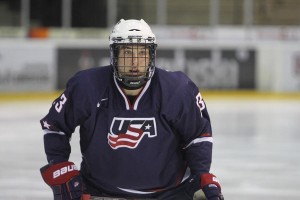 Lights Out Special Teams
The difference maker in this one was clearly the USA power play. The Americans converted on six of 10 opportunities with the man advantage, bringing their totals for the tournament to 11 goals on 18 chances in three games (61.1%).
"We were definitely clicking. Moving the puck well and getting shots [on the power play]. The coaches drew it up well and we went out their and executed it," said USA forward Jack Eichel. "In a tournament like this, it's key to get good power plays and capitalize on your chances."
Germany was hanging tough early on and had a golden opportunity to score the game's first goal with a 5-on-3 advantage less than two minutes into the first period. Again, Team USA suffered from a bout of undisciplined play in the opening frame. But special teams prevailed throughout for the Americans. Along with killing off the two-man disadvantage, Team USA killed off two other penalties to go a perfect 4-4 on the PK.
To put Team USA's power play performance into perspective, they scored 12 goals in the entirety of last year's gold-medal winning tournament at a clip of 29.3%.
The Turning Point
The Germans hung tight going into the first break down 2-0, but the Second period would be the difference maker. In the middle frame, USA exploded for four power-play goals by four different players, once again showing the team's depth
"It's a strength of our team that we don't have to rely on one or two guys," said USA assistant captain Matt Grzelcyk. "It's nice to see everyone chip in and scoring."
The opportunities began when German forward Leon Draisaitl hit USA defenseman Andrew Copp from behind 10 seconds into the period,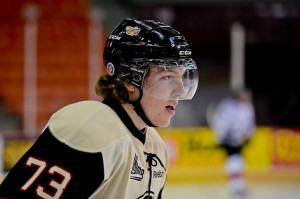 receiving a five-minute major and a game misconduct. Copp laid motionless on the ice for a few moments, but fortunately skated off to the bench and continued playing in the game.
For Draisaitl, this highlights a very disappointing tournament. He's one of the biggest prospects to hail from Germany and years and has the possibility to be a top 10 draft choice this summer. He hasn't done a very good job cementing that status at World Juniors. This incident has been the first we've heard of Draisaitl and he could be facing a suspension from the IIHF.
Next up for the Americans is a showdown with arch rival Canada. Even with Canada's gaff against the Czech Republic, this game will likely decide the group.
"I've played in a few US-Canada games and they're always intense," said Eichel. "I know our team is really looking forward to it."