Game number 30 quite possibly might have been the biggest game of the season for first year Hershey Bears head coach Mike Haviland. The former Chicago Blackhawks assistant coach and Norfolk Admirals associate coach admitted the lack of competitiveness in his club after a 3-2 loss to the Syracuse Crunch on Friday night, the Bears second straight defeat after a 4-0 home win over the Worcester Sharks last Sunday evening. Many likely pondered how his players would react, or if they even would.
The Chocolate and White responded with a workman-like 2-1 shootout victory over their rival Wilkes-Barre/Scranton Penguins. The club played arguably its best defensive game of the season, even with their recent shutout victory against Worcester. The Bears allowed 31 shots through 65 minutes, but their penalty kill was efficient, killing of all five of Wilkes-Barre/Scranton's power play opportunities, including three man advantage chances in the second period.
Hershey picked up their first win when scoring two goals or less (1-10-1-1) even though they were stymied down by young Penguins net minder Eric Hartzell (4-2-1). With 32 saves on 33 shots, Hartzell's save percentage improved to an outstanding .923.
The Bears showed great resolve and character, coming back from a 1-0 deficit in the first period, including a few instances where players stood up for their teammates and fought through adversity against a very good team. The loss was Wilkes-Barre/Scranton's first when tied after the second period (4-1-0-2).
"Sometimes you're really, really hard on them. Sometimes you got to put your arm around them," Haviland said. "You got to know when to push, when to pull, when to let go. You're dealing with all different personalities and you're managing personalities in that room."
Haviland has won championships at two different levels of hockey, most recently with the Chicago Blackhawks as an assistant coach during their 2010 Stanley Cup championship against the Philadelphia Flyers. During his time in Chicago, Haviland posted a cumulative 187-101-40 record. His credentials are unquestioned, earning him AHL Coach of the Year in 2007 with the Rockford IceHogs along with being one of the best assistant coaches in the NHL with Chicago. He led the ECHL's Atlantic City Boardwalk Bullies and Trenton Titans to Kelly Cup championships in 2003 and 2005.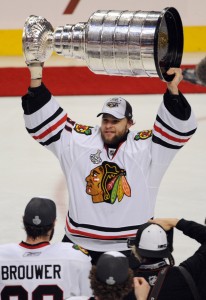 "We win and lose together as a group. I hold myself accountable, I'm a big boy, I know what business I'm in here. I do know one thing though is the system that I have, it works, I've won with it. I've won championships with it, I believe in it. It's a fine line to win in any level, especially when you're in the second best league in the world here, everybody's trying to get out of this league."
After three straight seasons that left Hershey eliminated in the first round of the Calder Cup playoffs following two straight Calder Cups, the Washington Capitals decided not to renew Mark French's contract. The hiring of Haviland was a smart move at the time and still is, but the new Hershey coach and his team have paddled themselves through rough waters to begin the season, just one game over .500 through 30 regular season battles.  The 2013-14 Hershey Bears have high expectations for themselves and in an atmosphere with the biggest fan base in the American Hockey League, the expectation to win every year is there.
Mike Haviland: Coaching is a Tough Business
"This is a tough business, this is the results business and you have to have that chip on your shoulder. You will be replaced if you're not getting results, that's something that's being said to them. Young guys need to learn that in their career, the guys that are fighting for their life for their contracts towards the trail end of their career need to know that."
Haviland knows this from his own coaching experience, getting let go from the Blackhawks' coaching staff even after winning a Stanley Cup championship in 2010. He entered this season with a career 174-111-31 record at the AHL level behind the bench.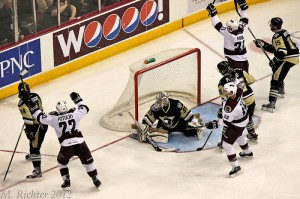 The return of veteran forward Ryan Potulny hasn't paid immediate dividends through two games, but Potulny has seen a transformation in the locker room from the past two seasons. Haviland has admitted that him and assistant coach Ryan Mougenel intend to continue to press on their players about their competitiveness and their adaption to their coaching philosophies and systems.
"This is our job, we're here to play hockey and win games," Potulny said after his second game with the Bears this season. "I have no problem with the coach coming in and getting on guys a little bit, it's his job and it's our job to respond."
"A lot of the same guys that I know, guys care in here. This year I think we're trying to keep guys from what I've seen a little more accountable than last year maybe. It's good for us to do that. We care about each other in here."
You can follow Matthew on twitter @m_speck and email him at mspeck21@yahoo.com with any questions or comments.
Matthew Speck covers the Washington Capitals organization for The Hockey Writers. He provides coverage of both Washington at the NHL level and prospect related content. Matthew also covers local sports for the Lebanon Daily News in Central Pennsylvania. You can email him at mspeck21@yahoo.com with any questions or comments.